An Innovative Waterfront That is More Than the Sum of Its Parts
The Port Lands Flood Protection Project will have many different economic impacts. Some are already being felt, others will occur in the next several years and some will unfold over the long term. Image by Vid Ingelevics and Ryan Walker.
By: Sarah Askett 
Toronto's waterfront is gaining a reputation as a dynamic destination where our attention to careful planning, sustainable infrastructure and a high-quality public realm draws employers and innovators. This second of our three-part blog series highlighting key projects in our Rolling Five-Year Strategic Plan 2022/23-2026/27 focuses on our work to lead innovations in areas like green building, economic development, and climate resilience across the waterfront.
Better Ways to Build – Focusing on Outcomes, Fostering Innovation 
Waterfront Toronto's latest Green Building Requirements (GBRs), released in 2021, establish the outcomes waterfront developments must achieve — but don't dictate how. Focusing on outcomes, such as enabling zero-carbon development, instead of methodologies frees designers to find their own ways of achieving targets, an approach that can drive technical innovation. 
One of these innovations is mass timber buildings. This year, we will see progress on two mass timber buildings on the waterfront, T3 Bayside and Limberlost Place. T3 Bayside is expected to be the tallest mass timber office building in Canada and is on track for completion in 2023. By using sustainable wood instead of standard building materials, T3 Bayside will store or prevent more than 10,000 metric tonnes of carbon emissions, the equivalent of taking 2,708 cars off the road for a year.
Image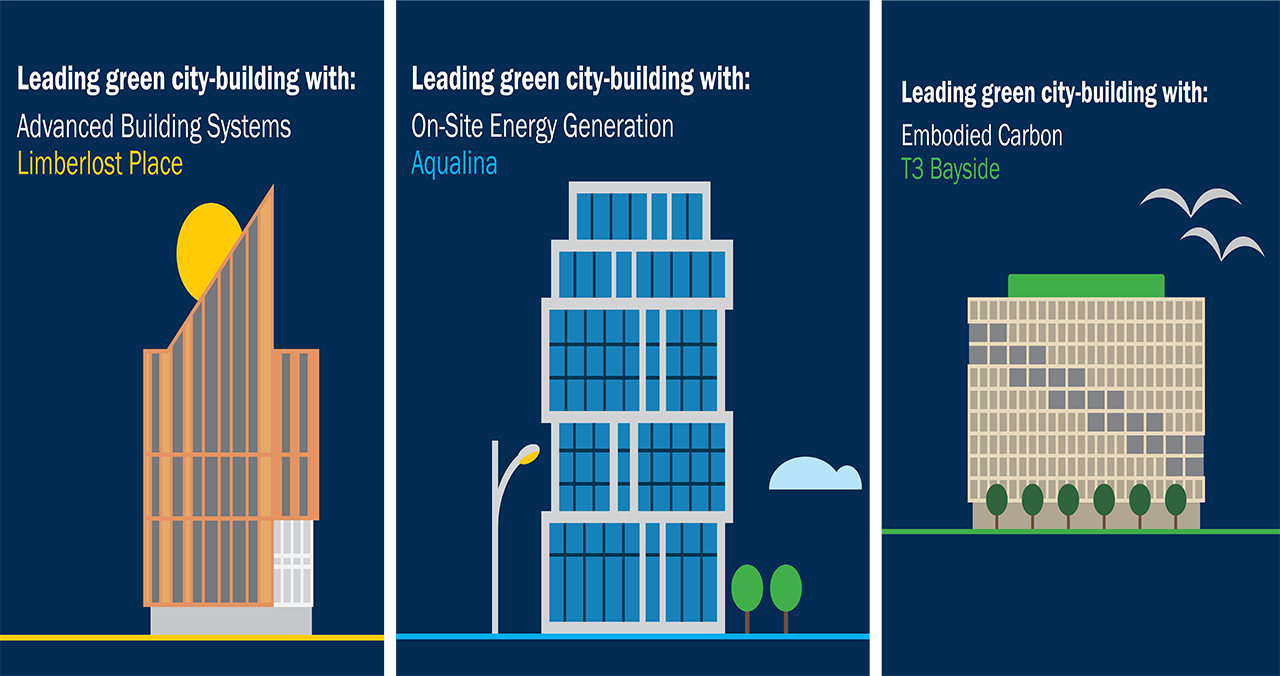 By encouraging diverse approaches, our GBRs have the potential to spark innovative ideas that move the entire field of sustainable design and construction forward. 
Construction will continue throughout 2022-23 on Limberlost Place, which is the latest addition to George Brown College's waterfront campus. In addition to using mass timber, Limberlost Place will deploy a range of sustainability features, including solar chimneys that create natural convection, pulling air upward and drawing fresh air into the building from operable windows.  
These two new buildings are amongst some of the most innovative buildings on the waterfront, including Aqualina, by Hines/Tridel, which became the first high-rise residential building in Toronto to earn LEED Platinum certification. Find out more on page 38 of our Strategic Plan.
Additionally, the Waterfront Innovation Centre will begin to accept occupants in 2022-2023 and take up its role as a new hub for creativity and innovation in the area. Located right beside Sugar Beach, the Waterfront Innovation Centre has already begun functioning as a gathering place for leaders in digital media, communications services, and entrepreneurship, including WPP, MaRS and theScore. Read more on pages 40-41 of the Strategic Plan. Together with T3 Bayside, these buildings will bring about 5,000 jobs to the waterfront. 
A Vibrant Hub and Gateway to the Waterfront 
Quayside, a 4.9-hectare (12-acre) area at the foot of Parliament Street, sits at a prime location in the waterfront revitalization area. Its relationship to the surrounding urban landscape and nearby shore creates the potential for Quayside to be a vibrant hub, linking St. Lawrence, the West Don Lands, the Distillery District and Bayside with the future Villiers Island. It will also be the gateway to the Parliament Slip, set to become a waterfront destination offering the public new ways to access and enjoy the lake. This area will extend our proud record of making the waterfront home to design and construction practices that lead the way on sustainability, increasingly aiming for climate-neutral or, in the case of nearby Villiers Island, climate-positive developments. 
Image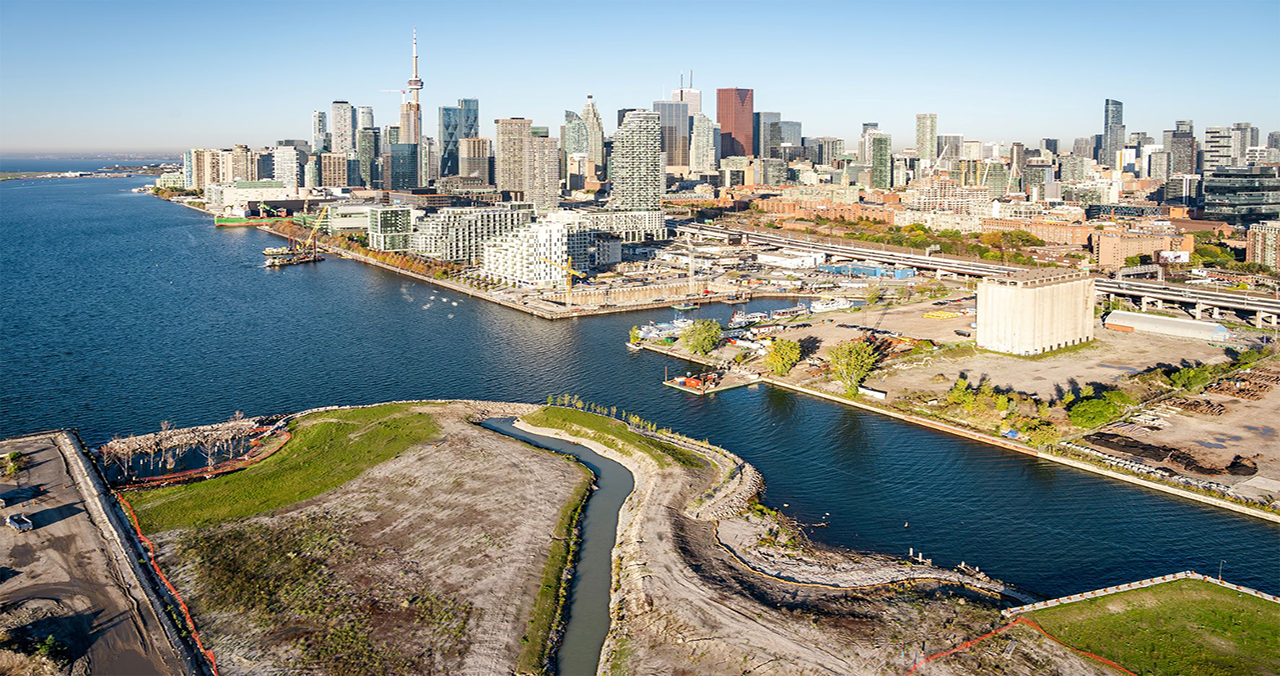 In 2022–2023, we will advance the design of the high-quality public realm for Quayside and Parliament Slip, including parks, streets, promenades and other public places. 
This fiscal year, we will realize significant milestones for both Quayside and Parliament Slip. For Quayside, we will negotiate a project agreement with the development partner including provisions for affordable housing, cultural uses, inspiring ground-floor animation and leading-edge sustainability features. 
In early 2022, we will complete the acquisition of Parliament Slip from PortsToronto and advance the design, subject to federal and provincial funding. The proposed design for Parliament Slip will help connect people with the lake and the future Villiers Island, creating a place where both residents and visitors alike can enjoy a visit to the water's edge. 
To learn more about these two new exciting spaces that together will create a new gateway to reorient the city to the waterfront, go to pages 42-43 of our latest Rolling Five-Year Strategic Plan.
Creating Jobs and Supporting the Economy with a New Island
Image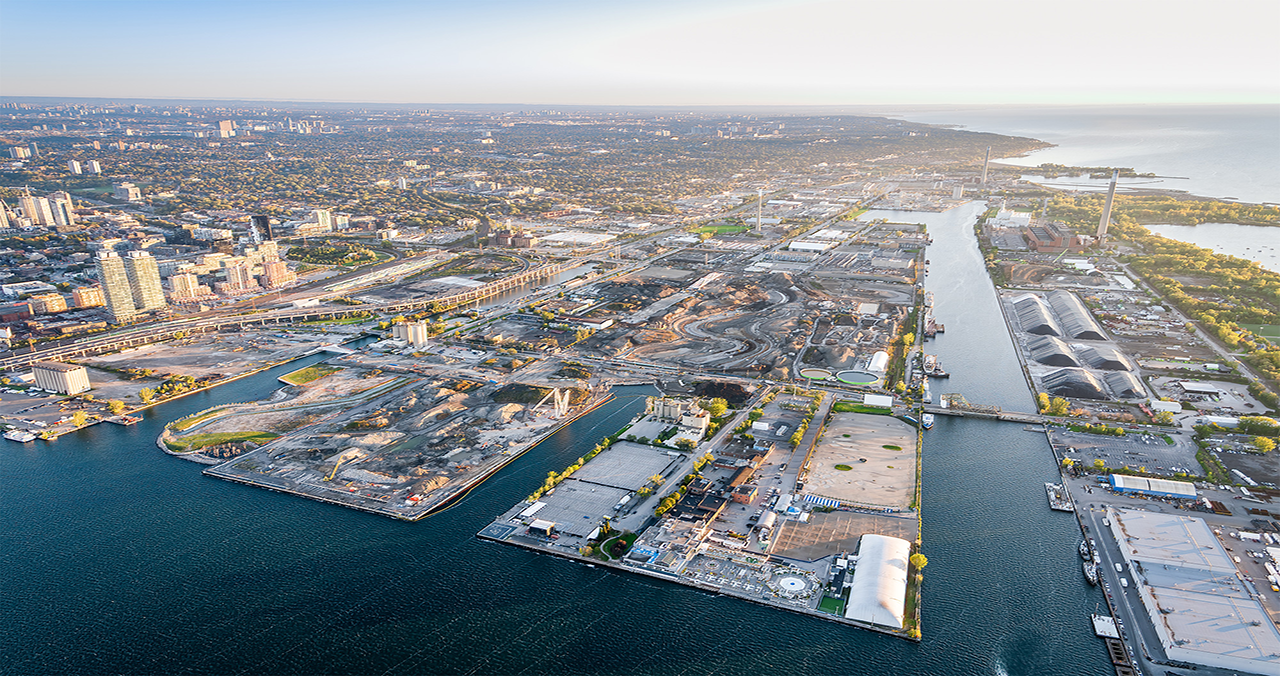 Our work in the Port Lands is on track for completion in 2024, unlocking development potential and extraordinary new public places to Toronto's waterfront. 
A transformative investment in Toronto's landscape and economy, the Port Lands Flood Protection Project is the largest public investment in our project portfolio. Once fully completed, it is estimated that this project will have added $5.1 billion to the Canadian economy overall, and $1.9 billion in government revenue, while also setting a global standard for innovative green infrastructure and resilient city-building. 
As we extend the Don River through the Port Lands, a new island will emerge. Many of the key deliverables we aim to achieve in 2022–2023 will support movement — by pedestrians and people using vehicles, transit, and bikes — between Villiers Island and the mainland. 
In 2022–2023, we plan to complete construction of: 
Cherry Street North Transit Bridge: Opening to coincide with LRT service. 

Cherry Street North Vehicular Bridge targeted for August 2022. 

Commissioners Street Bridge: Completion targeted for August 2022. 

New Cherry Street: Partial opening targeted for May 2022, full opening for August 2022. 

Commissioners Street: Opening targeted for August 2022.