Part of what makes Toronto special is that it is a waterfront city. Access to the shores of Lake Ontario should be free and open to everyone.
This means places to experience calming views of water and nature, places to launch a boat, places to bike and run and explore. It also means affordable places to live, public spaces and parks that are accessible to people of all ages and abilities, and a welcoming environment for the millions of people who consider the waterfront their oasis in the city. Waterfront development should also bring economic opportunities, from new jobs to partnerships.
An inclusive community is a place where people of all incomes, ages and abilities  feel a sense of belonging and are equally afforded the ability to actively participate in all aspects of community life.  
Helping our waterfront meet its potential means protecting and expanding access to the water. If you walk along the waterfront today, you will see it bustling with energy. This is what happens as the city starts to reorient itself towards the water. Green spaces, affordable housing mixed with commercial buildings, public art, playgrounds, cycling and a simple stroll along the water are just some of the ways these areas have come to life. 
Image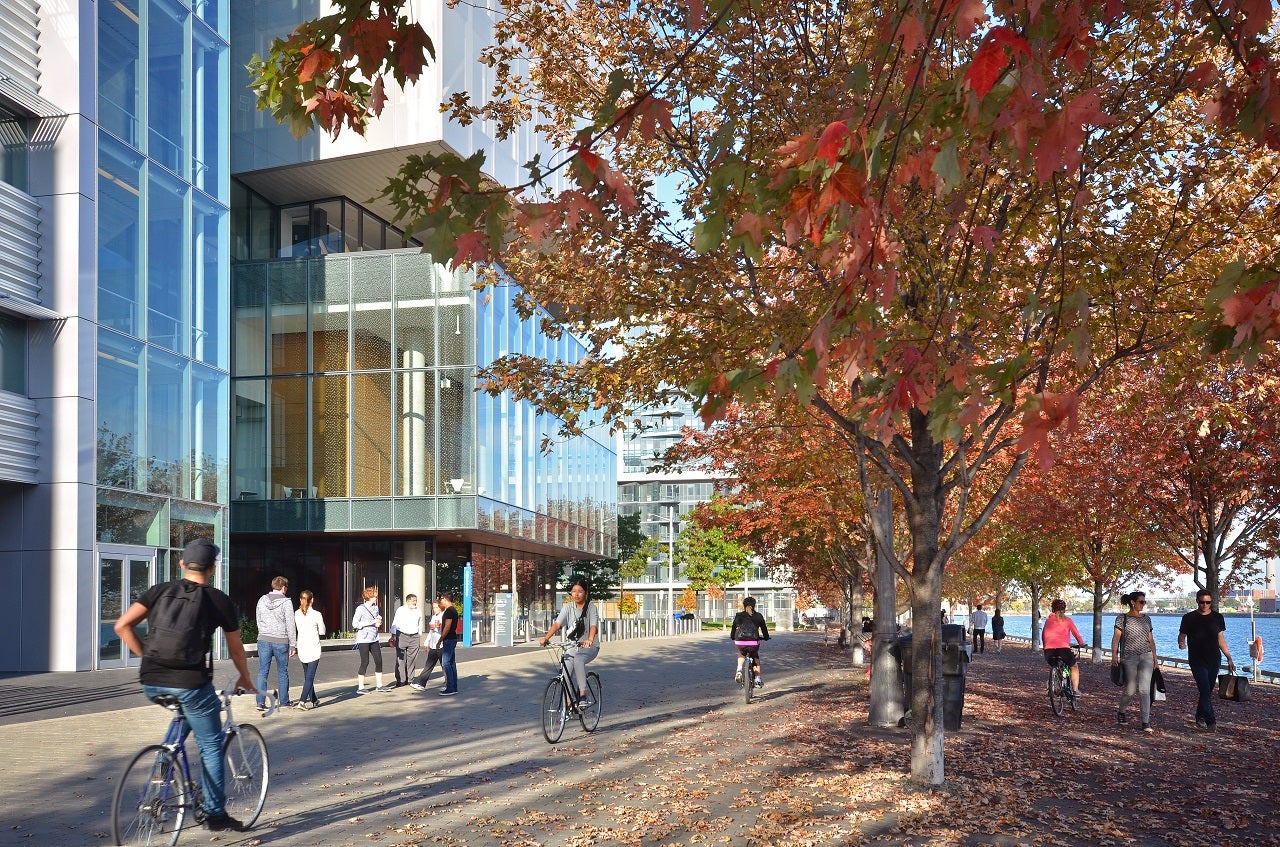 Accessibility
The revitalization activity we've led on the waterfront has always met or exceeded applicable accessibility rules. But when it comes to creating an accessible waterfront, our goal is to not just follow the rules but lead the way. To that end, we're at work on a new accessibility framework that will guide design across the waterfront and shape our work in areas ranging from playgrounds and promenades to wayfinding and communications.  
We have formed an advisory committee on accessibility to support the creation of the framework. The committee is composed of members of the public and/or members who represent advocacy or professional organizations where they are employed. Most of the members of the committee are persons with disabilities, as defined by the Accessibility for Ontarians with Disabilities Act. 
Affordable Housing
Toronto is experiencing a housing affordability crisis. The cost of housing is quickly becoming the number one issue for young people and families, often forcing residents to relocate outside of the City and putting greater pressure on our transportation systems. It's clear that inclusivity and affordability are not only social but economic issues.
 
New waterfront neighbourhoods are designed to have a wide variety of housing types to ensure they are people focused and family friendly, and are designed to give residents the opportunity to remain in their communities throughout their lives.
Read about affordable housing in the West Don Lands here.
Across the waterfront, affordable housing is integral to this vision and will ensure that the new communities will be home to people of all ages and income levels. 
At minimum, 20% of housing built on public land will be permanent and long-term affordable rental housing. In the West Don Lands and East Bayfront, we have already built 576 affordable housing units, with more to come. Working with the City of Toronto, we are exploring ways to build even more affordability into new waterfront neighbourhoods. 
In addition to providing a range of housing options for various groups, we strive to provide amenities and support systems that help create a livable community that enables social interaction, active lifestyles and economic opportunities for all.     
Digital Access
Toronto-based Beanfield Metroconnect has built one of Canada's first open-access broadband networks. The network's service is guaranteed to be maintained among the best in the world for at least 10 years and uses advanced fiber-optic technology to deliver Internet connection speeds exponentially faster than the North American average. Waterfront Toronto has worked with Beanfield to ensure that all residents and visitors have access to these services through a digital inclusion program for affordable housing developments and a far-reaching Wi-Fi network that offers complimentary access to everyone. 
Economic Growth 
When the vision for the waterfront is fully realized, it will provide lasting economic benefits for our city, province and country by creating new employment opportunities, and attracting private investment. The waterfront's sustainable, well-designed communities and modern infrastructure are already setting our city apart and encouraging workers to move to Toronto and stay here. And with an open-access network that's exponentially faster than typical North American residential networks, our waterfront is delivering a competitive edge for creative, knowledge-based Canadian and international businesses and industries that need to attract and retain top talent.
As people and companies migrate to our waterfront, they're forming a hub of innovation and creativity that will benefit the economies of Toronto, Ontario and Canada. 
 
The dramatic scale of Toronto's waterfront transformation requires best-in-class infrastructure, including transit, district energy, leading-edge ultra broadband and community amenities. The new private-sector partnerships and additional investment that's required will be the driving force for bringing thousands of new jobs, visitors and residents to the waterfront. 
Waterfront Toronto's leveraging of the green-technology sector also illustrates how reinvesting in the waterfront provides lasting economic benefits. For example, the waterfront is one of the largest urban brownfield remediation initiatives in the world. The extraordinary knowledge and expertise we are gaining is helping us develop innovative green business practices. New green jobs go hand-in-hand with these innovative practices. 
Diversity, Equity and Inclusion
Infrastructure projects can create social and economic benefits, by providing opportunities for growth, equity and capacity building. By incorporating community employment benefits within infrastructure and development projects, governments can ensure communities and equity deserving groups benefit more directly from these large investments.  
Investments made to date in waterfront revitalization have already realized considerable economic returns. They've supported job creation and contributed to the growth of our local, provincial and national economies. As we continue to build on this success, we're working to make sure these opportunities are open to everyone. We're continually refining our procurement practices, including adding criteria to support diversity, equity and inclusion. We strive to include diverse voices and identities at Waterfront Toronto and in the revitalization process. 
We will continue to evolve this work through the Waterfront Toronto Employment Initiative, a collaborative partnership between Waterfront Toronto, the City of Toronto and numerous local partner agencies.
Read more about the Waterfront Toronto Employment Initiative here.
Return on Investment

We regularly assess the direct, indirect and induced impacts of tri-government investment in waterfront revitalization.
Realizing real returns now 
Significant return on investment (ROI) is already being realized on Toronto's waterfront. ROI has taken the form of job creation and growth in our local, provincial and national economies. 
To date, the total investment has generated $3.2 billion in economic output for the Canadian economy and 16,200 full time years of employment. In addition, it has resulted in revenues of $348 million to the federal government, $237 million to the provincial government, and $36 million to the City of Toronto. 
Waterfront Toronto's investment has benefited key sectors of the local and provincial economies. Approximately 88 per cent of Waterfront Toronto's expenditures were made in Toronto and more than 96 per cent were made in Ontario. The largest share of expenditures, 37 per cent or nearly $469 million, has been directed to construction-related industries. These expenditures support the high-skilled and high-wage jobs in this industry. Economic spin-offs from the construction industry include secondary expenditures on materials and equipment, much of which is sourced from Canadian companies. 
Large portions of Waterfront Toronto's expenditures were also made in the creative and knowledge-based industries, including design, engineering and environmental services in the professional scientific and technical services sector, and in the Finance, Insurance, Real Estate, Renting and Leasing Sector. These sectors account for 28 per cent and 17 per cent of total Waterfront Toronto expenditures respectively. 
Waterfront Toronto has more than doubled the value of government investments on the waterfront by attracting development projects valued at more than $2.6 billion to the first new waterfront neighbourhoods of East Bayfront and West Don Lands. 
In East Bayfront, George Brown College's new Health Sciences Campus valued at $85 million, has attracted thousands of students and hundreds of employees. Other developments underway include the massive Bayside mixed-use community by Hines valued at $910 million and Great Gulf's Monde Condominiums valued at $276 million. 
In the West Don Lands, the area's first residents have moved into Urban Capital's River City Condominiums valued at $383 million. Development of the West Don Lands has been accelerated by provincial investment in the Toronto 2015 Pan/Parapan American Games Athletes' Village. The Village project undertaken by Dundee Kilmer Developments is valued at $814 million. Nearby, Toronto Community Housing is constructing three buildings valued at $95 million. 
The project values in East Bayfront and the West Don Lands are based on estimates of the future assessed value of the development projects identified. 
Beyond the economic returns generated by Waterfront Toronto's direct investment, construction of these projects alone will generate $2.22 billion in value to the Canadian economy, nearly 23,600 full-time years of employment and $1.17 billion in labour income. Additionally, the projects will contribute $838 million in revenues to the three levels of government. 
Today, there are 44 recent and planned development projects on privately-owned lands across the waterfront and in adjacent neighbourhoods close to where Waterfront Toronto has invested heavily in essential community infrastructure including parks and public spaces, waterfront and riverfront access, transit, flood protection and brownfield remediation. With an assessed value of more than $9.6 billion, these developments are creating 16,600 residential units, 1.4 million square feet of retail space, 4 million square feet of office space and some 150,000 square feet of institutional and industrial space. 
Future Benefits 
While the economic impact is already considerable, it will pale in comparison to the enduring benefits. Once our plans for the waterfront are more fully realized, these benefits are expected to include thousands of permanent jobs, many millions of dollars in property taxes and income taxes, and significantly increased tourism revenue. 
When complete, the development projects identified will generate an additional $8.9 billion in value to the Canadian economy, more than 94,800 years of employment and $4.7 billion in labour income. These projects will also deliver $3.4 billion in revenues to the three levels of government. 
Related Documents
Read the Economic Impact Analysis (2001-2013) - Summary Report (PDF)