Waterfront Toronto was created not only to revitalize the waterfront, but to make it a "gateway to the new Canada"— a place that leads the way on technology and sustainable design, and catalyzes future-proof jobs.

That vision is steadily coming to life. The waterfront has become a place for homegrown innovators to shine — from the local telecom start-up that set a new standard for internet speed in waterfront districts, to the Ontario based environmental firms deploying novel systems and technologies to manage and remediate more than one million cubic metres of soil in the Port Lands. 
To help the waterfront's economic momentum keep growing, we've made innovation and job creation one of four areas of strategic focus. In the years ahead, we'll continue to leverage public investments to create strong conditions for high-value jobs, making the waterfront a nexus where people and firms seize local and global opportunities.  
Image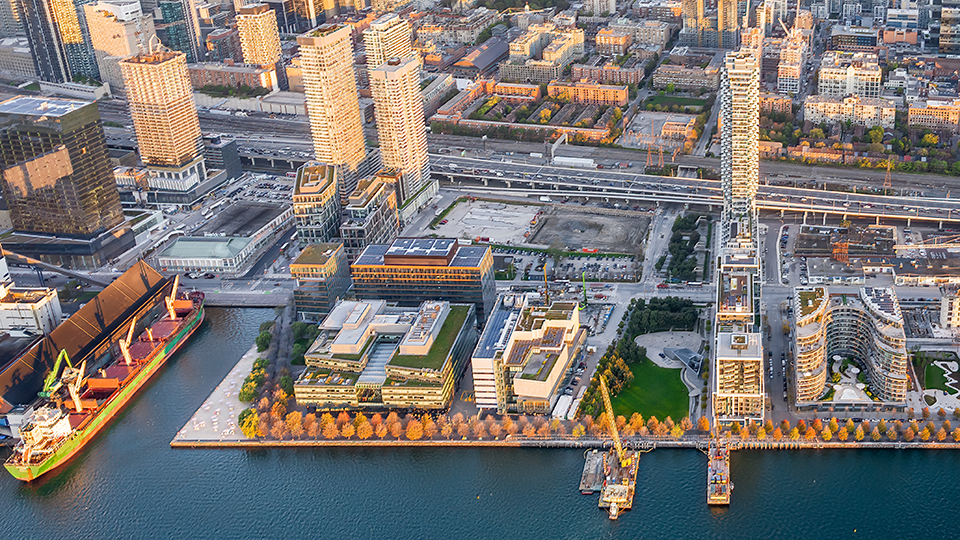 Partnerships for prosperity 
Waterfront Toronto builds strong working relationships with businesses and organizations that are invested in the waterfront and ready to make meaningful contributions to the long-term success of the area. Wherever possible, we aim to build partnerships and business relationships that achieve multiple benefits at the same time — for example, by bringing leading-edge infrastructure to waterfront neighbourhoods while supporting innovative businesses in Toronto, Ontario and Canada. 
Where high-tech infrastructure meets digital inclusion 
We're working with development partners and technology leaders to ensure that the neighbourhoods we build today are equipped to meet the future connectivity needs of both residents and businesses—including firms with intensive data and bandwidth requirements. Waterfront districts are already attracting major employers like Corus Entertainment and WPP, the anchor tenant in the Waterfront Innovation Centre, and momentum is building as new infrastructure and facilities are completed.  
Our partner Beanfield Metroconnect has used fibre optic technology to build Canada's first open-access ultrahigh-speed broadband network. This network provides internet access in waterfront precincts exponentially faster than the North American average. A cross subsidy model provides ultra-high-speed access to residents of affordable housing units, and Beanfield Metroconnect is working to extend the complimentary neighbourhood-wide WiFi that was recently launched as part of The Bentway. 
An emerging Innovation Cluster
Several leading educational institutions and private firms have already chosen the waterfront as a place to grow. A new landmark in this dynamic employment landscape is the Waterfront Innovation Centre. It is arriving in a waterfront community that is already bustling with creative and economic activity — with Corus Entertainment next door and Artscape Daniels Launchpad and the Toronto Region Board of Trade just across Queens Quay. Being part of a hopping local ecosystem helps to attract dynamic businesses and, in turn, helps those firms draw top talent.