Innovation & Climate Leadership

We participate in global networks of cities focused on innovation and resilience in city-building. Our work helps to lay strong foundations for prosperous sustainable communities. Through holistic planning and effective partnerships, we're creating more jobs and unlocking the enormous economic value of the waterfront.
Since its inception, Waterfront Toronto has emphasized innovation. We source and curate leading-edge materials, processes, and technologies—and we apply the most effective solutions to every project delivered on the waterfront. From green building standards that have been recognized internationally to the first ultrahigh-speed broadband network in Canada (delivered with our partners Beanfield Metroconnect), we ensure that waterfront developments lead the way.
Image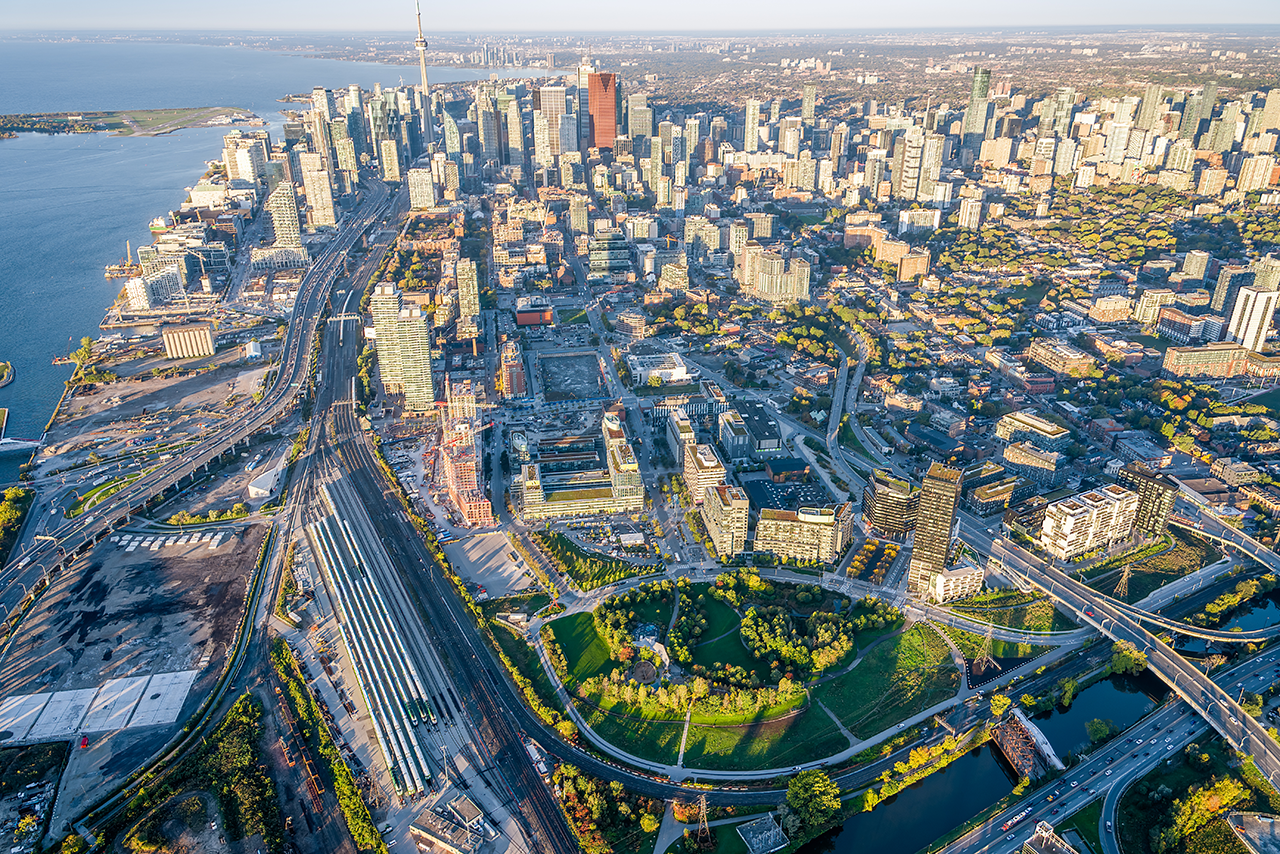 Innovation and Job Creation
We are part of a worldwide community of practice that's using cutting-edge building methods, groundbreaking urban design, talented people and emerging technology to provide critical infrastructure and to support more sustainable ways of living. Through smart planning and effective partnerships, we're creating more jobs and unlocking the enormous economic value of the waterfront. 
Focusing on Outcomes, Fostering Innovation
Waterfront Toronto has a record of innovation when it comes to new neighbourhoods along the lake. A decade ago we introduced Minimum Green Building Requirements to ensure that new developments on the waterfront would lead the way on sustainable design; these standards have since won international awards and been recognized as a landmark in Toronto's evolution toward a greener built environment.  
Our new environmental standards establish the outcomes waterfront developments must achieve — but don't dictate how. Focusing on outcomes instead of methodologies frees designers to find their own ways of achieving sustainability targets, an approach that can drive technical innovation. By encouraging diverse approaches, our requirements have the potential to spark new ideas that move the entire field of sustainable design and construction forward. 
Learn more about the new Innovation and Sustainability Framework here.
Infrastructure to Enable the Innovation Workforce
We're supporting the development of Toronto's knowledge workforce by fostering innovation and collaboration in business, technology and education. Along with our partners, we are building communities where people can live, work, learn and play in a seamless, technology-enabled environment. These initiatives work to make Toronto a more competitive city for global talent and investment. 
An "intelligent community" is one that uses technology to create economic opportunity and enhance quality of life for its residents. Our Intelligent Community strategy includes a range of initiatives designed to help Toronto stay at the forefront of the global competition between major urban centres for business, jobs, talent and investment.
Connectivity for Everyone
Our partner, Toronto-based Beanfield Metroconnect, has built one of Canada's first open-access broadband networks. The network's service is guaranteed to be maintained among the best in the world for at least 10 years and uses advanced fiber-optic technology to deliver Internet connection speeds exponentially faster than the North American average. Beanfield ensures that all residents and visitors have access to these services through a digital inclusion program for affordable housing developments and a far-reaching Wi-Fi network that offers complimentary access to everyone.