We work to ensure that everything we build on Toronto's waterfront – from buildings to streets, parks and public art – meets or exceeds our high standards for architecture and public space. Our commitment to design and planning excellence has been recognized with a number of awards.
Waterfront Toronto projects and places have won more than 100 awards for design excellence, earning recognition in categories  ranging from water management to neighbourhood development.
Image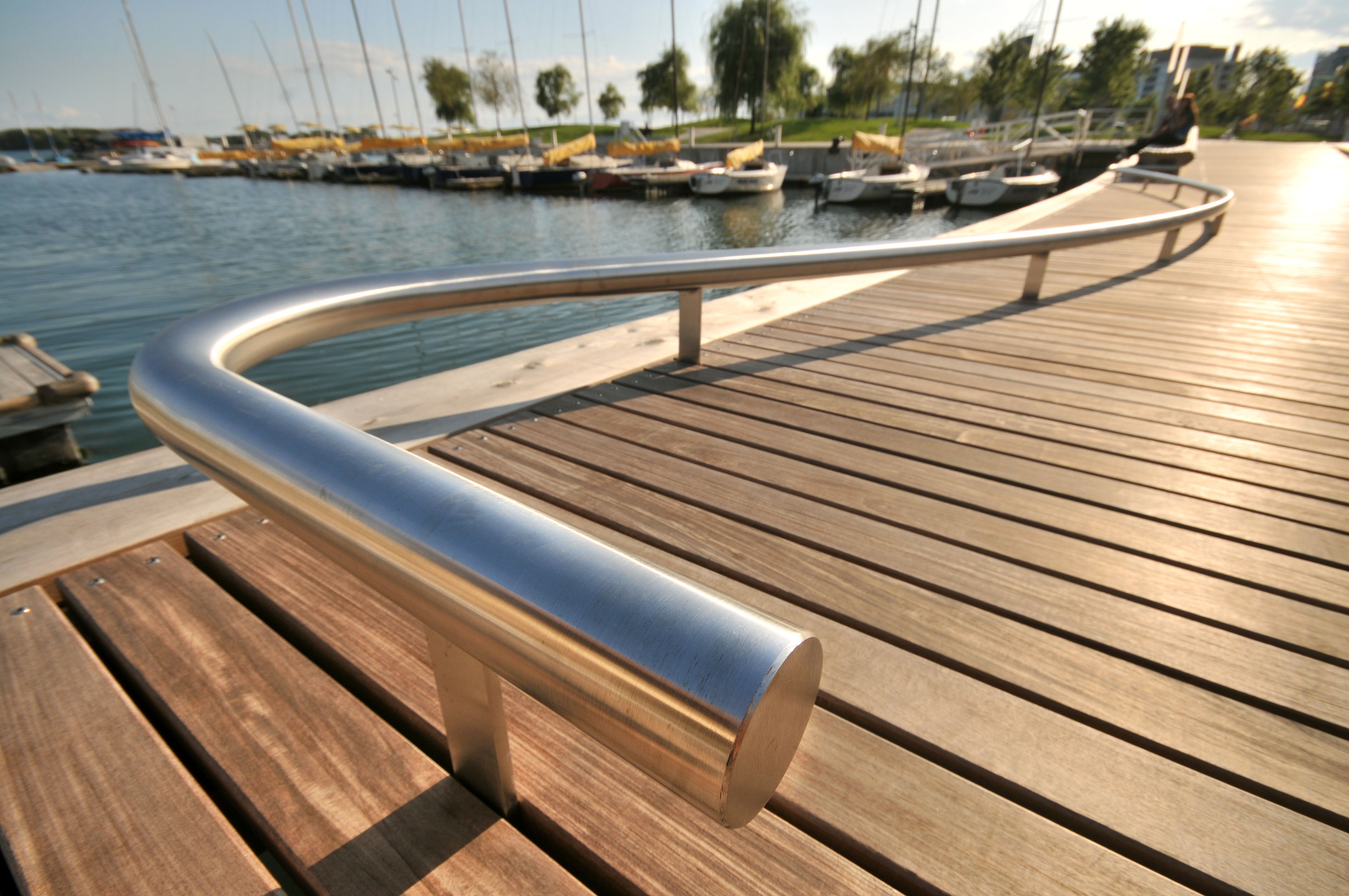 Awards and nominations to date
Body
Projects in waterfront neighbourhoods – led by Waterfront Toronto or by our design and development partners, contractors and collaborators – have earned praise on a range of dimensions including municipal, national and international. See below for a list of awards and recognitions to date. 
Answer

Special Jury Award for Inspiring Infrastructure, 2021 Toronto Urban Design Awards: Stormwater Management Facility by gh3
 

2021 Ontario Concrete Awards: Aitken Place Park

Answer

2020 Ontario Association of Architects, Design Excellence Award, Finalist: Saucier + Perrotte Architectes / ZAS Architects, in joint venture for River City Phase 3
 
Ordre des Architectes Du Quebec, Architecture Excellence Awards, Finalist: Saucier + Perrotte Architectes / ZAS Architects, in joint venture for River City Phase 3
 
Council on Tall Buildings & Urban Habitat, Design Excellence Award - Best Tall Building Under 100 meters: Saucier + Perrotte Architectes / ZAS Architects, in joint venture for River City Phase 3
 

Answer

---

 

2019 Canadian Brownfield Network Award

: Winner of the Best Overall Project for the Cherry Street Stormwater & Lakefilling Project; and the Port Lands Soil Reuse Program Approval
 
The Port Lands Flood Protection & Enabling Infrastructure Project - Bridge Design and Engineering won a 

2019 Toronto Urban Design Award

 in the 

Special Jury Award for Catalytic Infrastructure

 category.
 

Canadian Water Resources Association (CWRA) Water Management Award of Excellence

 for outstanding projects that make a significant contribution to the protection and management of Canada's water resources. 
 
American Society of Landscape Architects (ASLA) presented an Honor Award to 

The Bentway


 

Ontario Concrete Awards, Mid to High Rise Residential, Cast-in-Place Award: Saucier + Perrotte Architectes / ZAS Architects, in joint venture for River City Phase 3


 

Ontario Concrete Awards, Sustainable Concrete Construction Award: Saucier + Perrotte Architectes / ZAS Architects, in joint venture for River City Phase 3


 

Canadian Green Building Council Ontario, Inspiring Home, Finalist: Saucier + Perrotte Architectes / ZAS Architects, in joint venture for River City Phase 3


 
BILD Awards: 

Best Suite Design, Large

 for 

Aqualuna at Bayside


 
Ontario Home Builders' Association (OHBA) Awards of Distinction: Project of the Year – High or Mid-Rise for 

Aqualuna at Bayside


 
Ontario Home Builders' Association (OHBA) Awards of Distinction: Best Architecture – High-Rise Building for 

Aqualuna at Bayside


 
MIPIM / Architectural Review Future Project Award - Residential Category for 

Aqualuna at Bayside

 

Answer

2017-18 Urban Land Institute Global Awards

 for Excellence for the West Don Lands
 

2017 Canadian Brownfield Awards

: Redevelopment at the Community Scale for East Bayfront/Bayside Development
 

2017 Canadian Brownfield Awards

: Best Overall Project - Port Lands Due Diligence
 

2017 Ontario Association of Architects (OAA) Lieutenant Governor's Award

 for Design Excellence in Architecture: River City Phase 1 & 2
 

2017 Toronto Urban Design Awards

: Award of Excellence for the West Don Lands Public Realm 
 

2017 Toronto Urban Design Awards

: Award of Excellence for the Queens Quay Revitalization
 

2017 Toronto Urban Design Awards: Private Building in Context - Tall Category - Saucier + Perrotte Architectes / ZAS Architects, in joint venture for River City Phase 2


 

Consulting Engineers of Ontario (CEO)

 Willis Chipman Award to R.V. Anderson Associates Limited and DTAH for the East Bayfront Stormwater Management System
 

2017 Architectural Review/MIPIM Future Project Awards, Tall Buildings, Commended (Saucier + Perrotte Architectes / ZAS Architects, in joint venture for River City Phase 3)


 

Canadian Architect Awards, Award of Excellence (Saucier + Perrotte Architectes / ZAS Architects, in joint venture for River City Phase 3)


 

SAB Magazine Green Building Awards, Award Winner, Residential, Large Category: Saucier + Perrotte Architectes / ZAS Architects, in joint venture for River City Phase 1 & 2


 
Ontario Association of Architects, Design Excellence Award: Saucier + Perrotte Architectes / ZAS
Architects, in joint venture for River City Phase 1 & 2
 
BILD Awards: 

Project of the Year

 for 

Aquabella at Bayside


 
BILD Awards: 

People's Choice Award

 for 

Aquabella at Bayside

Answer

Intelligent Community Forum 2014 Intelligent Community of the Year for the City of Toronto with Waterfront Toronto highlighted as a key catalyst for the Intelligent Community development
 
Intelligent Community Forum Top 7 Designation for the City of Toronto with Waterfront Toronto highlighted as a key catalyst for the Intelligent Community development
 
Intelligent Community Forum Smart 21 Designation for the City of Toronto with Waterfront Toronto highlighted as a key catalyst for the Intelligent Community development
 
FCM Sustainable Communities Award in the neighbourhood development category for Corktown Common
 
Canadian Society of Landscape Architects (CSLA) Awards of Excellence in the National Merit category for the Water's Edge Promenade in East Bayfront
 
Ontario Association of Architects Design Excellence Award for Tommy Thompson Park Pavilion
PUG Design Awards Nomination for River City - Phase I
 
BILD Award Best Building Design – High-Rise to Tridel, Aqualina at Bayside
 
BILD Award Best Places to Grow Community of the Year Award – High-Rise to Dundee Kilmer, Canary Park
 
Environmental Design Research Association (EDRA) Great Places Award for Sugar Beach
 
Popular Science 2014 "Best of What's New" award in the Green Category for Corktown Common
 

Answer

Canadian Consulting Engineering Award of Excellence for West Don Lands Stormwater Conveyance System
 
Intelligent Community Forum Smart 21 Designation for the City of Toronto with Waterfront Toronto highlighted as a key catalyst for the Intelligent Community development
 
Intelligent Community Forum Top 7 Designation for the City of Toronto with Waterfront Toronto highlighted as a key catalyst for the Intelligent Community development
 
George Brown College Project Achievement Award – Toronto Construction Association's Best of the Best Awards

Answer

Royal Architectural Institute of Canada's Sustainable Development Award for MVVA's Lower Don Lands design
 
American Society of Landscape Architects Honor in Analysis and Planning for Port Lands Estuary: Reinventing the Don River as an Agent of Urbanism
 
Public Sector Service Gold Award for Toronto Waterfront's Aquatic Habitat Restoration Strategy

Answer

Broadband Properties Summit Cornerstone Award for Developing a World-Class Concept for an Ultra-Broadband Community for Waterfront Toronto's Intelligent Communities
 
Toronto Urban Design Award for the Port Lands Estuary Master Plan
Toronto Urban Design Award for the Central Waterfront Master Plan
Toronto Urban Design Award for the Harbourfront Water's Edge Revitalization
Toronto Urban Design Award Honourable Mention for the Quay to the City
Canadian Society of Landscape Architects National Merit for Central Waterfront's Innovative Design Competition
Canadian Society of Landscape Architects National Merit for Quay to the City
Public Sector Service Silver Award for Waterfront Toronto's Aquatic Habitat Restoration Strategy

Answer

Canadian Society of Landscape Architects Regional Honour for East Bayfront Precinct Plan, Public Realm and Streetscape Plan

Answer

Boston Society of Architects' Millo Von Moltke Award for Urban Design for East Bayfront Precinct Plan
 
Congress for the New Urbanism Charter Award for East Bayfront Precinct Plan
 
Toronto Urban Design Award for the West Don Lands Precinct Plan

Answer

Public Sector Quality Fair Certificate of Excellence for the Precinct Planning Consultation Process in Toronto's Waterfront