Affordable Housing in the West Don Lands
Putting affordable housing at the heart of waterfront revitalization.
Neighbourhoods work best when they work for everyone, including individuals and families with low and moderate incomes. Across the waterfront, affordable housing is integral to this vision and ensures that the new communities will be home to people of all ages and income levels.
The West Don Lands neighbourhood, currently under development, has added 496 affordable housing units to Toronto's rental stock—including units that give special priority to Indigenous residents, people with disabilities, families, veterans, youth, seniors, and newcomers.
At full build out, approximately 20% of the units in the revitalized West Don Lands will be affordable rental housing. Three and four-bedroom units that will accommodate families with children, as well as units that suit the lifestyle of singles and seniors will be included in the mix of residential offerings. An additional five per cent of the market units will be affordable ownership units enabling first-time homeownership for as many as 100 households.
Providing affordable housing within a vibrant mixed-income community is an essential part of the development plan for the West Don Lands. Residents in the new affordable housing units will enjoy a community that offers a broad range of amenities including proximity to public transportation, great urban parks, a new YMCA, and a vibrant retail and cultural scene. In keeping with Waterfront Toronto's sustainability standards all three affordable housing buildings in the West Don Lands have achieved LEED® Gold certification.
first affordable rental housing development
Waterfront Toronto partnered with Toronto Community Housing on the first phase of affordable housing in the West Don Lands.
The three-building 243-unit development surrounds a landscaped courtyard on the south east corner of King Street East and St. Lawrence Street, which is about a 15-minute walk to downtown. An eight storey 128-unit building provides affordable housing for seniors and two four-storey buildings provide 115 units for families.
There is amenity space for residents in each building, secure bicycle parking at grade, one level of underground vehicle parking and commercial uses at the ground level fronting along King Street East.
The LEED Gold development was designed by CORE Architects of Toronto, whose portfolio is distinguished by a wide array of award winning building and public space designs.
Rent for these units is set at or below average market rent for comparable units in the City of Toronto. The rates are based on an index established by Toronto Community Housing and income restrictions apply to qualify for a rental unit in this development.
Toronto Community Housing is the largest social housing provider in Canada and the second largest in North America with a portfolio that includes more than 350 high-rise and low-rise apartment buildings and over 164,000 tenants in communities across Toronto. Toronto Community Housing is committed to working with their tenants, the community, and other stakeholders to create strong and healthy communities.
2015 Pan/Parapan Games legacy
Two hundred and fifty-three beautifully designed affordable rental housing units were built as part of the Pan Am Athletes' Village in the West Don Lands. An additional five per cent of the market suites, representing up to 100 units, were also made available for affordable ownership.
During the Games, the units served as temporary homes to athletes, coaches and sporting officials. Once the Games were completed, the two buildings were turned over to Wigwamen Inc. and Fred Victor to own, operate and manage. The affordable rental buildings contain one, two, three and four-bedroom units with ten per cent of the units being fully accessible.
Wigwamen Inc. and Fred Victor are respected non-profit housing corporations with a long history of providing safe, affordable housing in the City of Toronto. They were selected as the housing operators following an open, fair and competitive process.
Wigwamen Incorporation
Wigwamen Inc.'s 145-unit building is located on the north side of the new Front Street Promenade, just east of Cherry Street. The building offers 58 one-bedroom units; 58 two-bedroom units (48 with two washrooms, and 10 with one washroom); 23 three-bedroom units; one four-bedroom unit, and five four-bedroom townhouse units that will serve the Aboriginal community.  
Through a partnership with the Ontario March of Dimes, accessible housing is provided for people with disabilities, including international calibre athletes. The accessible units were home to para-athletes during the games and persons with disabilities after the Games. Supportive housing to allow individuals and families the ability to live independently was provided through a partnership with Accommodation Information and Support Inc. (AIS).
Wigwamen Inc. has provided affordable housing, primarily to the Aboriginal community in Toronto, for 40 years. A non-profit, charitable organization, Wigwamen currently owns and operates 484 non-profit housing units in the City of Toronto.
 
Image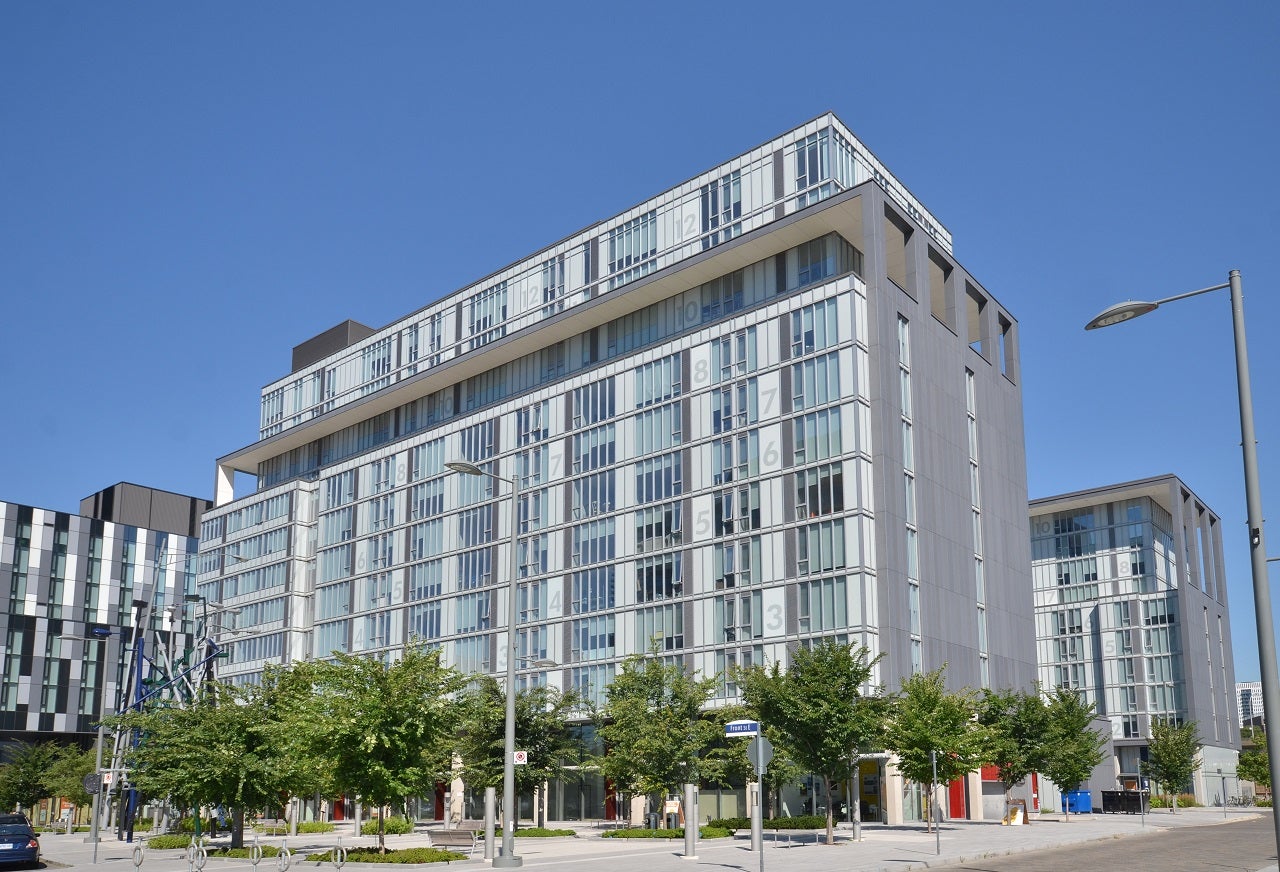 Fred Victor
Fred Victor's 108-unit building is located north of the new Front Street Promenade east of Cherry Street. The building includes 41 one-bedroom units; 45 two-bedroom units; 16 three-bedroom units; and six four-bedroom units.
Fred Victor has partnered with several agencies to develop a community services hub in the West Don Lands that supports creative, healthy living for people who have experienced homelessness or housing instability. The new building will ensure persons with lower income, working households, individuals with physical disabilities, veterans, and seniors have access to high quality, well-maintained affordable housing.
Fred Victor is a Toronto-based housing and community service organization with deep roots in the downtown Toronto community. Founded in 1894, Fred Victor is a diverse, multi-faceted organization that operates out of 10 city service locations assisting approximately 8,000 people per year who are experiencing poverty and homelessness.
 
Image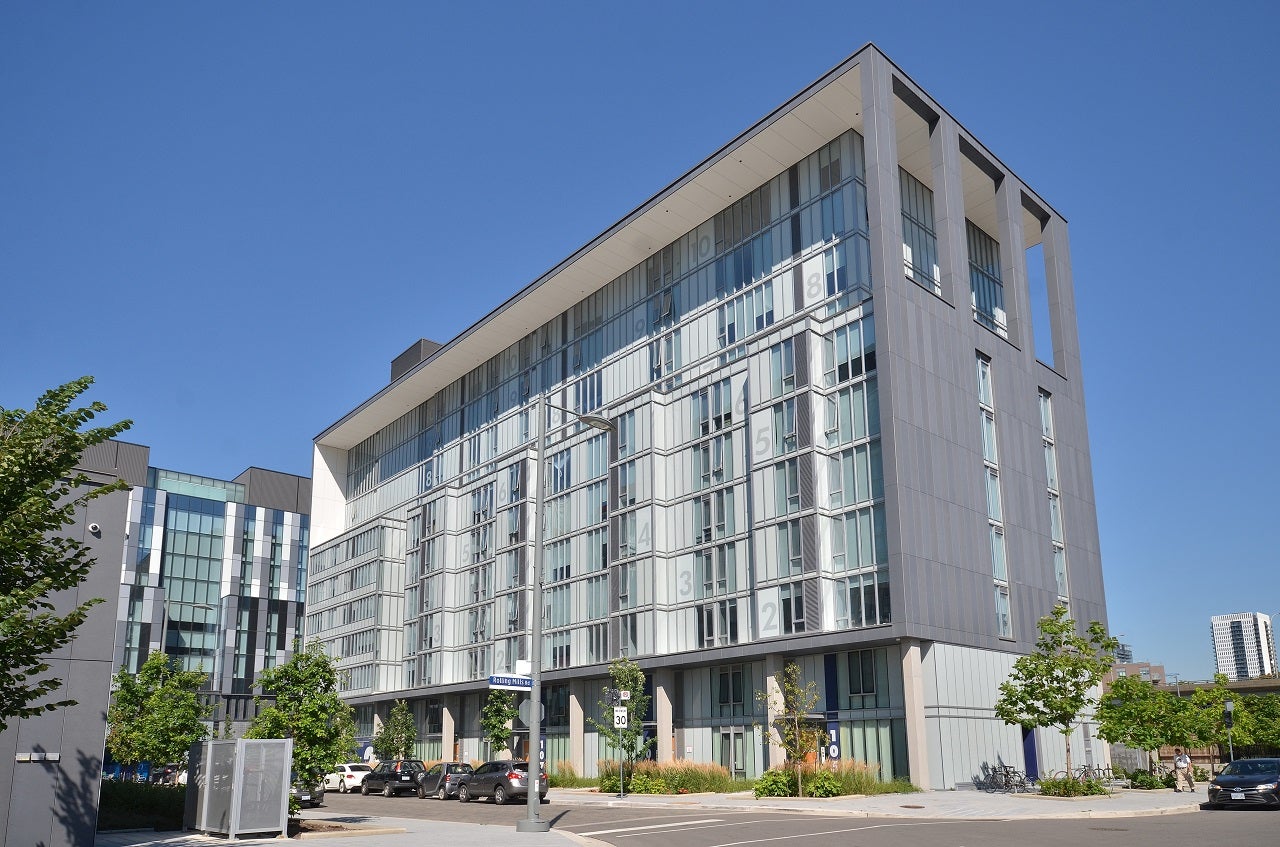 affordable ownership
The affordable ownership units are located in the Canary District condominiums built by Dundee Kilmer Developments, the consortium selected to design, build and finance the Athletes' Village.
Up to 100 units in the Canary District condominium project are available to qualified purchasers. Dundee Kilmer Developments is working with the Ministry of Municipal Affairs and Housing on an initiative that assists low- to moderate-income renter households with the purchase of their first home.  The program is being administered by Dundee Kilmer Developments, with funding provided by the Ontario Government.
affordability
Housing affordability is about the cost of housing to household income.
According to the Canada Mortgage and Housing Corporation's (CMHC) definition of housing affordability, the cost of adequate shelter should not exceed 30% of household income. Housing which costs less than this is considered affordable. However, many definitions and formulas are used to define housing affordability and consumers, housing providers and advocacy organizations tend to use a broader definition of affordability.