A Waterfront Landscape Designed for Everyone
Image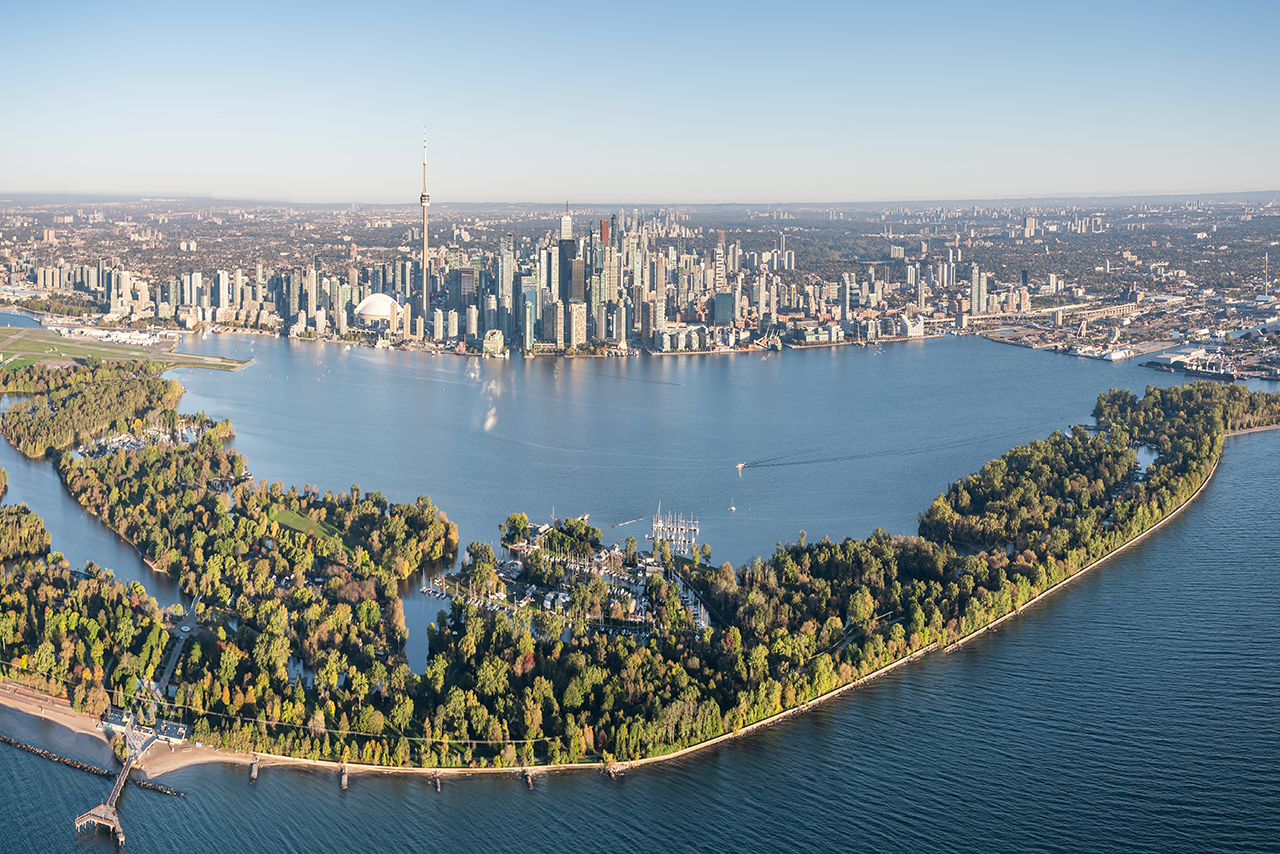 "From the beginning, Waterfront Toronto has 'led with landscape': putting parks, ecology and natural features first and building complete communities that respect the history and context of waterfront sites." George Zegarac, President and CEO, Waterfront Toronto.
POSTED: JANUARY 31, 2022 I DESIGN, PARKS AND PUBLIC SPACES, PUBLIC ART
By: Sarah Askett
 
The pandemic has reinforced the need for more access to nature through parks and for shared gathering places where there is no pressure to spend money. We are proud to be building a waterfront with these needs in mind so that it can be enjoyed by everyone. 
Our most recent Rolling Five-Year Strategic Plan 2022/23 - 2026/27 sets out our long-term strategic priorities with a specific focus on the year ahead. This three-part blog series highlights these priorities — public good, jobs and innovation and city-building — beginning with how Waterfront Toronto is leading with landscape and delivering on our public good mandate. 
Leading the Way for Accessibility Standards
Image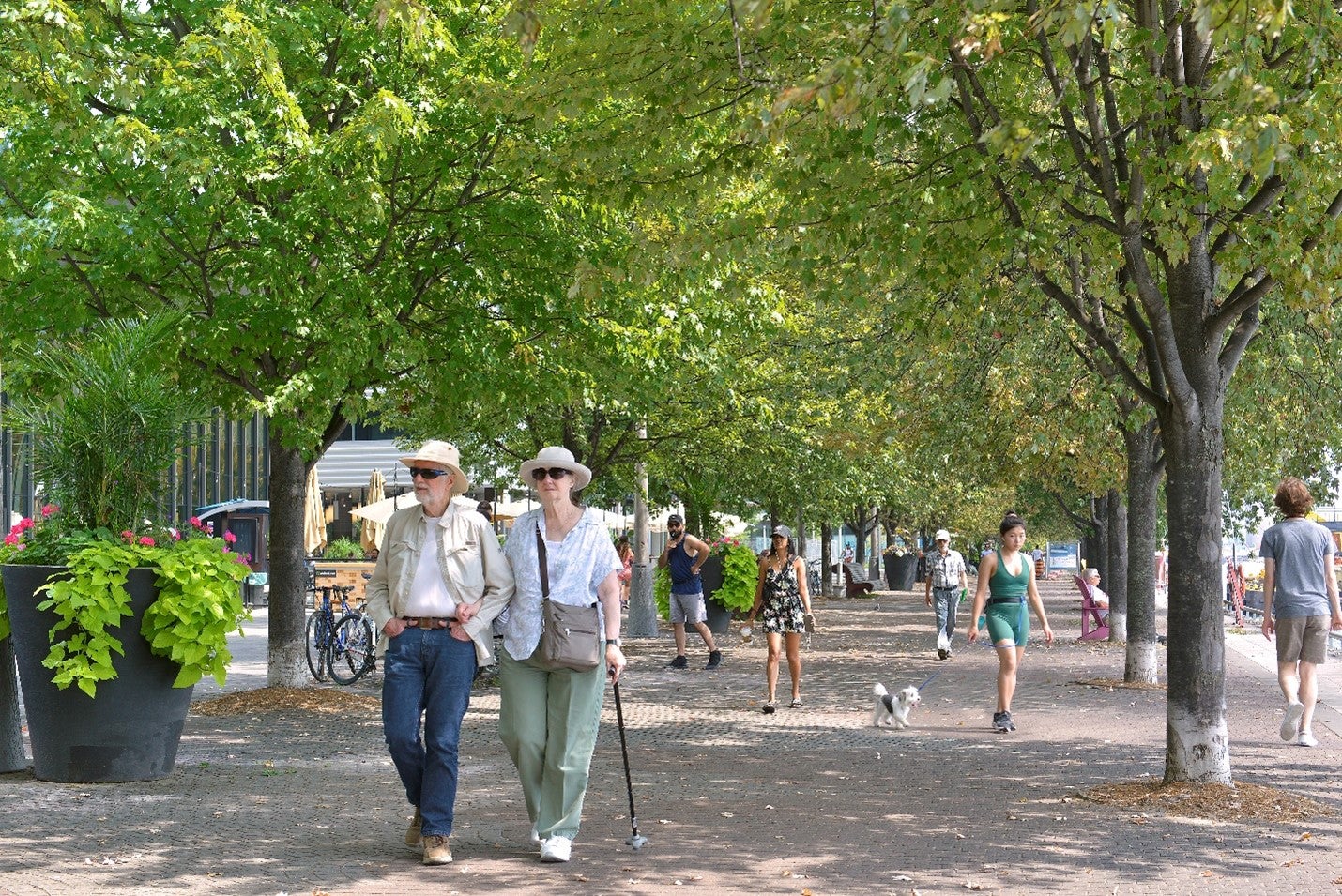 Smoothed cobbles help to make the Water's Edge Promenade more easily navigable for everyone, including people with low vision and those using wheelchairs and other mobility devices. 
When it comes to creating an accessible waterfront, our goal is to not just follow the rules but lead the way. This is why we are creating a new Accessibility Framework that will guide design across the waterfront and shape our work in areas ranging from playgrounds and promenades to wayfinding and communications. We are forming an Advisory Committee on Accessibility, composed of advisers with a combination of design insight, technical and professional expertise, and lived experience of diverse abilities, to provide us with guidance and feedback as we develop the framework. 
In 2022–2023 we expect to have a final set of principles and standards that we can begin applying to our work on the waterfront and activities within our own organization. Learn more on page 27 of our 2022/23 Strategic Plan.
Green Spaces that Respond to Public Needs
Image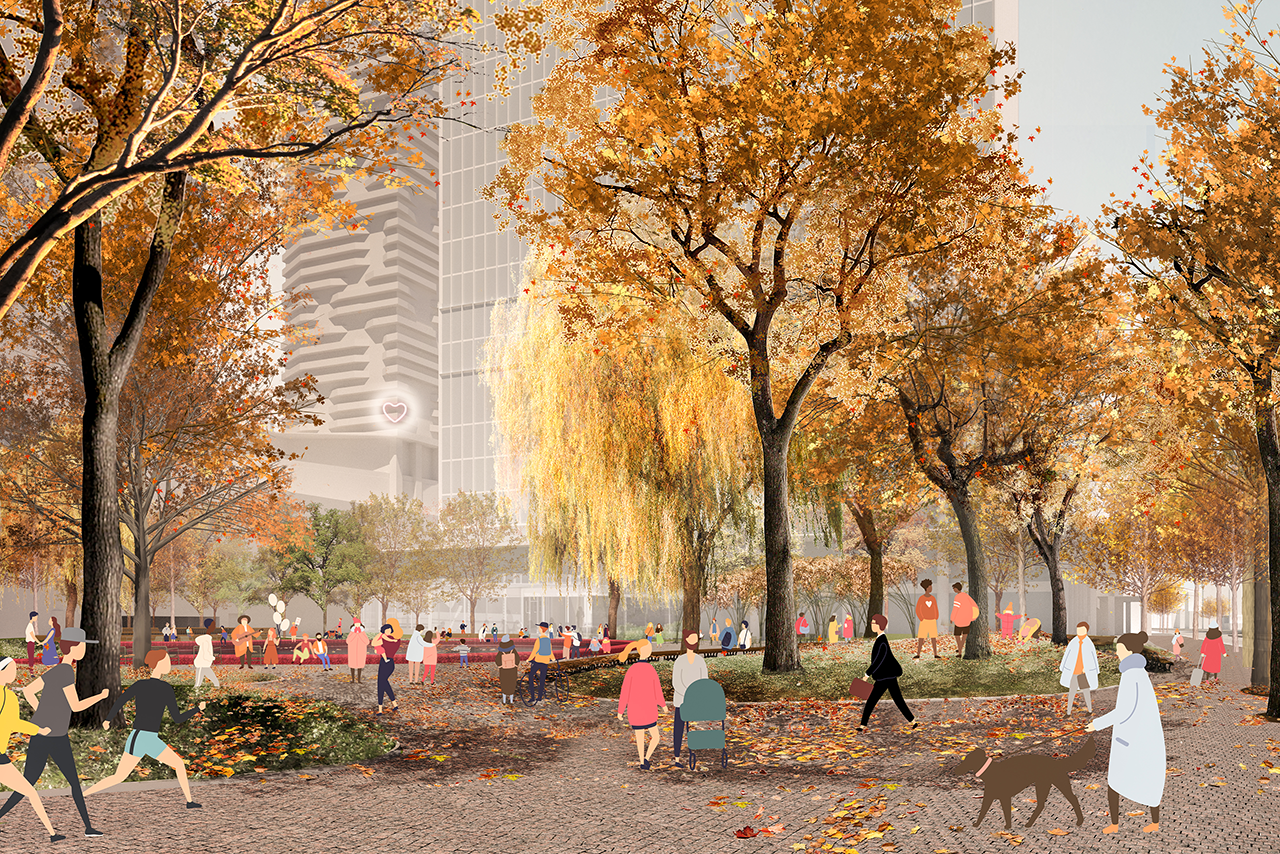 Through new parks and public amenities, we're creating shared places to benefit residents from across the region, and visitors from around the world. Rendering courtesy of Claude Cormier et Associés. 
Recent research by the Waterfront Business Improvement Area found that two-thirds of the visitors to the waterfront come from outside the immediate area, with visitors arriving from every corner of the Greater Toronto Area (GTA) and from outside the region as well.  
As we have seen over the past year, waterfront spaces are crucial to the well-being of those who reside on the waterfront, as well as people from all over the GTA. In 2022/2023, we will be completing York Street Park (a.k.a. Love Park), which is expecting to receive visitors by the end of 2022, and will continue design and construction planning for Rees Street Park. 
Enhancing Waterfront Culture with Public Art
Public art enhances the cultural vibrancy of the waterfront and draws visitors year-round, creating active, thriving public spaces for everyone to enjoy.  
 
Image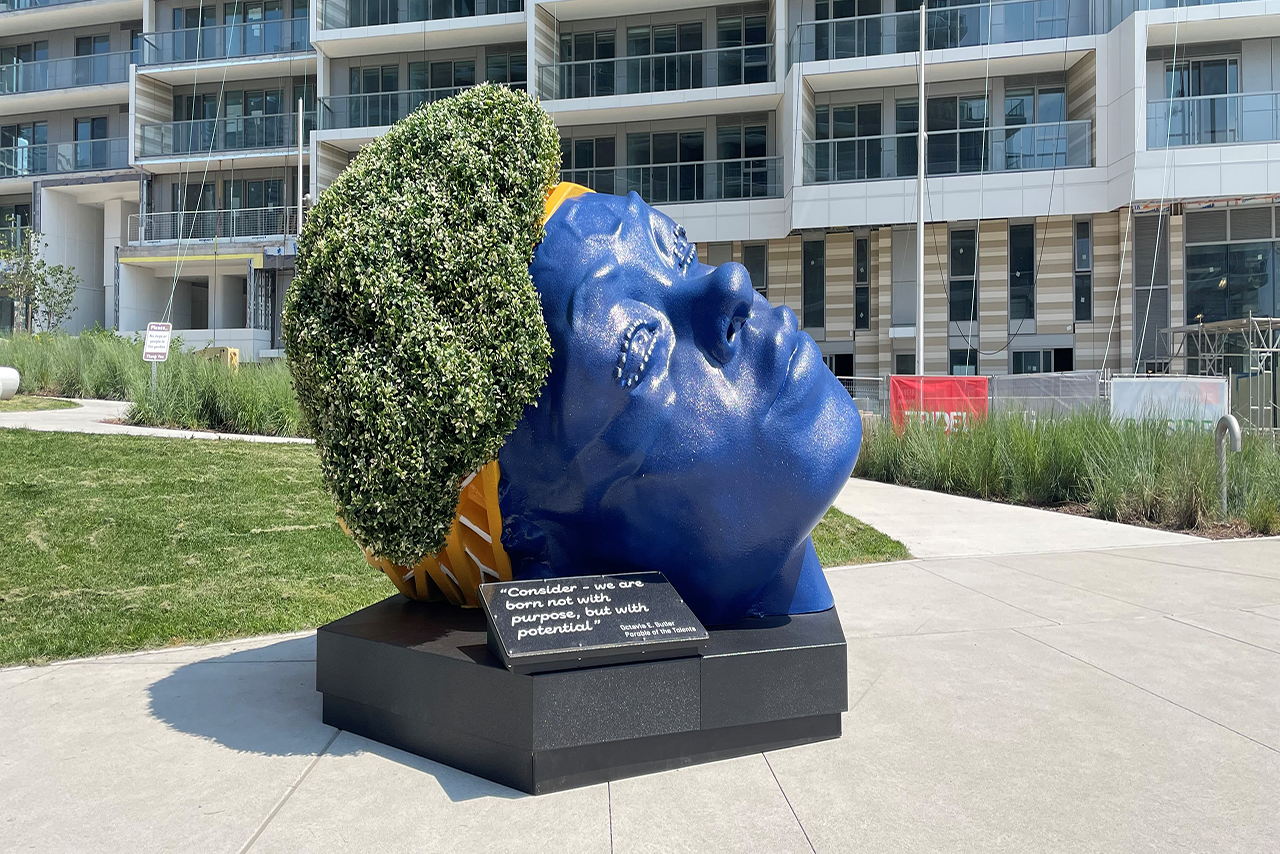 Image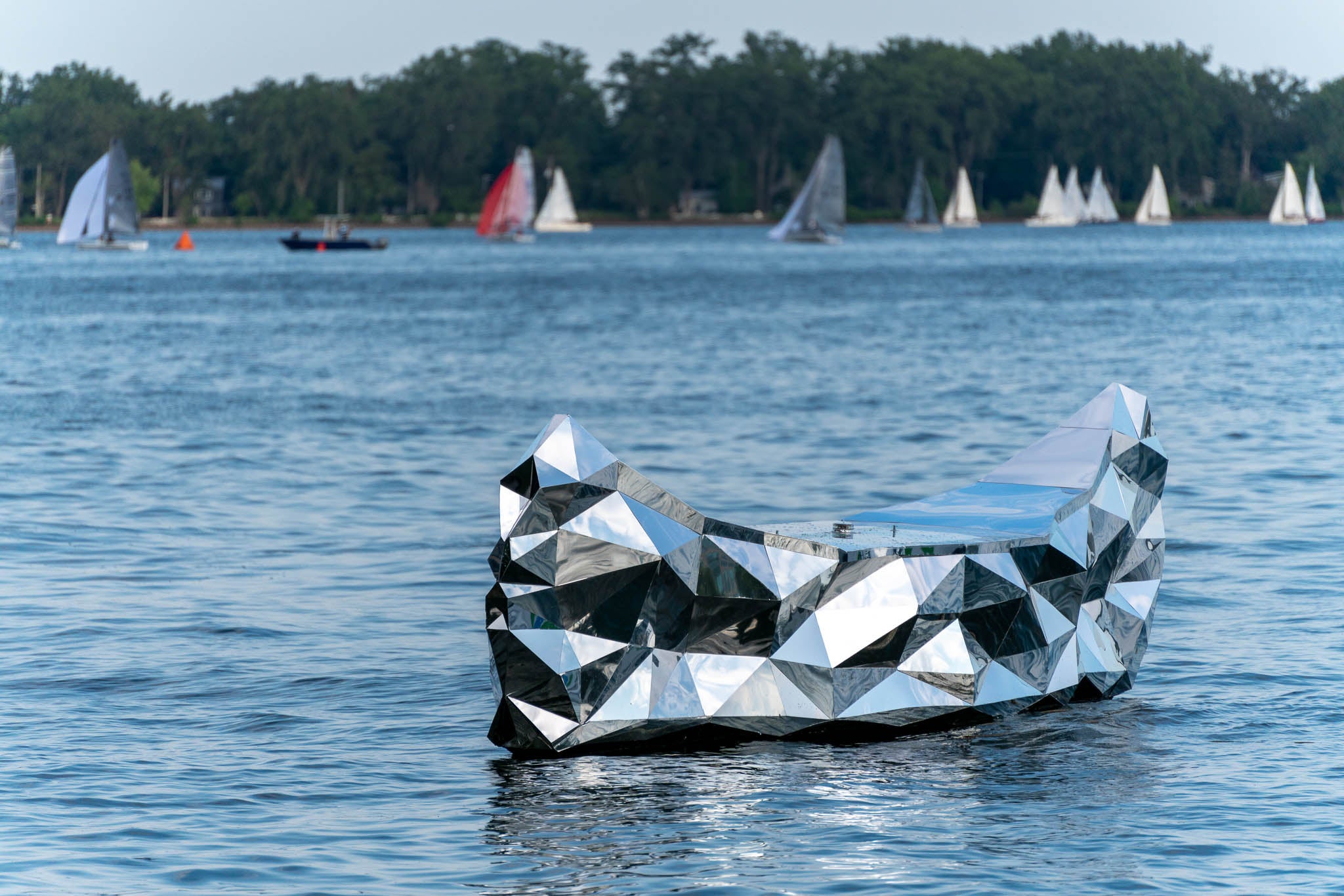 Public art that responds to the waterfront landscape — ecological, cultural, and historical — is central to our revitalization approach. Top: "Olamina" by BSAM Canada. Above: "The Peacemaker's Canoe" by Jay Havens, image courtesy of Celene Tang. 
This year, in collaboration with Indigenous Public Art Curator Ryan Rice, Waterfront Toronto will advance the commissioning of two site-specific, permanent works of Indigenous public art in the West Don Lands. These pieces will highlight the importance of Indigenous placemaking and placekeeping and their role in rekindling relationships to land for all the diverse people who call Toronto home. 
And, after more than 80 national and international applications responded to our call for proposals in 2019-20 for a permanent floating installation at the foot of Sherbourne Common, planning is underway for the most ambitious public artwork ever conceived for Toronto's waterfront. After delays caused by the pandemic, in spring 2022, shortlisted artists will attend site visits designed to help them with their final proposals. 
In the summer of 2022, a new temporary floating artwork will be installed in the Harbour Square Basin where previous temporary floating artworks have been featured, including SOS Swimmers (2019) and Jay Havens piece, The Peacemaker's Canoe (2021).
Finally, pending approval by Toronto City Council, in 2022-23 we will move forward with design development and implementation for the Villiers Island Public Art Master Plan, which will include an Art Trail to be supported by philanthropy. 
Learn more about our upcoming Public Art initiatives on page 29 of the 2022/23 Strategic Plan. 
Philanthropy and Shared Public Spaces
Image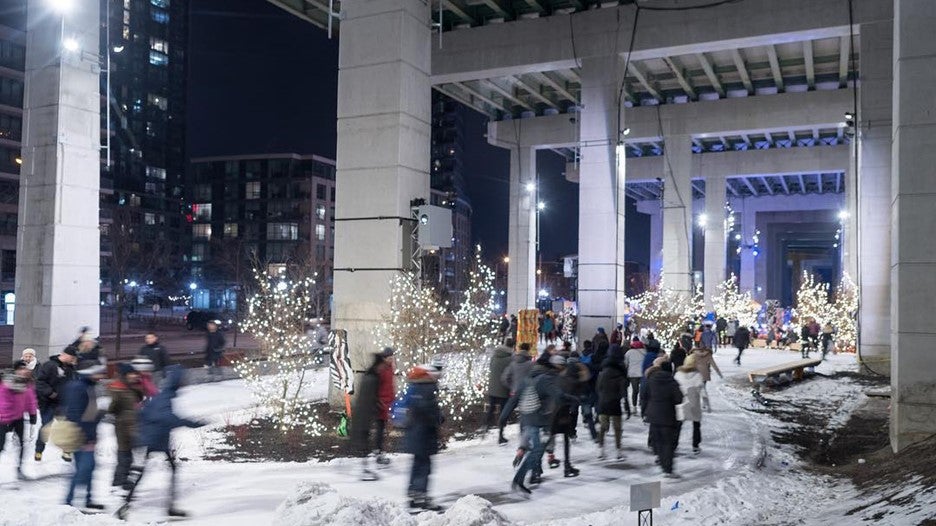 Made possible through a major donation from Judy and Wilmot Matthews, The Bentway, delivered by Waterfront Toronto, is an outstanding example of the growing movement to direct philanthropic investments toward shared public spaces. Image by Public Work. 
In public spaces, philanthropy can make a powerful impact beyond what government is able to provide. We are exploring new opportunities for philanthropists to work alongside Waterfront Toronto and the City of Toronto to realize special projects that will enrich and enliven the waterfront for generations to come.  
In 2022-23, we will engage prospective donors and partners in preliminary discussions about the role of philanthropy in contributing to a world-class waterfront for Toronto. Read more on pages 30-31.
Evolving Our Vision with Five Signature Projects
Image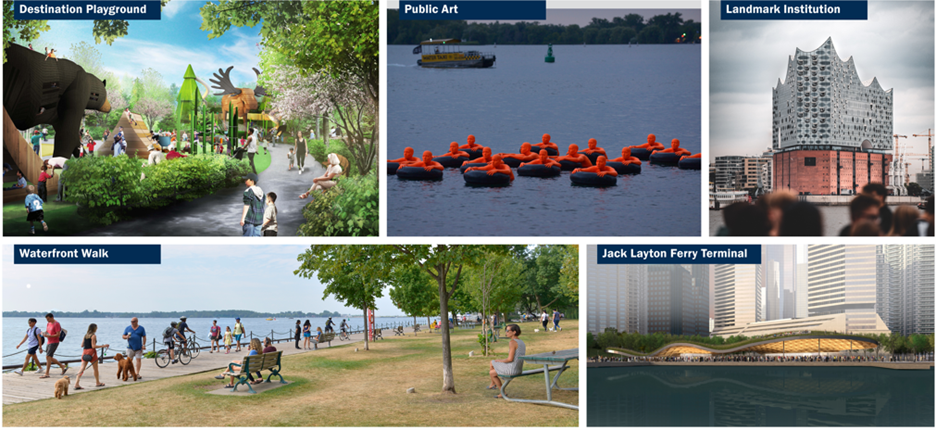 Our five Signature Projects have the potential to powerfully complement our core, funded initiatives and to establish Toronto as one of the world's great waterfront cities. 
Informed by research into the features that define the world's most vibrant and attractive urban waterfronts, we have identified five Signature Projects that could add compelling new dimensions to the work already underway. These include a Destination Playground, a continuous Waterfront Walk, the Jack Layton Ferry Terminal, a Landmark Institution and, new this year, Public Art, which was added to our slate of Signature Projects in response to interest from prospective partners and donors. See pages 32-33 to learn more about these projects.
Currently aspirational and unfunded, these projects represent extraordinary opportunities for philanthropic partners to deliver lasting gifts to millions of people, creating beloved landmarks and shared spaces that enhance urban life and help to establish Toronto as one of the world's great waterfront cities. 
Learn more about these exciting projects and others in our 2022/23 Rolling Five-Year Strategic Plan.