Limberlost Place: Leading the Mass-Timber Movement
POSTED: MARCH 29, 2022 I DESIGN, SUSTAINABILITY, INNOVATION
BY: SHANE SCHOFIELD
George Brown College broke ground on Limberlost Place in September 2021. The mass-timber building's name was inspired by Limberlost Forest & Wildlife Reserve near Huntsville, Ontario.
A new building on Toronto's waterfront will become one of Ontario's first institutional mass-timber tall-wood buildings. Limberlost Place is George Brown College's latest addition to its waterfront campus and will become one of North America's most sustainable buildings. The college broke ground on this exciting building in September 2021 and hosted an official groundbreaking ceremony in December 2021. It is scheduled to welcome students in 2024.
Limberlost Place is in the city's burgeoning East Bayfront neighbourhood, at the corner of Queens Quay East and Lower Sherbourne Street. George Brown College helped lead the transformation of East Bayfront from its post-industrial past when the college committed to its waterfront campus in 2008. At that time there was little activity in the area but once it opened four years later, the campus became a vibrant year-round hub with thousands of students and faculty attending every day. In 2015 the campus was renamed the Daphne Cockwell Centre for Health Sciences in honour of an $8 million dollar gift from Toronto business leader and philanthropist Jack Cockwell and the Brookfield Partners Foundation.
Building on its success and demonstrating leadership yet again, the college is expanding its waterfront campus with this new leading-edge building that will house its School of Architectural Studies and School of Computer Technology, which will draw even more people to the East Bayfront and the city's shoreline. And, unlike when it first opened in 2012, surrounding the campus now, you will now find a thriving waterfront community including the Waterfront Innovation Centre, Sherbourne Common, the Water's Edge Promenade and more.
 
Image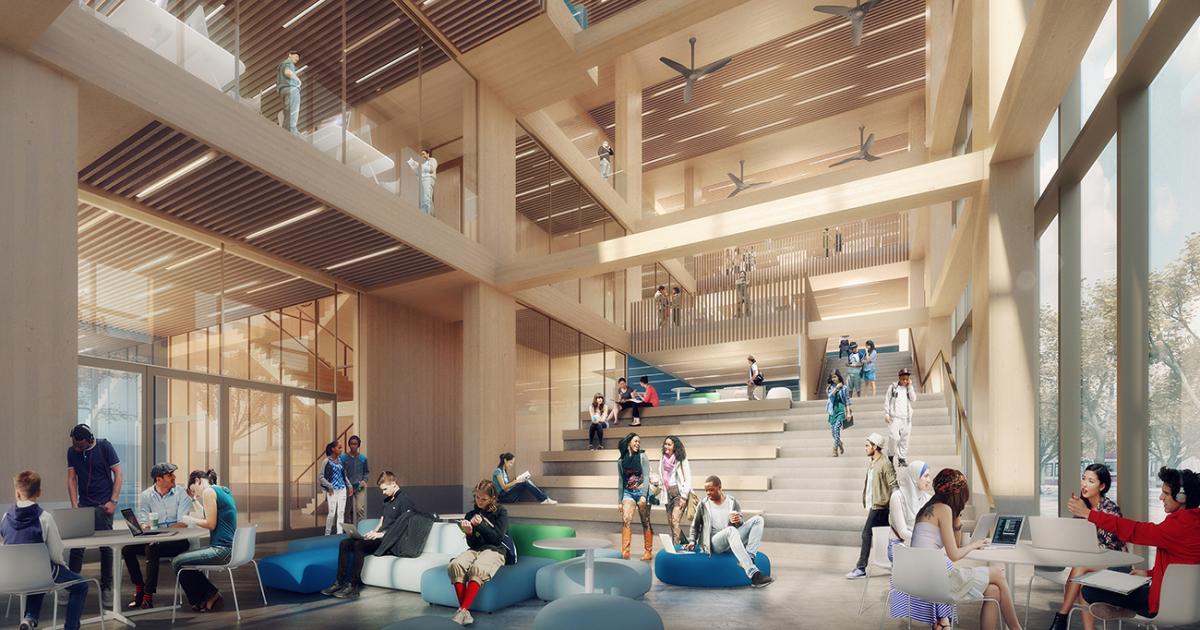 After receiving an $8 million gift from Toronto business leader and philanthropist Jack Cockwell in 2015, George Brown College announced another $10 million donation from Mr. Cockwell in 2021 for Limberlost Place.
Leading the Mass-timber Movement
In April 2018, George Brown College announced the winning design for Limberlost Place from Moriyama and Teshima Architects and Acton Ostry Architects. Demonstrating its leadership in green building, the college's design competition sought a tall-wood, low-carbon design. The five-person jury, including Chris Glaisek, Chief Planning and Design Officer at Waterfront Toronto, unanimously chose the winning design. It offered innovative use of wood throughout the building and excellent energy use.
Mass-timber construction uses large dimension solid lumber, glued-laminated lumber, cross-laminated lumber or other large dimension wood products as the primary load bearing structure for a building. Compared with traditional building materials like concrete, these mass-timber materials are a lower carbon option. Mass timber locks in sequestered carbon, captured by trees from the atmosphere. This helps reduce the overall carbon emissions of Limberlost Place's construction and building materials, known as embodied carbon.
Limberlost place is pushing the boundaries of what is possible for mass-timber buildings. While tall-wood buildings are not new to Ontario, mass-timber innovations have renewed interest in building taller wood buildings. Anything over 6-storeys is considered a tall-wood building and Limberlost Place will exceed that height, standing at 10 storeys - making it both a mass-timber and tall-wood building.
Steps away from Limberlost Place, you will find another mass-timber building under construction in East Bayfront - T3 Bayside.  Limberlost Place and T3 Bayside serve as innovative examples for future mass-timber buildings in Toronto and beyond.
Image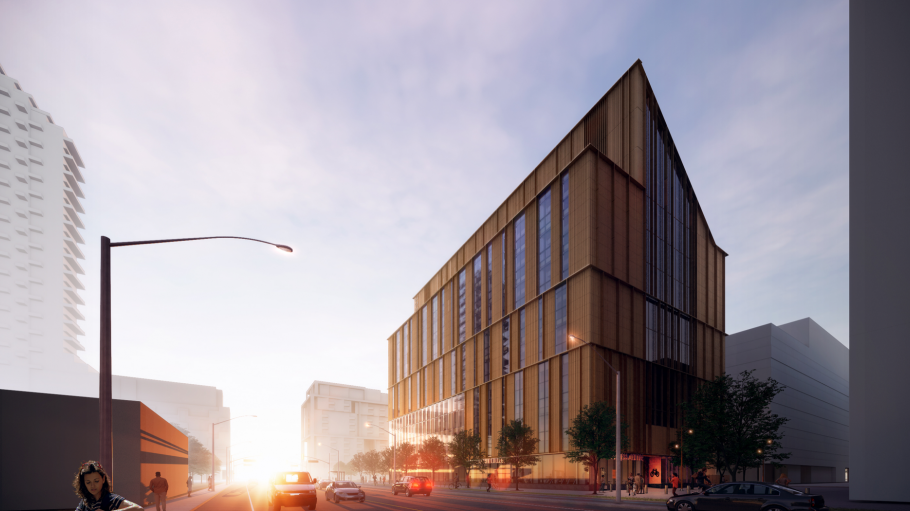 Waterfront Toronto will contribute $3.6 million to the construction of a childcare centre inside George Brown College's Limberlost Place. The centre will serve the surrounding neighbourhood. 
Integrating Sustainable Design Features
Limberlost Place exemplifies our Green Building Requirements' impact. The requirements focus on the outcomes developments must achieve, rather than how they are achieved. This allowed Limberlost Place to embrace sustainable design.
The net-zero carbon emissions building includes solar chimneys to create natural convection, pulling air upward and drawing fresh air into the building from operable windows. It will also use deep-water cooling, circulating water pumped from Lake Ontario throughout the building to cool it. Additionally, rooftop solar panels will generate energy used within Limberlost Place.
The Green Buildings Requirements ensure all developments achieve Tier 3 of the Toronto Green Standard. With its innovative design, Limberlost Place not only exceeds Tier 3, it will meet Tier 4, the minimum standard for all new construction in Toronto as of 2030.
Building a Thriving Community in East Bayfront
East Bayfront is a waterfront neighbourhood where you can live, work, play and study. It is within walking distance from Toronto's downtown core and the nearby Parliament Slip, which has potential to become one of Toronto's next great waterfront destinations. 
With Limberlost Place, George Brown College continues its role as a community leader. Not only will Limberlost Place act as a hub for education, research and innovation, it will serve the surrounding neighbourhood with a childcare center. Waterfront Toronto will contribute $3.6 million to the construction of the childcare center, which plans to serve the surrounding neighbourhood.
Read more from George Brown College about Limberlost Place here.