There's a striking new public art installation in the Toronto harbour
POSTED: JULY 18, 2019 I PARKS AND PUBLIC SPACES, PUBLIC ART
By: Meghan Hogan
This summer, as you walk along the water's edge or perhaps head to the Jack Layton Ferry Terminal as you journey to visit the Toronto Islands, you may notice something eye-catching floating in the nearby harbour.
In the heart of Harbour Square Park is a new public art installation designed by Ann Hirsch and Jeremy Angier of A+J Art+Design. Entitled SOS (Safety Orange Swimmers), the artwork features 25 bright orange life-size figures clinging to inner tubes in the water. Each figure represents more than one million of the nearly 26 million refugees in the world today – bringing attention to the global refugee crisis.
Anchored directly in the Harbour Square Park basin, the Safety Orange Swimmers connect Lake Ontario to the seas crossed by all those in search of shelter, freedom and safety, evoking Toronto's immigrant history. Animated by wind and currents, the display is sure to capture attention and provoke reflection.
West-facing view of the Safety Orange Swimmers in the Harbour Square Park basin
The piece was originally commissioned by Boston's Fort Point Arts Community for an annual Floating Public Art project and was installed in the Boston Harbor in the fall of 2016. The original installation featured 22 orange figures – three figures have since been added to reflect the rise in the global refugee population.
As part of our mandate, Waterfront Toronto is committed to creating a waterfront for everyone to enjoy – part of this includes making public art a part of everyday life in waterfront neighbourhoods to create a more dynamic and inviting civic space.
East-facing view of the Safety Orange Swimmers looking towards the Jack Layton Ferry Terminal
SOS is a temporary art installation sponsored by Waterfront Toronto that will run until mid-September this year. Whether you live nearby and regularly wander along Lake Ontario's shores or are looking for an excuse to visit some of the waterfront's parks and public spaces this summer, you won't want to miss this Instagram-worthy installation!
Be sure to share your photos and tag the installation on social media:
Instagram: @sosswimmers
Twitter: @SOSswimmersFPAC
Hashtags: #SOSswimmers #SafetyOrangeSwimmers #SOSToronto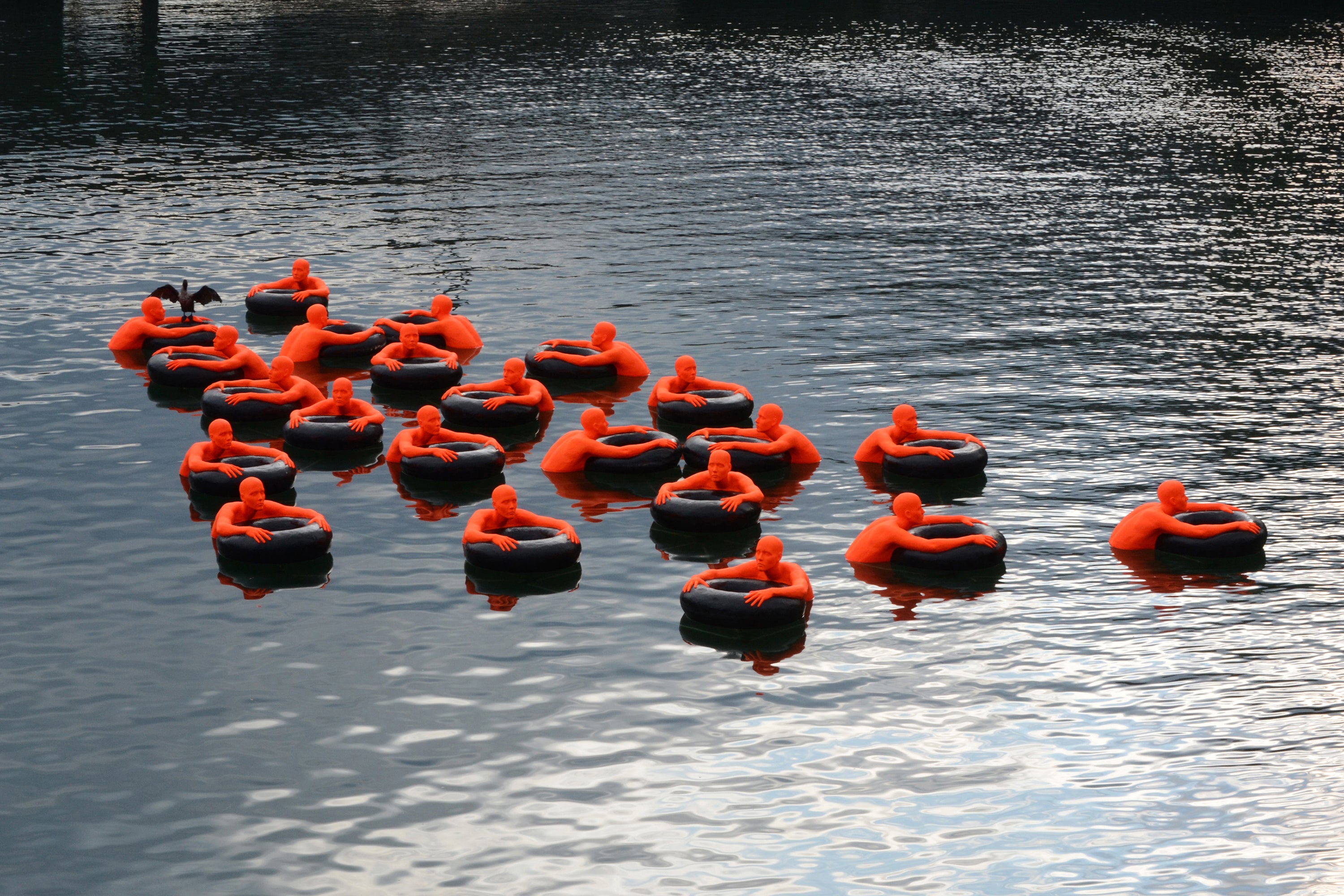 This star denotes the location of the art installation in Harbour Square Park.