COP26 and the Importance of Local Action: Green Building Requirements
Anishnawbe Health Toronto's Indigenous Hub, located in the West Don Lands, designed by BDP Quadrangle, Stantec, ERA and Two Row Architect 
By: Corey Bialek 
What is COP26? 
From October 31-November 12, 2021, world leaders gathered in Glasgow for the UN Conference on Climate Change, referred to as COP26. The Conference on Climate Change is an annual event; however, this year's installment is particularly important. In accordance with the terms of the Paris Agreement signed in 2015, signatories are required to increase their carbon emission reduction targets every five years. Given that last year's conference was cancelled due to the COVID-19 pandemic, COP26 is the first opportunity to see how governments will, or will not, ratchet up their approach to mitigating climate change and prevent warming above 1.5oC by the end of the century. 
As highlighted in the Green and Thriving Neighbourhoods Guidebook, released in 2021 by C40 and Arup, we need to halve greenhouse gas emissions by 2030 to avoid catastrophic climate change. The scale and speed of change needed to accomplish this, while meeting the Paris Agreement target, is unprecedented, which is why urgent action is paramount. 
Although the Paris Agreement is international, local action is a critical piece of the pathway to reducing warming. For example, the City of Toronto declared a climate change emergency in 2019, one of approximately 500 municipalities in Canada to officially recognize the largest existential threat to our species. Toronto's declaration is underpinned by TransformTO, the City's climate action strategy towards net zero carbon emissions by 2050. 
Like the City, Waterfront Toronto is active in the race to mitigate climate change. Over the next two weeks, we will publish a series of blogs highlighting our contributions to meeting Toronto's climate targets and the global call to action. In today's entry, we focus on the Waterfront Toronto Green Building Requirements ("GBRs"). 
Since 2001, Waterfront Toronto has been committed to making the city's waterfront a global and replicable model for sustainable and resilient design. 
Image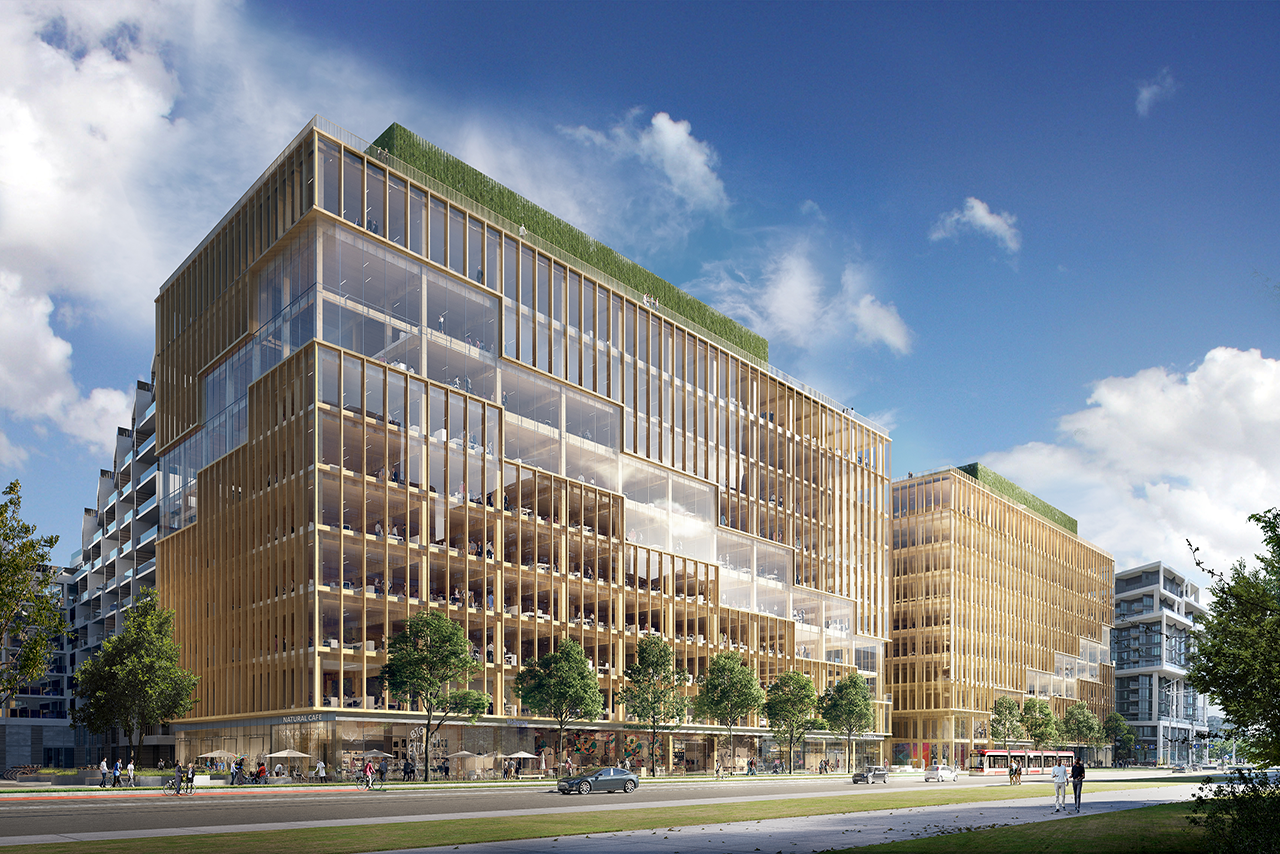 T3 Bayside, a mass timber office in Bayside, set to be completed in 2023, designed by 3XN and Hines 
One of the fundamental ways we achieve this objective is by setting ambitious sustainability targets, advanced by our Green Building Requirements, which must be met by all Waterfront Toronto projects. How is compliance with the GBRs ensured? It's embedded within our development agreements. Once signed, our development partners are obligated to meet the sustainability requirements , including compliance with the GBRs. Compliance is then monitored across the development process, with touchpoints early in the design phase through to construction and operations. In concert, these mechanisms allow us to influence sustainable outcomes. 
Demonstrative of our ambition to constantly evolve and innovate, we released version 3 of the GBRs in 2021 to continue promoting market transformation and widespread adoption of progressive green building standards. 
Version 3 of the GBRs sets out rigorous targets for carbon emissions equal to the requirements in the Toronto Green Standard Version 3, Tier 4 – the highest possible performance tier. 
The GBRs will ensure that all new projects governed by Waterfront Toronto development agreements will achieve near zero carbon emissions, contributing to the global race to cut emissions by half by 2030. This is particularly important given that buildings account for an estimated 55% of Toronto's greenhouse gas emissions today. 
The GBRs also include requirements related to embodied carbon emissions. Embodied carbon is emitted through the manufacturing, installation, maintenance and disposal of building materials and represent approximately 11% of a building's emissions. To put it into perspective, real estate development across the globe creates more than 3.7 billion metric tons of embodied carbon emissions annually, the equivalent of the annual emissions from 950 coal-fired power plants. 
Embodied carbon is quickly becoming an area of focus for the building and development industry. To this end, all projects subject to version 3 of the GBRs will be responsible for reporting the carbon emissions at each stage of its lifecycle – from construction through to operations and deconstruction. In addition, low-carbon alternatives to the proposed structure or envelope must be investigated and reported on. 
In addition to carbon and energy, the GBRs also include requirements for resilience, biodiversity, urban agriculture, water, transportation, and sustainable materials and solid waste. 
For example, all new projects subject to version 3 of the GBRs must include a minimum of 75% native or biodiverse plantings in the landscaped area; provide short- and long-term bicycle parking and bicycle repair amenities; and eliminate all single-use plastics. 
Creating a legacy of sustainability and resiliency 
Image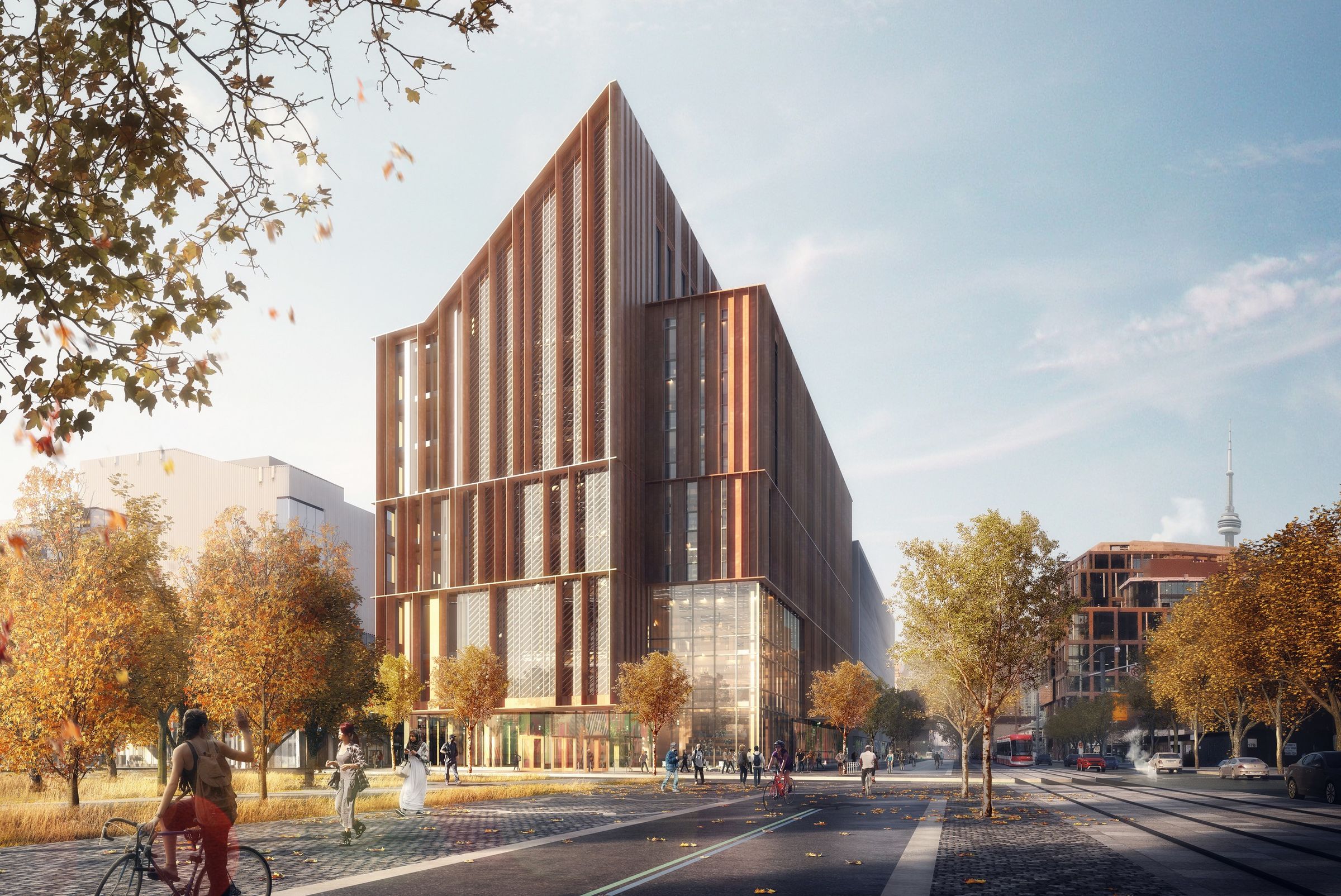 Rendering of The Arbour, set to become Ontario's first "tall wood" institutional building, designed by Moriyama & Teshima Architects and Acton Ostry Architects 
The Quayside Project, whose development partner is expected to be announced next year, will be the first subject to version 3 of the GBRs. To date, earlier versions of our GBRs have led to 30 new LEED Gold or Platinum buildings on the waterfront (15 certified and 15 in-progress). They have also provided direction to new and upcoming innovative projects. 
For example, the Arbour, George Brown College's new waterfront facility, reduces embodied carbon emissions by using mass timber in lieu of traditional building materials. As the first "tall wood" institutional project in Ontario, the Arbour will reset previously held notions about the art of the possible. Other notable projects reinforcing this sustainable trajectory include the Waterfront Innovation Centre, T3 Bayside (a mass timber office building), and the future Anishnawbe Health Toronto Indigenous Hub. 
 
As we approach COP26, we are eager to see how global leaders amplify their approach to meeting the Paris Agreement targets. In the meantime, we will continue to push the bar towards a more sustainable and resilient future. 
To see the full Green Building Requirements, please visit our website or click here. 
This blog is part of a series highlighting our contributions to meeting Toronto's climate targets and the global call to action during COP26, the UN Conference on Climate Change in November, 2021. Read the whole series: