Climate Resilience: Protection Against Flooding and Extreme Weather
Urban flooding is becoming a more common event. It happens when rainfall overwhelms the capacity of drainage systems, such as storm sewers and roads. It can be worsened by intensification if impervious surfaces like concrete are added without any mitigation strategies. 
By: Aaron Barter 
As the next installment in our series highlighting Waterfront Toronto's contributions to addressing climate change and the global call to action from COP26 in Glasgow, we're focusing on the effects of a changing climate already being felt around the world, and what we can do to enhance the resilience of waterfront communities in Toronto. 
Climate change is already here 
This past summer, we were all distraught by the wildfires in Western Canada and Northern Ontario, including the deadly fire in Lytton, BC that destroyed the village and took the lives of two residents. Only days earlier, the community had set the Canadian all-time-high temperature record of 49.6°C during the 'heat dome' that impacted Western Canada for weeks. 
Less than a month later in Europe, more than 200 people died in devastating floods across Belgium and Germany after intense rainfall caused rivers to burst their banks. Tens of thousands of residents were evacuated as electricity and transportation networks were knocked out. Beyond these human costs, the flooding caused total damages of more than $11 billion USD and was described as "one of the greatest natural disasters our country has ever known" by Belgian Minister of Home Affairs Annelies Verlinden. 
Why is extreme weather becoming more common? 
Increasing concentrations of greenhouse gases in our atmosphere (largely due to burning fossil fuels such as gasoline, diesel and natural gas) traps heat, warming our planet, and causes more water to evaporate. And, as air gets warmer, it can hold more water vapour. More water in our atmosphere means more intense precipitation and more intense storms (Climate Reality Project). According to NASA, global temperatures over the last seven years have been the warmest on record, further evidence that our climate is becoming hotter, wetter and wilder. 
The Earth's average temperature has risen by more than two degrees since 1950, and cities like Toronto will continue to experience more extreme weather and deadly heat events as a result. By 2040, we can expect about 66 days with temperatures above 30°C and 8 days with 'heavy precipitation' of more than 20 millimeters of rainfall. (Toronto Resilience Strategy) 
How can we protect communities from the effects of climate change? 
Image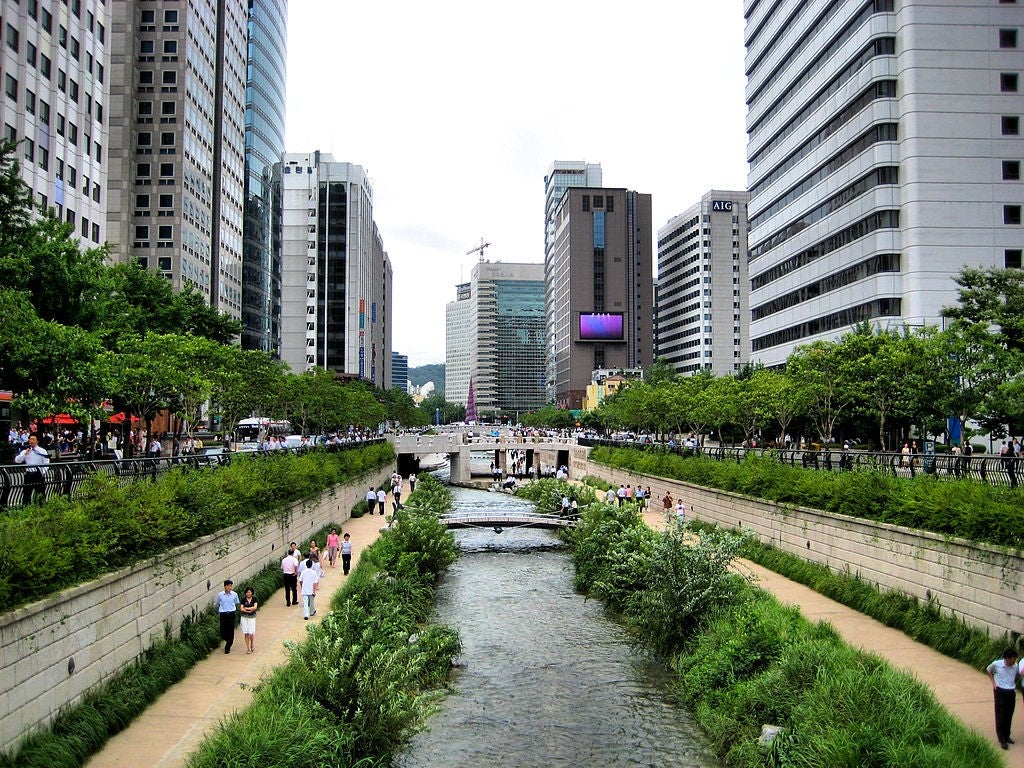 The Cheonggyecheon Stream, in Seoul, South Korea, enhanced flood protection and created a new urban park. Image: Francisco Anzola, CC BY 2.0, via Wikimedia Commons.  
Floods are the most common natural hazard globally, accounting for 47% of weather-related disasters from 1995 to 2015 and affecting 2.3 billion people according to the UN. In addition to the tragic human toll of these events, floods cause more than $40 billion in damage on average around the world every year. 
Climate change is making this situation worse: by 2030, the number of people affected will double compared to 2010. In response, cities around the world have begun taking steps to adapt to these new flood patterns. 
In many cases, returning vegetation to flood-prone lands helps to increase water absorption, decreases the likelihood of flooding, and reduces damage when a river does flood. 
In Portland, Oregon, the Crystal Springs Creek and its watershed have been restored to reduce flood risks and improve the local environment for residents and wildlife. In Seoul, Korea, the city dismantled a 10-lane road and elevated highway to restore the Cheonggyecheon Stream that ran beneath it. This project enhanced flood protection and created a new urban park that now attracts more than 50,000 visitors daily, boosting the local economy, air quality and public-transit ridership. Other inspiring examples from cities around the world can be found on the C40 Knowledge Hub. 
Flood protection on Toronto's waterfront 
Image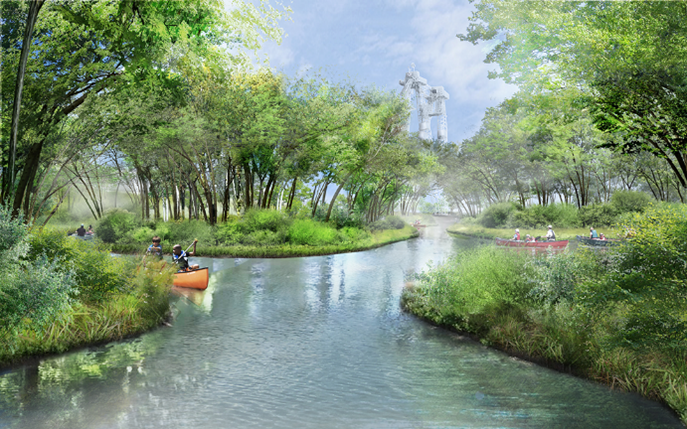 Image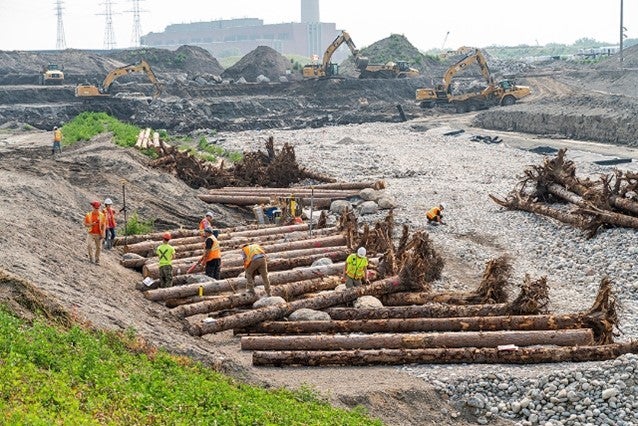 In the Port Lands, the new path of the river has been carefully designed to be resilient to flooding. On the left, trees and rootwads were installed along the future river bank, providing a nature-based solution to erosion of the river bank during a flood as well as important habitat for fish. On the right, a rendering of the future Canoe Cove, which will be part of the new river system, just before the river meets Lake Ontario. 
Toronto's waterfront is no exception. The Port Lands were created by filling in Ashbridge's Bay Marsh, which formed the original, natural mouth of the Don River. In the years since this natural wetland was replaced with concrete during the industrialization of Toronto, natural infiltration of stormwater into the ground has not been possible. Now, during a major storm, the Port Lands, as well as some areas to the east, would experience flooding from water that rushes down the Don River and overwhelms its banks. 
 
That's why the Port Lands Flood Protection Project is so important: it will protect 240 hectares of Toronto's southeastern downtown from flooding. Currently under construction, the naturalization of the Don River mouth creates 100% resiliency during a major storm – even during an event larger than Hurricane Hazel, which swept across Toronto in 1954, dropping more than 200 millimeters of rainfall and taking the lives of 81 people. 
This new river valley has been designed for resilience during periods of extreme high (or low) water levels, protecting ecosystems and habitat for fish, birds and other wildlife. Once flood protection is complete, a vast stretch of land within a 15-minute bike ride from central downtown will become a place where we can safely build new homes, public spaces and parkland, allowing the city to expand in a sustainable way. 
For more information about the status of the Port Lands Flood Protection project, check out updates on our website at PortlandsTO.ca. 
 
Image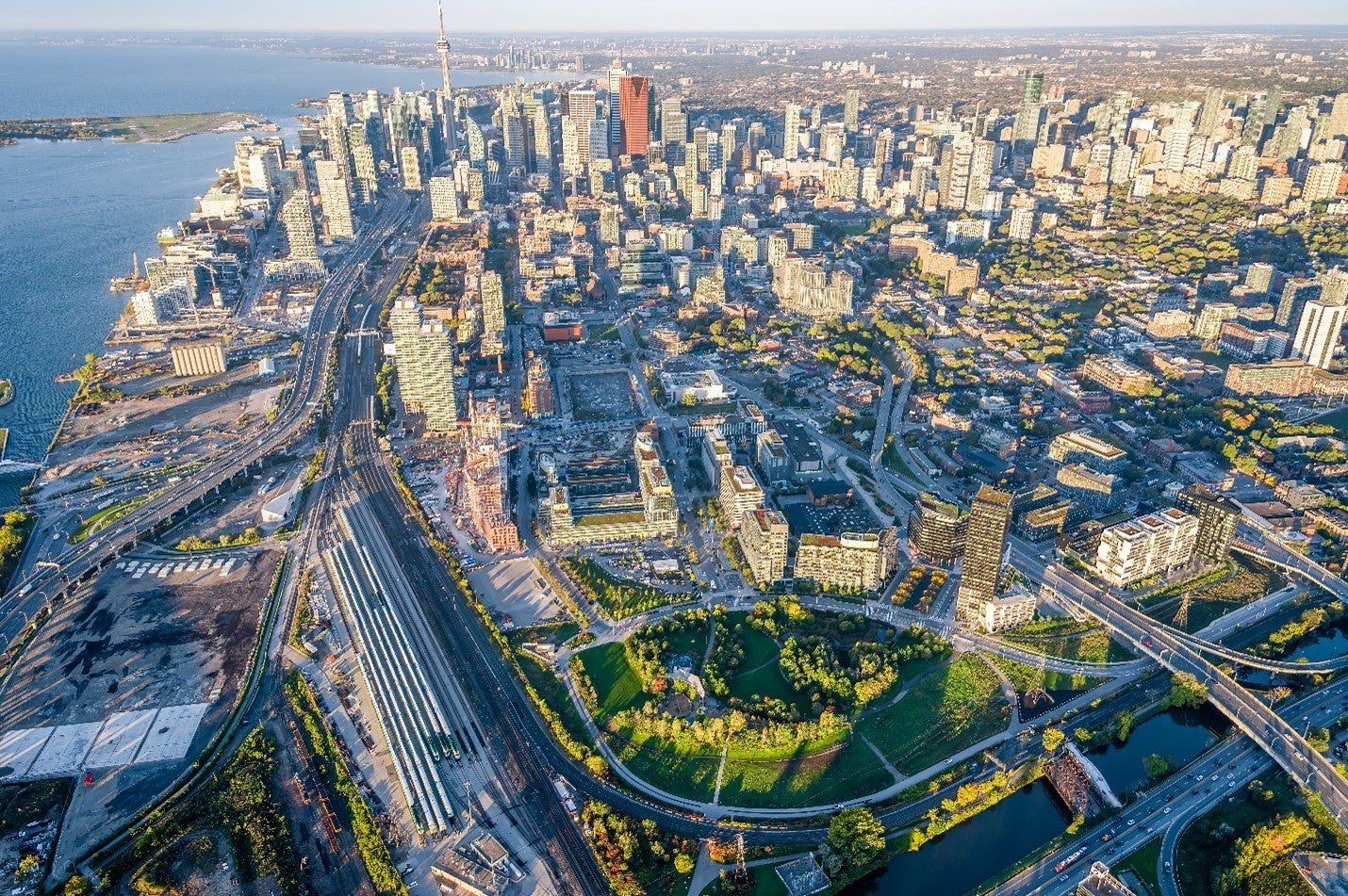 Innovatively positioned atop the area's massive flood protection landform, Corktown Common has leveraged essential public infrastructure to deliver a much-loved public amenity.
Our work in the Port Lands builds on the first phase of flood protection. Back in 2014, Waterfront Toronto opened Corktown Common, a dynamic and lush park that sits atop a massive flood protection landform. The landform protects more than 200 hectares of downtown Toronto – including much of the financial district – from flooding and unlocked development of the West Don Lands. The park has quickly become the sustainable heart of this new community. 
Making buildings more resilient to extreme weather 
In addition to providing critical infrastructure that protects new neighbourhoods against the risks of flooding, our Green Building Requirements (GBRs) outline steps to ensure the resilience of buildings for vulnerable residents in response to a changing climate. The GBRs set out the need for refuge areas within new institutional buildings to protect and house residents who may not be able to stay in their homes during emergencies, including vulnerable populations such as the elderly, socially isolated and those with pre-existing illnesses and young children. 
Further, Developers must plan for a changing climate while buildings are being designed. By using forward-looking weather files (2050 or later), likely climate-related shocks or stresses can be identified, such as increases in temperature, heat waves, prolonged heavy rainfall, and their potential impacts on building structures or systems, as well as occupant comfort and safety can be planned for. 
Has this piqued your interest? To learn more about our Green Building Requirements, check out this blog. 
This blog is part of a series highlighting our contributions to meeting Toronto's climate targets and the global call to action during COP26, the UN Conference on Climate Change in November, 2021. Read the whole series: