COP26 and Local Action: Villiers Island, Toronto's Climate Positive Neighbourhood
Creating a model for urban decarbonization
We're creating a new mouth for the Don River through Toronto's Port Lands. Now that the work is underway, we can turn our attention to creating Villiers Island: a climate positive community.

By: Aaron Barter
 
As the final installment in our series highlighting Waterfront Toronto's contributions to meeting Toronto's climate targets and the global call to action from COP26 in Glasgow, we're digging into plans for a new, climate positive neighbourhood on Villiers Island.
Right now, Toronto's Port Lands are undergoing a major transformation.
The Villiers Island neighbourhood is being formed as we dig the new Don River valley through the Port Lands. Over time, this space will evolve from an industrial area into a complete island community supported by a lush landscape of interconnected parks and open spaces.
Designing a new neighbourhood offers a unique opportunity to show leadership on sustainable development. Through the creation and deployment of real-world solutions that help mitigate climate change, Villiers Island will demonstrate what it means to lead with sustainability and resilience.
 
Neighbourhoods are a natural home for climate action. They are broad enough to unlock economies of scale beyond individual buildings, while also having a defined boundary within which we can clearly demonstrate key environmental outcomes and quality of place for residents and visitors.
 
Image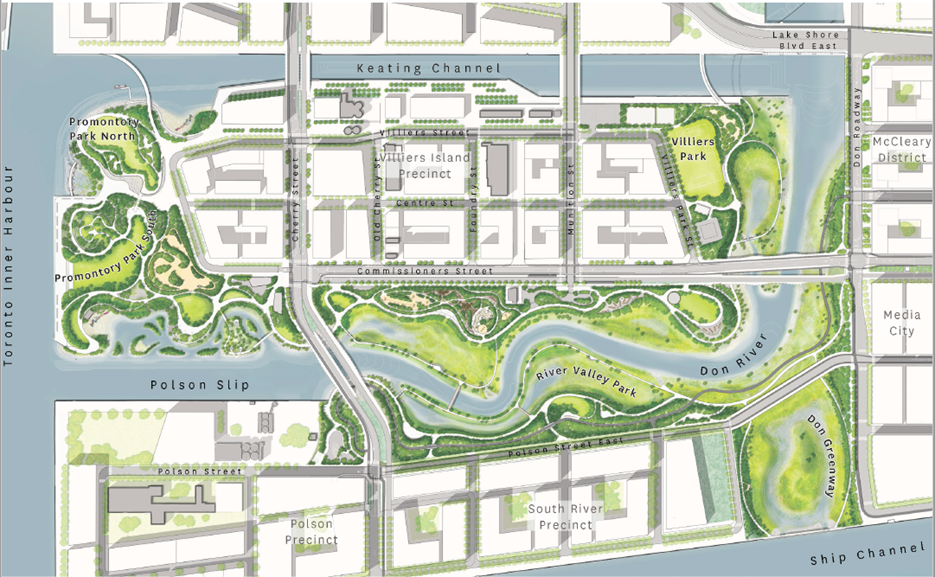 This map shows the streets and blocks envisioned in the Villiers Island Precinct Plan, but the plan includes more than the layout for a new complete community.
In 2017, City Council endorsed the Villiers Island Precinct Plan, an ambitious and forward-looking vision for a climate positive neighbourhood. That means, at Villiers Island, we're aiming to balance operational carbon emissions with renewable energy produced on site. It also means offsetting carbon emissions elsewhere in Toronto.
Since the precinct plan was approved in 2017, the City of Toronto also declared a climate emergency, accelerating efforts to mitigate and adapt to climate change, and adopting a stronger emissions reduction target of net zero by 2050 or sooner.
In support of these efforts, we aspire to make Villiers Island the most sustainable and resilient new urban development in the world, and an international model for net-zero carbon city-building that can respond to the stresses and shocks of a changing climate.
Why climate positive? What does that mean?
Over the next 25 years, Toronto's population is expected to grow by nearly one million people. The enormous challenge we face amid this growth is to achieve net-zero carbon emissions by 2050 as set out in the City's climate action strategy.
Why is this such a challenge? Even if all new housing meets net-zero carbon standards, and we aggressively retrofit existing buildings to eliminate the use of fossil fuels, there will still be stubborn emissions that we cannot prevent from being released into the atmosphere, such as emissions from industrial equipment.
We believe that new development projects should aim to go further than net-zero carbon and aim for climate positive. That means in addition to reducing on-site emissions, new developments help lower emissions from elsewhere in the city. By exporting clean energy, offsetting carbon emissions using nature-based solutions, or scaling-up new technologies that are proven here first, we can help to offset these more stubborn emissions elsewhere, helping to achieve the City's climate targets.
How do we plan to get there?
Neighbourhoods like Villiers Island offer a blank canvass for integrating a suite of climate strategies across the design of buildings, infrastructure systems, the public realm, and streetscapes and transportation. Let's take a moment to cast our eye into the future and consider what visiting Villiers Island will look and feel like within the next decade.
Imagine it's 2035, You're Out for a Walk On Villiers Island…
Net-Zero Carbon Buildings: You don't see it, but the buildings you walk past are designed to use up to 90% less energy for heating and cooling than the average building. Behind each building façade is an array of technologies and design features, like higher quality windows, advanced insulation, and airtight construction. What you do see is that buildings on the north side of the island are taller than those on the south, a deliberate strategy to yield the best access to the sun's energy and reduce the need for mechanical heating in the winter.
 
Image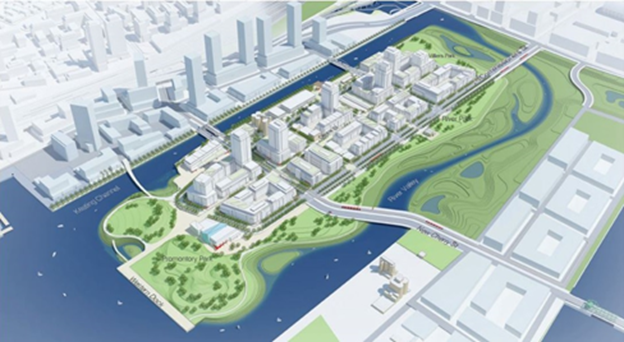 This rendering of Villiers Island shows a technique called 'Solar Massing'. By placing taller buildings north of shorter buildings, all the buildings receive more warmth from the sun, which reduces the need for extra heating in the winter. 
Energy Infrastructure: In addition to warming your skin, the energy from the sun is being used to generate electric power. Using the sun to create electricity is one of the most cost-effective energy strategies for Villiers Island. Solar panels in the community create enough electricity to power over 850 average Ontario homes every year. The remainder of the Island's energy demands are being met underfoot. Deep underfoot, in fact, clean energy passes through a district energy system via a network of pipes supplied by Enwave. The centrally located district energy facility reduces the cost of distributing energy and uses renewable energy sources.
 
Public Realm: Walking across the Island, you feel inherently connected to nature through multi-sensory experiences. That's because the green space and public realm network were carefully planned using biophilic design principles, meaning they are inspired by nature.  Because of this approach, natural forms and patterns appear throughout the public spaces creating a deep sense of connection for residents and visitors to the natural surroundings. In addition to creating a wonderful feeling of being immersed in nature, this approach also fosters environmental restoration and increases ecological function through seemingly simple strategies like permeable paving materials, bioswales, green roofs, and natural stormwater channels . In fact, the public realm on and adjacent to Villiers Island carefully considers all impacts on biodiversity, aquatic health and urban forestry. 

 
Image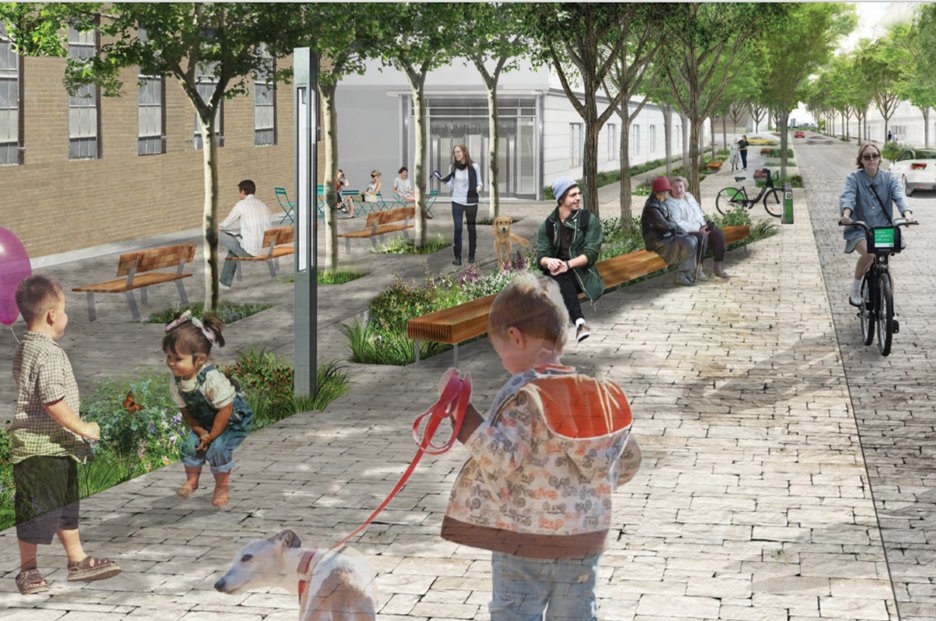 A rendering of Centre Street, a new street on Villiers Island that is designed to be inviting for people, not cars.
 
Active Mobility and Electrification: As you prepare to leave Villiers Island, you strap on your helmet and jump on your bike. Before pedaling away, you notice that many people are walking, cycling, or taking transit. That's because residents and visitors are empowered to use low-carbon modes of transportation and the use of private automobiles has been reduced to 25% of total trips, while maintaining a fully accessible streetscape for all users. Your fellow cyclists are enjoying the dedicated cycling routes on New Cherry Street, New Munition Street, and Villiers Streets; some are on their way to Villiers Park, while others are waiting at a nearby transit stop.
 
By shifting most trips to public transit, walking or cycling, and maximizing use of electric vehicles, transportation emissions can be reduced significantly. In fact, nearly all the cars you'll see are electric, powered by non-emitting renewable energy that makes them 82% more efficient than gas-powered alternatives.
 
From Vision to Implementation
Over the coming months, in collaboration with CreateTO and the City of Toronto, Waterfront Toronto will be modelling the anticipated carbon emissions from Villiers Island, with an updated technical strategy to be prepared early in 2022. This will include a detailed business and implementation plan as we approach the next phase of revitalization on Villiers Island.
The Big Picture
As emphasized by C40 Cities at COP26 last week, cities across the globe are catalyzing a transition to more sustainable patterns of growth and lowered carbon emissions. City governments make decisions about the "stuff" of sustainability – transportation, land use, built form, food systems, and energy. When approached systematically, this can lead to optimal outcomes for humans and the ecological systems we depend on.
 
As described in our first blog in this series – COP26 and the importance of Local Action: Green Building Requirements – Waterfront Toronto has an ambition to constantly evolve and innovate. Villiers Island is proof positive of this ambition as it will spark new ways of thinking about zero carbon neighbourhoods.
This blog is part of a series highlighting our contributions to meeting Toronto's climate targets and the global call to action during COP26, the UN Conference on Climate Change in November, 2021. Read the whole series: