Indigenous Design in New Parks and Communities for Toronto
Members of the project team from MinoKamik Collective, Waterfront Toronto and EllisDon at the Port Lands Flood Protection construction site. 

POSTED: NOVEMBER 8, 2021 | PARKS AND PUBLIC SPACES, DESIGN
By: Ken Dion
Waterfront Toronto is charged with revitalizing 800 hectares of land in downtown Toronto. This land is part of the treaty lands and territory of the Mississaugas of the Credit First Nation. In addition, Toronto has historically been a gathering place for many Indigenous people including the Haudenosaunee and the Wendat peoples, and is home to many First Nations, Inuit and Métis peoples today.
We always seek to include Indigenous voices in our design and planning for new communities and parks. But we recognize the need to move beyond consultation. Over the last several years, we have taken steps to better integrate Indigenous people into our teams. This includes hiring Indigenous professionals to work within our organization. Last year, we recruited an Indigenous design professional to join the Design Review Panel and hired an Indigenous Public Art Curator to work on two major Indigenous art commissions in the West Don Lands.
Working with the Mississaugas of the Credit First Nation
In February 2020, Waterfront Toronto executed a memorandum of understanding (MOU) in cooperation and partnership with the Mississaugas of the Credit First Nation (MCFN) with respect to the revitalization of the Toronto waterfront. The MOU sets objectives, including recognizing and respecting MCFN's rights, seeking economic opportunities for MCFN, and partnering to ensure development work acknowledges and celebrates the Indigenous history, culture and ongoing presence in the area.
This agreement has helped us find opportunities for deeper, more meaningful engagement with MCFN as well as other Indigenous communities.
Integrating Indigenous perspectives into our design teams
In collaboration with MCFN, we established a Request for Proposals for Indigenous design support for the Michael Van Valkenburgh and Associates (MVVA) team as part of their design work on the public realm for the new parks and river valley in the Port Lands.  
In response to this call, Indigenous engagement and design collective MinoKamik was formed. MinoKamik Collective is led by Elder Shelley Mandakwe Charles, member of the Georgina Island First Nation on Lake Simcoe, Cultural Advisor, Ceremony leader, and Indigenous education specialist with York Region District School Board. The Collective consists of Senior Elders that are experts in cultural knowledge and the establishment of cultural frameworks for community engagement, governance, language and Indigenous knowledge, including experts in native plant horticulture, soil restoration, and propagation and harvesting of Indigenous plant species. 
MinoKamik Collective has been advising Waterfront Toronto and MVVA as we develop and implement Indigenous engagement protocols to ensure a safe and respectful space for dialogue, and the sharing of knowledge and ideas. MinoKamik was instrumental in the development of meeting agendas and materials, and leading the overall engagement process to explore opportunities to incorporate Indigenous language, design and culture in these new parks and public spaces. MinoKamik was also instrumental, in partnership with MCFN representatives, to sift through the knowledge shared through our Indigenous engagement efforts to identify priority opportunities to inform and implement local Indigenous cultural expressions in public spaces.
MinoKamik is currently assisting Waterfront Toronto in the preparation of a Request for Proposals for a variety of opportunities for Indigenous designers and artists to submit proposals based on the output of the earlier Indigenous engagement process.
How has our work with MinoKamik Collective informed design for parks and public spaces in the Port Lands?
By involving MCFN and including the MinoKamik Collective on the project team, these new landscapes endeavour to not only celebrate the presence of First Nations, Inuit and Métis communities in Toronto on the north shore of Lake Ontario but to highlight the distinct contributions of Indigenous people to the land, community and waterways.
MinoKamik has led the engagement with numerous First Nations with historical ties to the GTA and local Indigenous organizations as we finalize designs for Promontory Park and River Valley Park. From September 2020 to January 2021, in collaboration with MCFN, MinoKamik held virtual community engagement sessions with a focus on four areas: history, culture, stewardship and Indigenous plant restoration. Listen to Shelley Charles speak about working with MVVA on the PLFP park design.
Image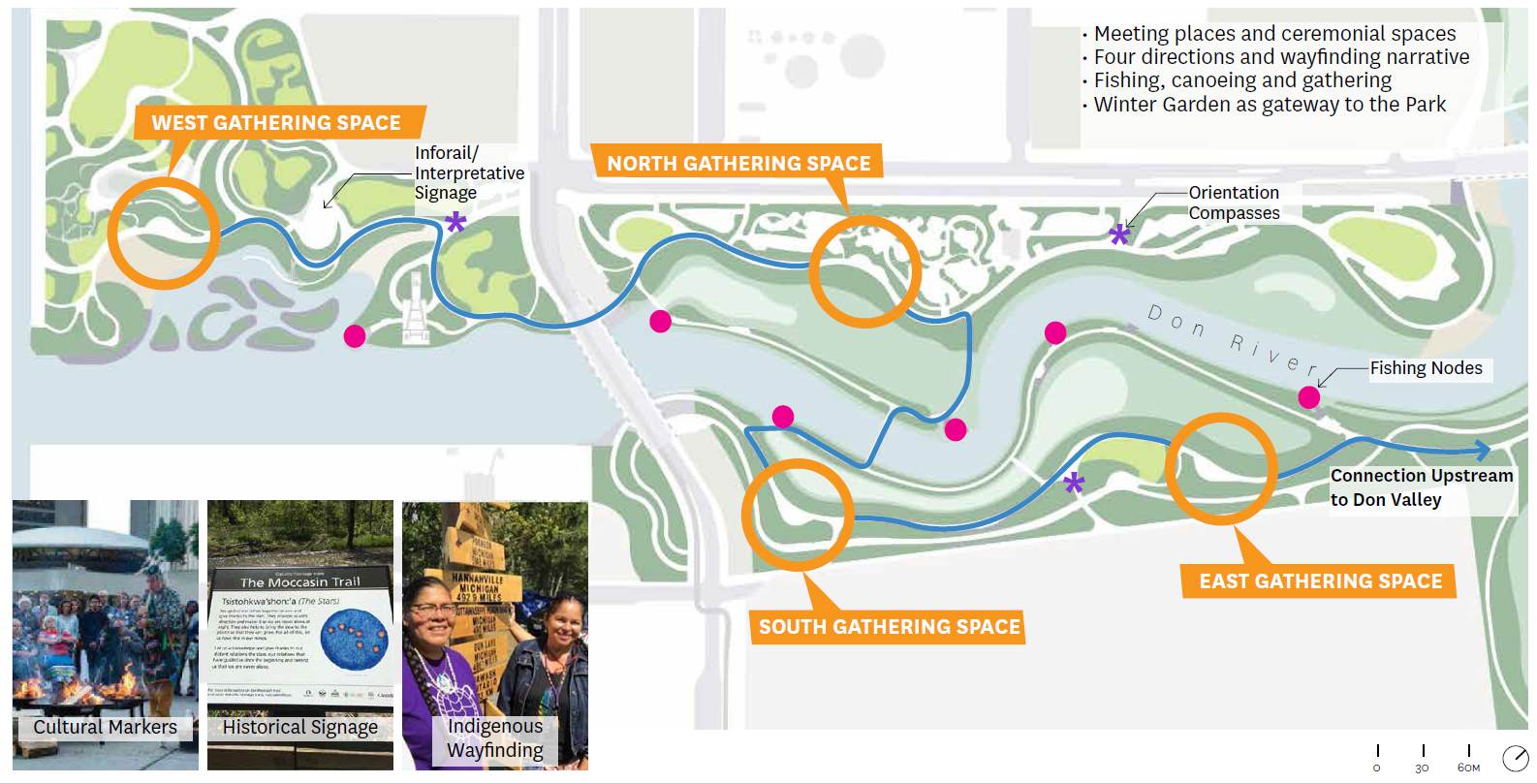 Proposed gathering spaces aligned with the four directions, fishing nodes and orientation compasses are identified in this plan of Promontory Park and River Valley Park.
History
The engagement process uncovered several ways to honour and highlight Indigenous history including traditional gathering spaces based on the four directions (north, east, south and west), orientation compasses and interpretive signage. To accentuate the importance of Ashbridges Marsh and Cherry Spit as major historical gathering and fishing sites, points along the re-naturalized Don River have been identified as fishing nodes as well.
Image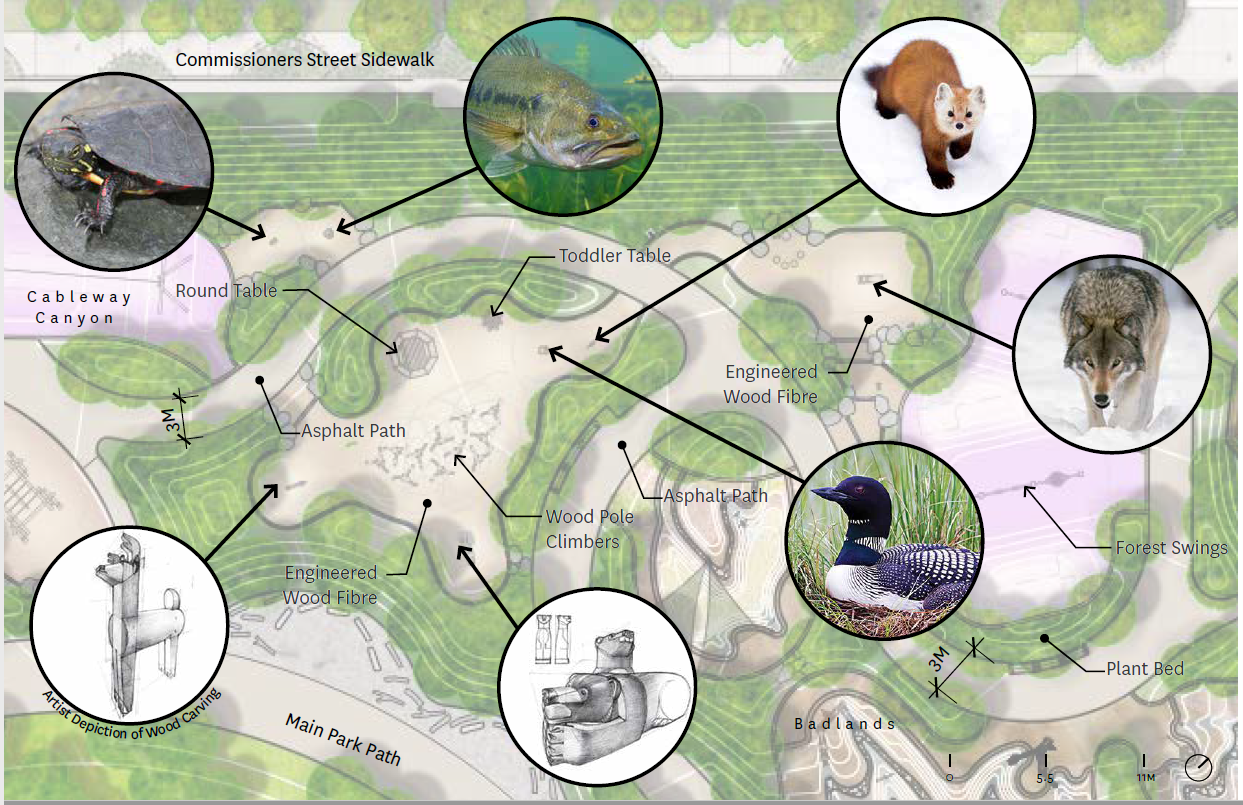 Potential spaces for the animals of the 9 clans to be featured are identified above.
Identity
Some key cultural identifiers recorded during this process included recognizing the Clan-based family structure, multiple languages, sacred symbols and cultural narratives.
One way of reflecting connection to the land and extended community relationships is through dodems, or the clan systems. Animals of several regional and historical clan relationships include: Bear, Deer, Marten, Crane, Fish, Loon, Bird (Eagle), Wolf and Turtle. Based on this community feedback, we're proposing play features throughout River Valley Park that would incorporate these animals.
Image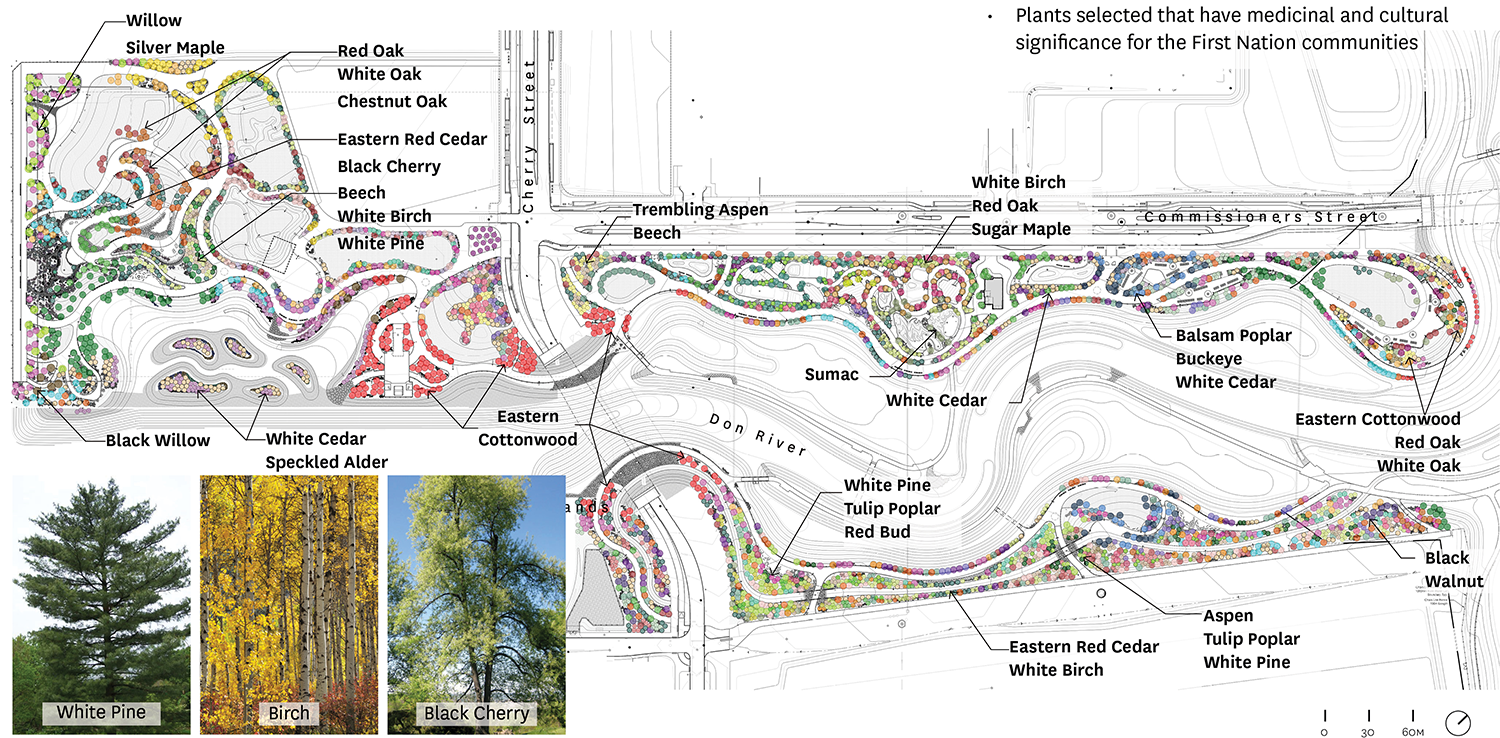 Plantings selected and identified above have medicinal and cultural significance for First Nations communities.
Stewardship
Through this engagement, MinoKamik provided guidance and recommendations on how best to create meaningful, significant spaces to renew the land, water and wildlife. Many trees and plants proposed for the project have medicinal and cultural significance and have been grouped together within the landscape based on the ways they are traditionally used. Some of these trees include White Pine, Birch and Black Cherry.
Image
The proposed fire pit area and adjacent programming space have been identified as potential gathering spaces near Canoe Cove Beach.
Inclusion
Open spaces on Villiers Island are being designed with Indigenous events and ceremonies in mind. The event lawn in Promontory Park and picnic lawn in River Valley Park have been designed to accommodate pow-wows and space has been kept for ceremonies at the mouth of the river.
 
We've also kept space at the edge of Canoe Cove for a fire pit gathering place.
As we work to finalize Indigenous features for the parks and river, we plan to involve additional Indigenous designers and artists in developing creative content. Stay tuned for more information as we move forward with the project.
Email us, tweet at us or join the conversation by following us on Facebook and Instagram.