How Toronto's waterfront is becoming a global arts destination
Among the many reasons to visit Toronto's waterfront, incredible public art and design has always ranked near the top of the list. This summer and beyond, ambitious plans and new projects will bring even more creativity and artistic life to the area.

POSTED: MAY 18, 2022 I PUBLIC ART, PARKS AND PUBLIC SPACES
BY: SIMON BREDIN

What makes Toronto's waterfront such a magnet for arts and culture? Like its "leading with landscape" approach that puts parks and public realm first, Waterfront Toronto takes a waterfront-wide approach to public art that delivers greater coherence across the water's edge.
 
As you walk along the waterfront, you may notice how this approach has paid off, especially in neighbourhoods like the West Don Lands and East Bayfront.

Planning for a Free Art Trail
Waterfront Toronto is eagerly anticipating a future art trail in the Port Lands, which will wrap around the southern edge of Villiers Island. The trail will function as a free, accessible outdoor museum for visitors and residents to the island, showcasing works by local, national and international artists. The trail will feature exhibit infrastructure that will allow for art works to be rotated throughout the year along the route.
Image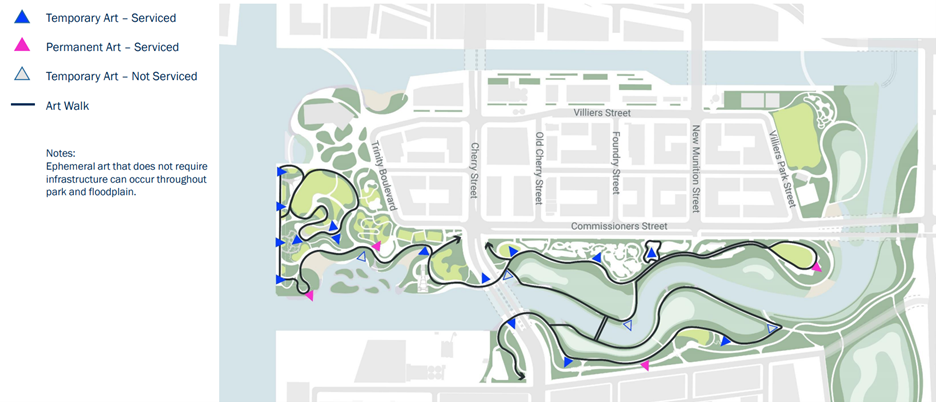 The new Art Trail will weave its way throughout the parks on the south side of Villiers Island, creating an unprecedented flexible platform for changing and permanent outdoor art.
Coming Soon!
Indigeneity and Indigenous artwork have been a focus for us, and in the coming months, we will unveil two major permanent additional works. One installation will be located on the triangle of land formed by the intersection of King, Queen and River Streets; another will be on the plaza of the future Anishnawbe Health Toronto's Indigenous Hub on Cherry Street. These two installations will increase the public visibility and representation of contemporary Indigenous visual culture and territorial acknowledgment in our city.
 
Temporary Art
The display of public art extends onto the water itself, as with last year's popular installation in Harbour Square Park basin called The Peacemaker's Canoe by Jay Havens. Previously, the space had hosted Ann Hirsch and Jeremy Angier's "SOS (Safety Orange Swimmers)," a meditation on the contemporary refugee crisis. These works were procured as part of our Temporary Public Art Program, which seeks to engage a greater diversity of artistic voices, and will return again this upcoming summer.
Image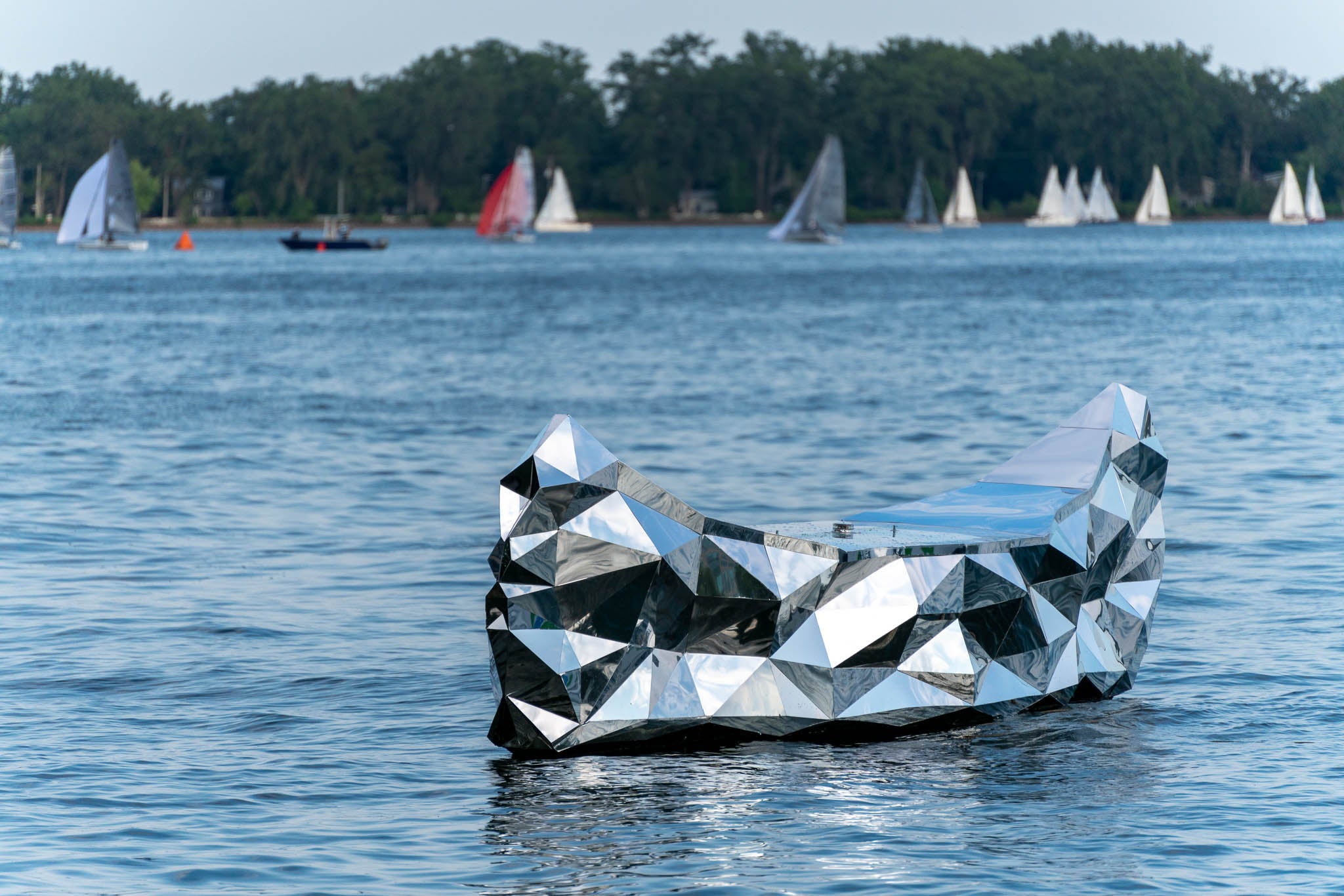 The Peacemaker's Canoe floating in Harbour Square Park basin. (Photo courtesy of Celene Tang)
In addition, Waterfront Toronto is a proud sponsor of the Toronto Biennial of Art, and co-sponsored the iconic feminist artist Judy Chicago, whose smoke sculpture, A Tribute to Toronto, was displayed at Sugar Beach on June 4. Chicago and her collaborators released white, yellow, green, blue, and purple pigments from a barge into the air where they mixed with the wind and the light to create a myriad of colour effects.
Image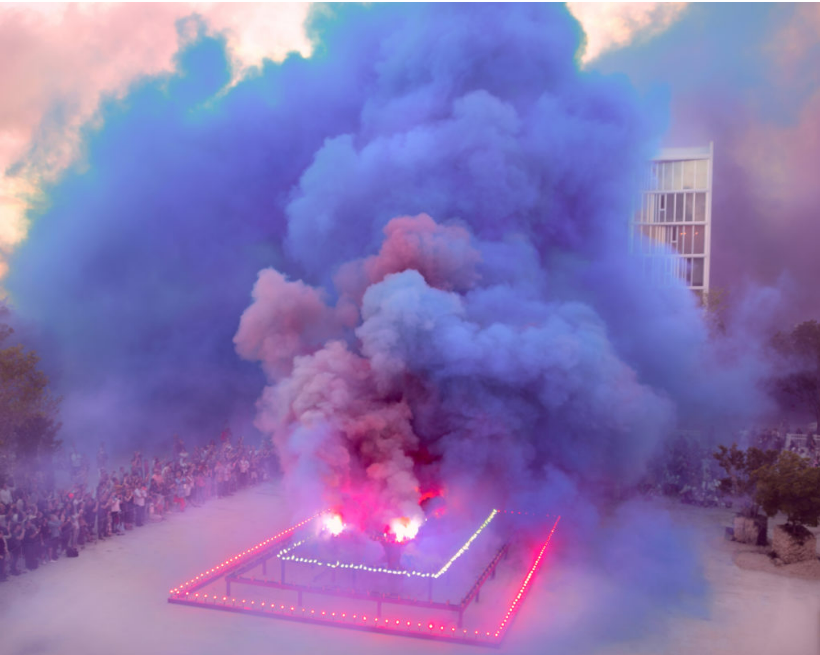 Judy Chicago in collaboration with Pyro Spectaculars by Souza, Purple Poem for Miami, 2019. Fireworks performance. (Photo by Apolo Gomez)
Waterfront Toronto's annual artist-in-residence program also continues to bring fresh new perspectives and artworks. The theme of this year's residency examines life during a climate emergency, by looking at the way that human relationships interact with their surrounding ecologies. A planned carbon-negative sculpture in Aitken Place Park will provide space for sitting with the complexities and grief of climate change. A second, text-based piece appearing in public spaces along the waterfront will celebrate the work to re-naturalize the mouth of the Don River. A third, performative piece will combine voice and movement to encourage the public to observe nuances in local weather.