Climate Change Expressed Through Public Art
Light Showers (2011) by Jill Anholt, transformed stormwater treatment infrastructure into a permanent art installation in Sherbourne Common.
POSTED: APRIL 22, 2022 I PUBLIC ART, SUSTAINABILITY
By: Corey Bialek
Public art is multidimensional. From educational and functional to emotive and provocative, it asks us to reflect on contemporary issues as humans in a complex world. In this blog, we explore how the form and function of public art can generate discourse about one of the most pressing issues of our time: climate change. 

Waterfront Toronto has a robust history of commissioning permanent and temporary public art across the edge of Lake Ontario. We believe that public art is a fundamental component of complete, sustainable communities, exemplified in our various art plans and strategies.
Art has an intrinsic capacity to stimulate thought, challenge preconceived notions, and clarify emotions, especially when located in publicly accessible spaces. It asks its viewers to pause and contemplate. It opens minds and elicits emotional responses. It can engender intense personal experiences in ways facts and figures cannot. And because public art is free and accessible, it can reach a wider swathe of the population with commensurate impact.
Accordingly, public art can be a powerful tool to attend to contemporary issues – like the climate emergency – by forging emotional and spiritual connections between audiences and subject matter. And, as described in the rest of this blog, these connections can be many things at once.
What Does It Mean to Be Human in the Climate Emergency?
Climate change is a sprawling subject – impossible to comprehend in its entirety yet entirely critical to contemplate. Public art can bridge this pedagogical gap through form and function.
For instance, art installations can double as functional landscape elements. Located in Sherbourne Common, the UV light emitted by Light Showers not only illuminates the sky in blue ombre, but also treats stormwater. In this example, visitors are invited to interact with a municipal service – stormwater treatment – typically hidden underfoot. By translating the mundane conveyance of stormwater into artistic expression, Light Showers asks visitors to contemplate the passageway of water across the city landscape.
Image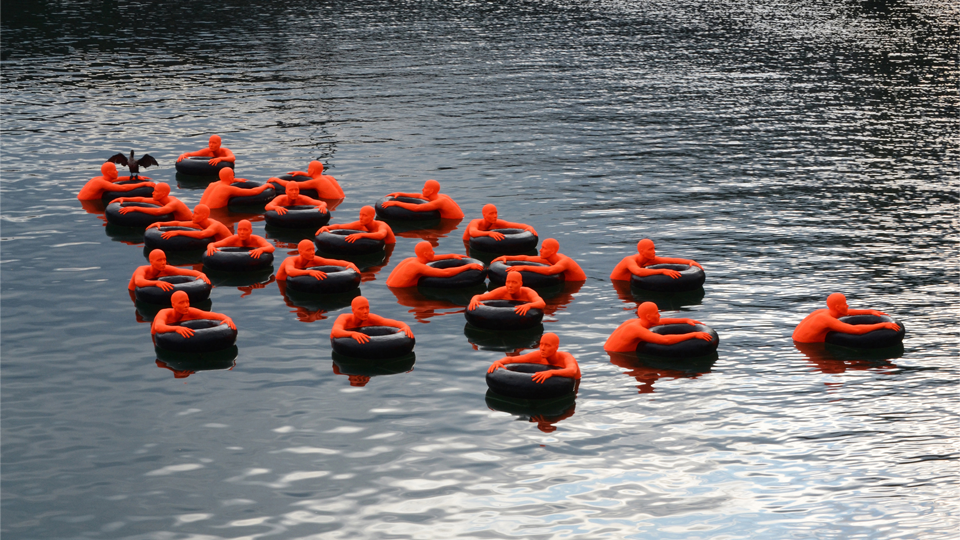 'Safety Orange Swimmers', a temporary floating art installation designed by Ann Hirsch and Jeremy Angier of A+J Art+Design. Pictured here in Harbour Square Park Basin in 2019.
Previous, temporary installations on the waterfront have addressed climate change and social equity in more abstract ways. SOS (Safety Orange Swimmers) was on display in Harbour Square Park Basin for two months in 2019. A meditation on the global refugee crisis, SOS brought visibility to the existence of approximately 26 million refugees worldwide. The climate emergency is set to exacerbate this figure; the Intergovernmental Panel on Climate Change estimates that by 2030, about 250 million people may experience high water stress in Africa, with up to 700 million people displaced as a result. The emotional dimension of SOS spurred discourse about the causes underpinning the crisis while humanizing the issue. 
In 2021, a new floating installation in Harbour Square Basin similarly asked onlookers to contemplate social equity – in this case through rumination on the pre-colonial, colonial, and future histories of Indigenous Peoples and Nations. The Peacemaker's Canoe, designed by Jay Havens, provided commentary about the disproportionate impacts of settler laws on Indigenous Peoples, but also articulated hope for a future informed by fair governance, democracy, and peace. Understanding that reconciliation cannot be separated from resilience, this art installation offered a spiritual bridge to a future imbued with mutual respect, love, and admiration. 
Image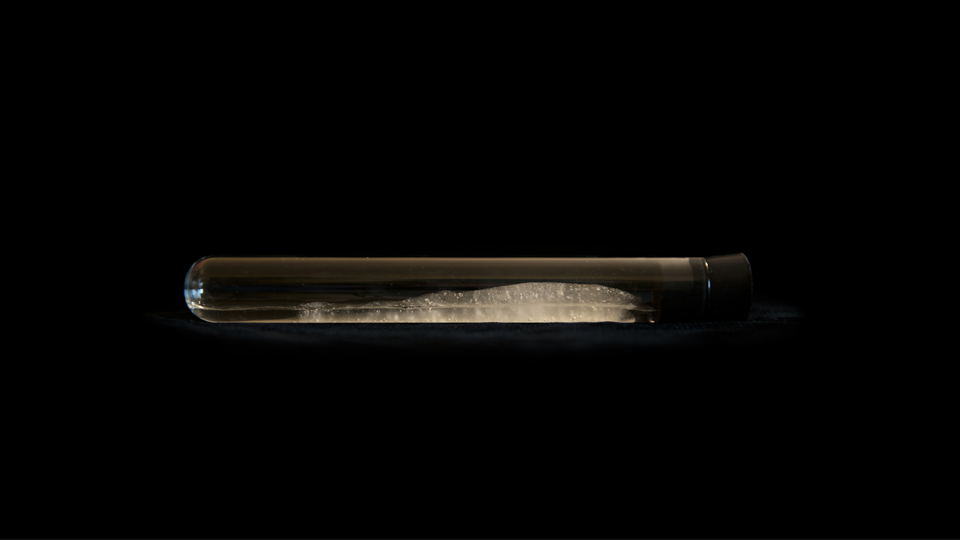 Watching Dull Edges (2019) by Lisa Hirmer, the 2022 waterfront artist-in-residence.
Waterfront Artist-in-Residence to Examine Life During a Climate Emergency 
Carrying on in the tradition of connecting humans, climate change, equity, and our waterfront ecosystems, the new artist-in-residence, Lisa Hirmer, is poised to deliver new and exciting projects over the coming year. 
"There is something very special about the way the city's urban fabric tangles with the more-than-human world along the waterfront. There is incredible creative potential for a sustained engagement with the unique hybrid ecologies of the city's watery edge. The chance to create meaningful experiences with this special place is really exciting," says Hirmer, 2022 waterfront  artist-in-residence.
In January 2022, Waterfront Toronto and the Waterfront BIA announced that interdisciplinary artist Lisa Hirmer had been appointed as the waterfront's next official artist-in-residence. Hirmer's work critically examines the way that human relationships interact with their surrounding ecologies and asks broader questions about life in this moment of climate emergency.   
Questions like, how do we build better relationships with the more-than-human urban world? And, how can we engage with the complexity of climate change without ignoring its scale or succumbing to dejection? 
Hirmer plans to plumb the depths of these inquiries through a series of temporary installations and performances. Diverse in form and function, each piece will engage the observer in different ways. A planned carbon-negative sculpture in Aitken Place Park will provide space for sitting with the complexities and grief of climate change. A second, text-based piece appearing in public spaces along the waterfront will celebrate the work to re-naturalize the mouth of the Don River. A third, performative piece will combine voice and movement to encourage the public to observe nuances in local weather.
We are excited to introduce more details on this series of temporary artworks in the coming year and look forward to contemplating the challenges of climate change, together.
Follow Waterfront Toronto on Twitter for updates on Lisa Hirmer's first installation as the waterfront artist-in-residence.