A Place to Touch the Water: Parliament Slip goes to Design Review Panel for Preliminary Feedback
Image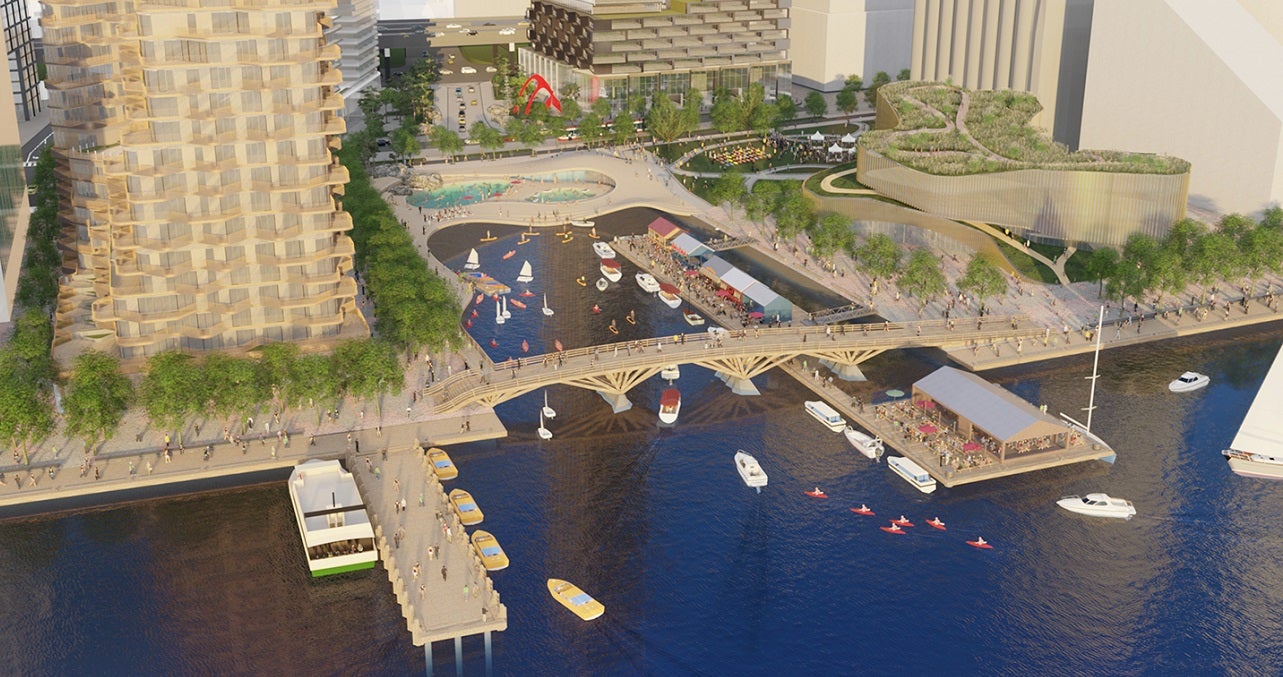 Parliament Slip is envisioned as the blue heart of the eastern central waterfront – a place to touch the water. 
POSTED: May 4, 2022 I DESIGN, PARKS AND PUBLIC SPACES, INFRASTRUCTURE
BY: ADAM NOVACK
Located at the heart of the eastern central waterfront, Parliament Slip presents a special opportunity to create a bustling year-round gathering place where people can swim, launch a kayak, visit a floating restaurant or have a picnic by the water's edge. 
 
Over the past decade, we've heard from the public what they feel to be missing from our waterfront. We've heard people are looking for new family-friendly destinations or experiences to enjoy in summer or winter. They want to be outside, enjoying the fresh air, with easy access to the water.  
 
During this time we also took a close look at what other cities were doing on their waterfronts. What made them great? How were they so active? There were some common attributes — like open swimming, waterfront dining, sightseeing and recreational boating — that contributed to their success.  
 
Image

Precedents for outdoor swimming include Islands Brygge in Copenhagen, Iceberg Pool at Bondi in Sydney and Gord Edgar Downie Pier in Kingston
Drawing on this public feedback, the research findings and our updated 2020 Marine Use Strategy, Waterfront Toronto developed a preliminary vision to transform Parliament Slip from an underused industrial berth to an attractive public destination for healthy recreation and entertainment on land and water. Although funding has not yet been identified we are working towards the 30% design milestone.
Foundational to our vision is year-round activation, high standards of accessibility and sustainability, supporting marine recreation and creating a welcoming space for everyone to access Lake Ontario. This is a strong starting point, but it is still early in the process. We expect this design, and our ideas, to evolve over time as we seek feedback from the public, our Design Review Panel and other stakeholders.
Image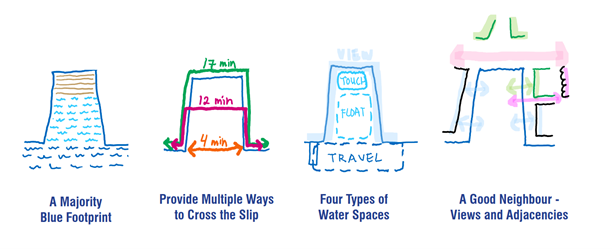 For the past year, we have been working with West8 and DTAH to advance the initial design principles for Parliament Slip.
Public engagement is an important part of our design process and essential to creating a valued public amenity at Parliament Slip. Since sharing this preliminary vision last year, we have sought early feedback from local resident associations and one of our Stakeholder Advisory Committees that has provided some helpful initial insights to the design team. Next, a broader public forum will take place this summer so everyone can offer feedback to help advance the design.

Last week , the project team introduced the Parliament Slip project to Waterfront Toronto's Design Review Panel (DRP) for what is called "Issues Identification".  Issues Identification is the first time projects are reviewed by DRP and focuses on the project's context, overall program, design strategy and sustainability objectives. It is an opportunity for our team to present their preliminary work and receive feedback from expert panellists. The design presented at this review is at an early stage and will evolve as the project advances.  The feedback helps inform the design and steer the project in the right direction, resulting in further research and changes where necessary.
 
The presentation materials from this DRP are available here and a video recording of the presentation will be available online shortly. Be sure to check out the video to hear from the design team and reactions from the DRP. In the meantime, here are a few highlights that we're excited to share:
 
Image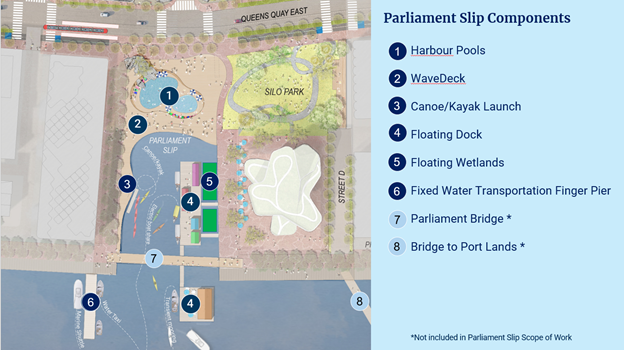 Components on an active waterfront
 
Surrounded by exciting new public spaces, the new Parliament Slip will be at the center of a vibrant and active waterfront, and a destination for swimming, marine activities, and dining.

The vision begins with a WaveDeck that innovates on the whimsical and dynamic design of those in the central waterfront. Here the WaveDeck will include swimming pools and serve as the anchor for a water amphitheatre and canoe/kayak launch. Other features include a floating dock with small scale concessions leading to a full size restaurant, floating wetlands, transient mooring, and a fixed pier to support water transportation.
Image

The preliminary design offers two pool basins: a larger pool that could accommodate about 300 swimmers and a smaller, shallow pool for about 145 swimmers. The two-basin design offers the most flexibility to the operator, as each can be independently programmed.

Accessibility
Our vision is one vibrant waterfront that belongs to everyone. That vision only becomes possible through a strong commitment to accessibility in everything we make and do. We are currently working on a new Accessibility Framework that will guide design along the waterfront and help ensure Toronto's waterfront is one of the most accessible in the world. While this work is underway, we are already thinking about how to ensure equity of access around the site and to the various activities for people with visual impairments or those with different mobility needs.  There will be accessible mobility routes both around and across the slip, accessible gangways (or ramps) to the floating dock, accessible entry options to the pools, and the design of the kayak and canoe launch will allow for people with mobility issues to enjoy access to the water.
 
Image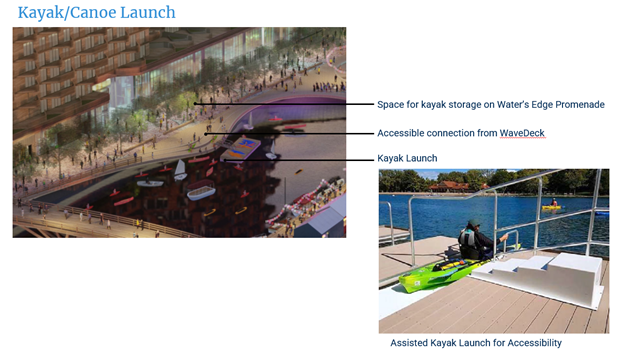 A variety of approaches are being explored to ensure the amenities at Parliament Slip are accessible. Pictured here is an assisted kayak launch.
Image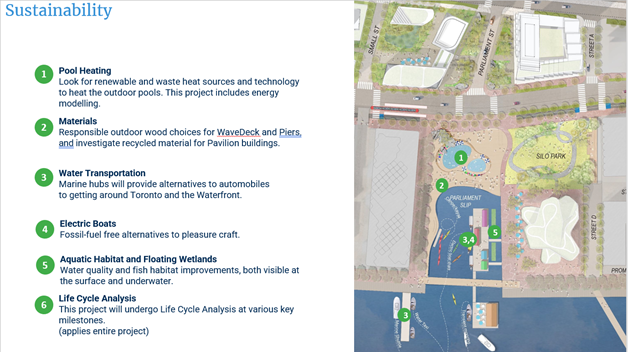 The project presents many opportunities to demonstrate environmental leadership - from energy sources to building materials to habitat to recreational opportunities.

As with all our work, the environment is top of mind. At Parliament Slip, our project team has established goals to support a healthy ecosystem and mitigate environmental impact. For example, we are looking to use renewable and waste heat technology to heat the outdoor pools and sourcing renewable and recycled materials for constructing the WaveDeck, piers and buildings. Marine use recreation will be centred on human-powered crafts, sailboats and electric boats. And, important aquatic habitat will be constructed below the water as well as floating wetlands between the Water's Edge Promenade and the floating dock.
 
Image

Precedents for winter animation include winter markets like at Toronto's Distillery Historic District (left), winter swimming like the Allas Sea Pool in Helsinki, Finland (middle), and covering the pools with a bubble like at Twin Falls, Idaho (right)

Animating the space in all four seasons is an important objective so we are exploring a number of options for winter activities. For example, inspired by successful projects such as the Allas Sea Pool in Helsinki, the project team is exploring the feasibility of extending swimming into the colder months – either remaining as an outdoor experience or perhaps being covered with a bubble. We are also considering how the pool deck could be converted to a flexible plaza where events, like a winter market, could take place. 

What's next? 
The total project budget is approximately $75 million and although funding has not yet been identified we are working towards the 30% design milestone. Lake filling at the tip of Parliament Slip is needed for another Waterfront Toronto project, the extension of Queens Quay East, and is scheduled to begin in 2023 (learn more about this project here).

In the next few months, Parliament Slip is expected to reach 30% design. At this stage, the project team will return to the Design Review Panel for the second stage "Schematic Design" review to receive more feedback.

We will also be hosting a public consultation around the same time to seek broad public feedback on the programming and design. Watch for more information about how you can have your say in refining the preliminary design.

In addition, we are very pleased to be working with MinoKamik Collective. MinoKamik, in collaboration with Mississaugas of the Credit First Nation, are leading the Indigenous Engagement process for Parliament Slip to identify where placekeeping ideas and Indigenous Design and Knowledge can be best integrated in the design. You can read about the work we are doing with MinoKamik in the Port Lands here. 

To view full renderings, visit our web site here.

Sign up for our newsletter to get updates and participate in our Public Consultation for Parliament Slip.