Bridging the Gap to Next Generation Sustainable Communities
On track to be complete by 2024, the Port Lands Flood Protection Project is unlocking 240 hectares (593 acres) of land for revitalization and will provide exciting new places where people can connect with nature and each other. Photo by Vid Ingelevics and Ryan Walker.
POSTED: AUGUST 5, 2021 I COMPLETE STREETS, INFRASTRUCTURE, INNOVATION, SUSTAINABILITY
By: Sarah Askett
While we are building physical connections for people to access the water, the one that will have the greatest impact is our connection to a sustainable future. In our 2020-21 Integrated Annual Report, we look back at our accomplishments over the past year and how they contribute to a greener future. This second of our three-part blog series will focus on the actions we are taking to enhance sustainable communities and green city building so our waterfront can be enjoyed for generations to come.
Bridging the gap, literally
Image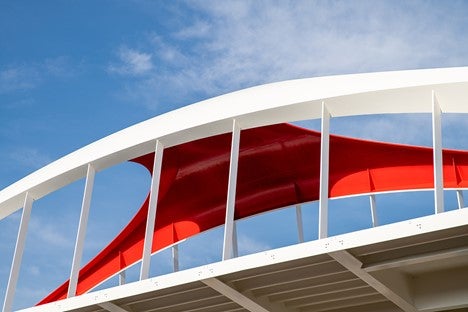 The Cherry Street North Bridge will connect the future Villiers Island to the city. Photo by Vid Ingelevics and Ryan Walker.
Parks, trails, and public waterfront access have always been an important part of thriving waterfront communities. Once complete in 2024, our work on the transformative Port Lands Flood Protection (PLFP) Project will create a new island (Villiers Island) and 25 hectares of new parks and public spaces. One of the largest infrastructure projects ever undertaken in Canada, it will truly transform the shape of Toronto's waterfront and unlock an area of land the size of downtown Toronto for people to live, work and play. The Port Lands will deliver a wide range of economic, social and ecological benefits and will transform the waterfront landscape with new wildlife habitats, greenspace, and five new locations for launching kayaks and small boats.
Tremendous progress has been made on the PLFP Project so far and, despite challenges caused by COVID-19, we are still on-track to complete our work in the Port Lands in 2024. This year, the arrival of the Cherry Street North Bridge – the first of four bridges that will connect the future Villiers Island to the city – marked a big milestone. When complete, Villiers Island will provide much needed green space and will also set a new standard for sustainable development and green city building by aiming to be one of the first climate positive communities in Canada.
Healthy lake, healthy communities
The health of Lake Ontario plays an integral part in creating healthy, sustainable communities. In March 2021, we completed the Cherry Street Stormwater Management Facility, in partnership with the City of Toronto. This facility uses an innovative water treatment technology to remove pollutants from water collected through area storm sewers before it is released into the lake. Currently, the system is able to collect and treat 1450 litres of stormwater per second from the West Don Lands Precinct, West Keating Precinct and a portion of the East Bayfront Precinct.
Image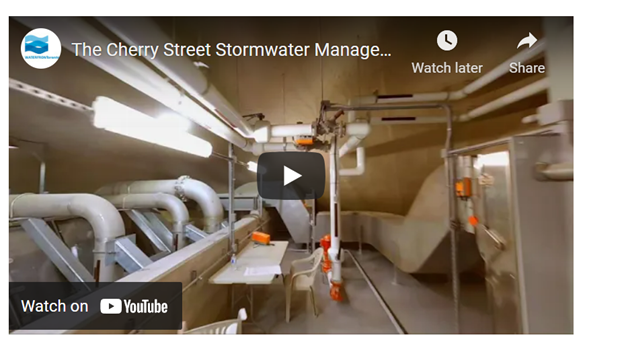 The Cherry Street Stormwater Management Facility uses state of the art technology and an innovative three-step system to remove pollutants from stormwater before it is released into Lake Ontario. Video courtesy of Graham.
The Cherry Street Stormwater Management Facility is part of a larger stormwater management system that will also help prevent flooding. The final piece of this system – in-water pipes – will help expand the service area of the system by collecting and moving stormwater from the Dockside area to the treatment facility. The in-water pipes are expected to be completed by early 2022.
Setting the Standard for Sustainable Development
Our commitment to sustainable development means that all new Waterfront Toronto-led construction must meet rigorous standards for environmental sustainability. With buildings producing 55% of carbon emissions in Toronto, we were proud to release the latest version of our Green Building Requirements: v3 in support of the City of Toronto's TransformTO climate plan. These updated requirements were introduced to improve certain areas, including reducing greenhouse gas emissions, as well as introduce new concepts like urban agriculture.
Image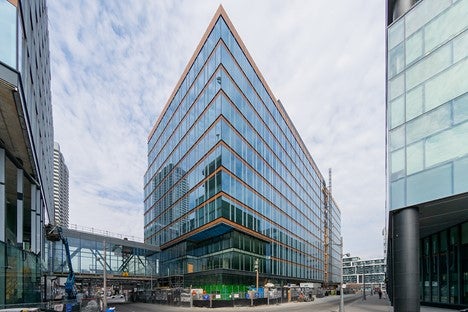 All new Waterfront Toronto-led construction will need to meet rigorous standards for environmental sustainability. This includes the Waterfront Innovation Centre pictured here, which is tracking towards LEED Platinum certification. Image courtesy of Menkes.
These new requirements ensure that waterfront developments have more tools available to minimize the impact of development on the environment. Using the Canada Green Building Council's lifecycle analysis process, developers will need to disclose the embodied carbon content of their buildings throughout the design phase, reflecting the emissions associated with every aspect of the building, from transportation of materials to construction of the building itself.
From the onset, new buildings will be required to use more sustainable building materials and once complete, they will also enable zero-carbon operation buildings, making waterfront projects the lowest carbon buildings in the city.
With a focus on sustainability and creating thriving communities – both for the people and urban wildlife living in them - the new buildings will feature rooftop garden plots for community urban agriculture, surrounded by a landscape of green spaces with biodiverse plantings, native species and generous tree canopies.
Lake Shore Stormwater Pilot Project
Building a greater sense of connectedness between the city and the lake is an important component in making the waterfront an enjoyable public space. This past year, we completed the second phase of our innovative Lake Shore Boulevard East Sidewalk Pilot Project, in partnership with the city of Toronto.
Image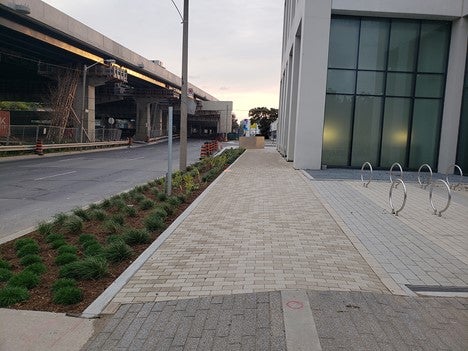 The green street sidewalk design improves stormwater management by retaining more rain on site to water nearby plants and filter through the soil, reducing flows to storm sewers.
This pilot tests "green streets" components, like enhanced concrete and bioretention plantings, and uses unique sidewalk designs to help stormwater run off the sidewalks and into the appropriate channels. This helps to reduce the amount of rainwater flowing to storm sewers and creates a more inviting landscape.
After the pilot project is evaluated for two years by the Toronto and Region Conservation Authority and Sustainable Technologies Evaluation Program (STEP), the City of Toronto will leverage the findings to create design standards to further implement green streets across the city.
Our commitment to deliver on unprecedented sustainability targets ensures that Toronto's waterfront will be enjoyed for generations. We're taking steps to protect the environment and habitats on the waterfront, while creating sustainable communities and public spaces.
You can find more information about the projects outlined above, as well as our work over the past year, in our 2020-21 Integrated Annual Report.