Connecting People and Opportunities to the Water
Image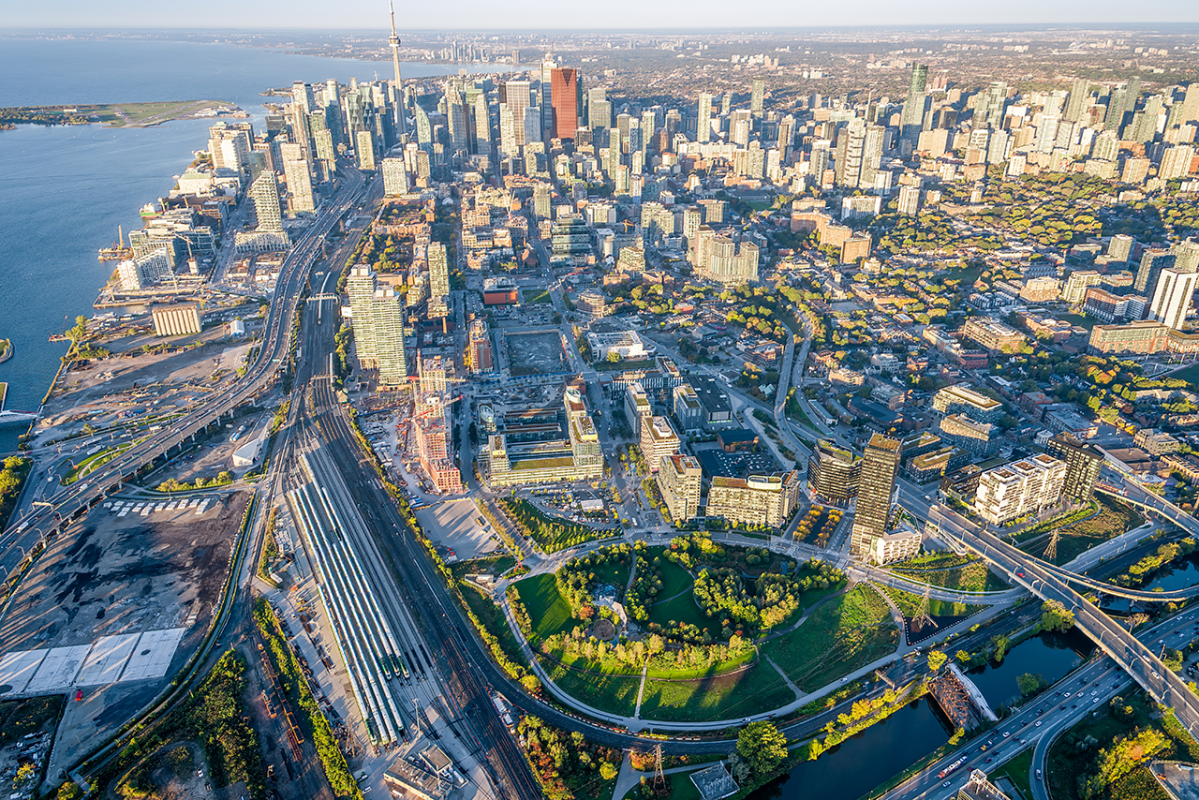 POSTED: JULY 30, 2021 | ECONOMIC DEVELOPMENT, INNOVATION, PARKS AND PUBLIC SPACES, DESIGN, TRANSPORTATION
In our 2020-21 Integrated Annual Report, we dive into our progress on creating new ways for people to connect with the waterfront.
By: Sarah Askett
As the COVID-19 public health issue continued to evolve, more people ventured towards Toronto's waterfront as a safe way to get outside and enjoy the fresh air. In our 2020-21 Integrated Annual Report we look back at how our work over the past year has contributed to a more connected waterfront. This three-part blog series will cover core areas of this year's report and examine our efforts towards supporting a thriving economy, enhancing sustainability and building complete communities.
The first blog of the series will focus on how we are connecting people and opportunities to Toronto's waterfront.
Bold vision for a new waterfront gateway
As the city and waterfront populations continue to grow, there is an increasing need for affordable, public, outdoor amenities. This past year, we shared our bold and transformative vision for Parliament Slip, which will turn the area into a dynamic destination and provide longed for access to the water. This bold vision will help to increase the much-needed social infrastructure in the area.
 
Image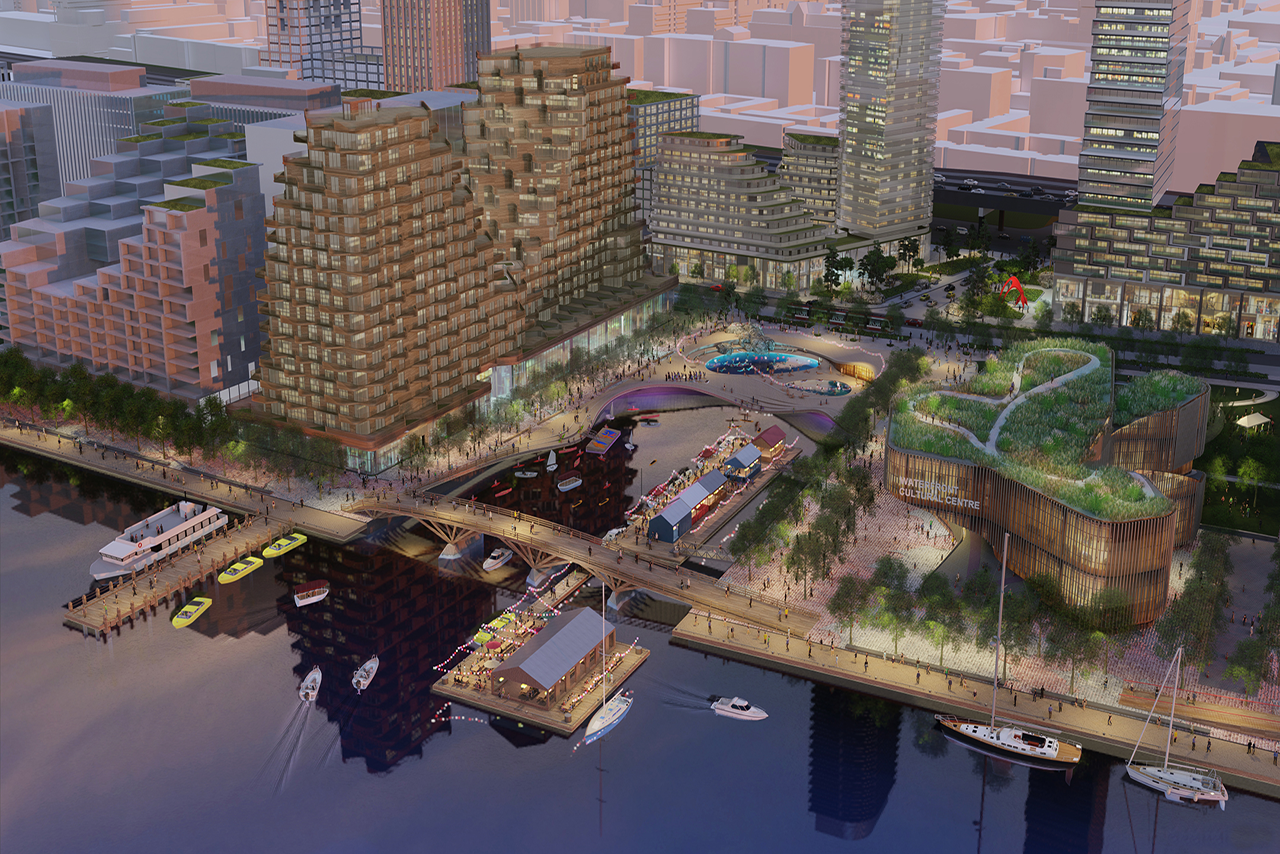 Our vision for the Parliament Slip includes a waterfront amphitheatre, lakeside swimming pools, floating docks with concessions and a floating restaurant. Rendering courtesy of West 8 and DTAH.
Continuous walkways along the water's edge remain a key component of world class waterfronts and, according to surveys, is a top revitalization priority for Torontonians. That's why part of our vision for Parliament Slip includes a boardwalk across the Slip itself (with an elevated centre to allow watercraft to come and go) that will connect with the boardwalk along the Water's Edge Promenade on either side. This will help close a gap along the waterfront and contribute towards a continuous pedestrian path from Portland Slip in the west to Parliament Slip in the east.
Steps toward a vibrant community hub
We are also working to connect more communities to the waterfront. Once complete, Quayside will become an important hub connecting surrounding neighbourhoods to the water through its vibrant public spaces, retail and cultural amenities. Destined to become a dynamic component of East Bayfront, we sought additional feedback from the public this year and developed three key principles for this important area. Quayside must be dynamic, inclusive, and resilient.
 
Image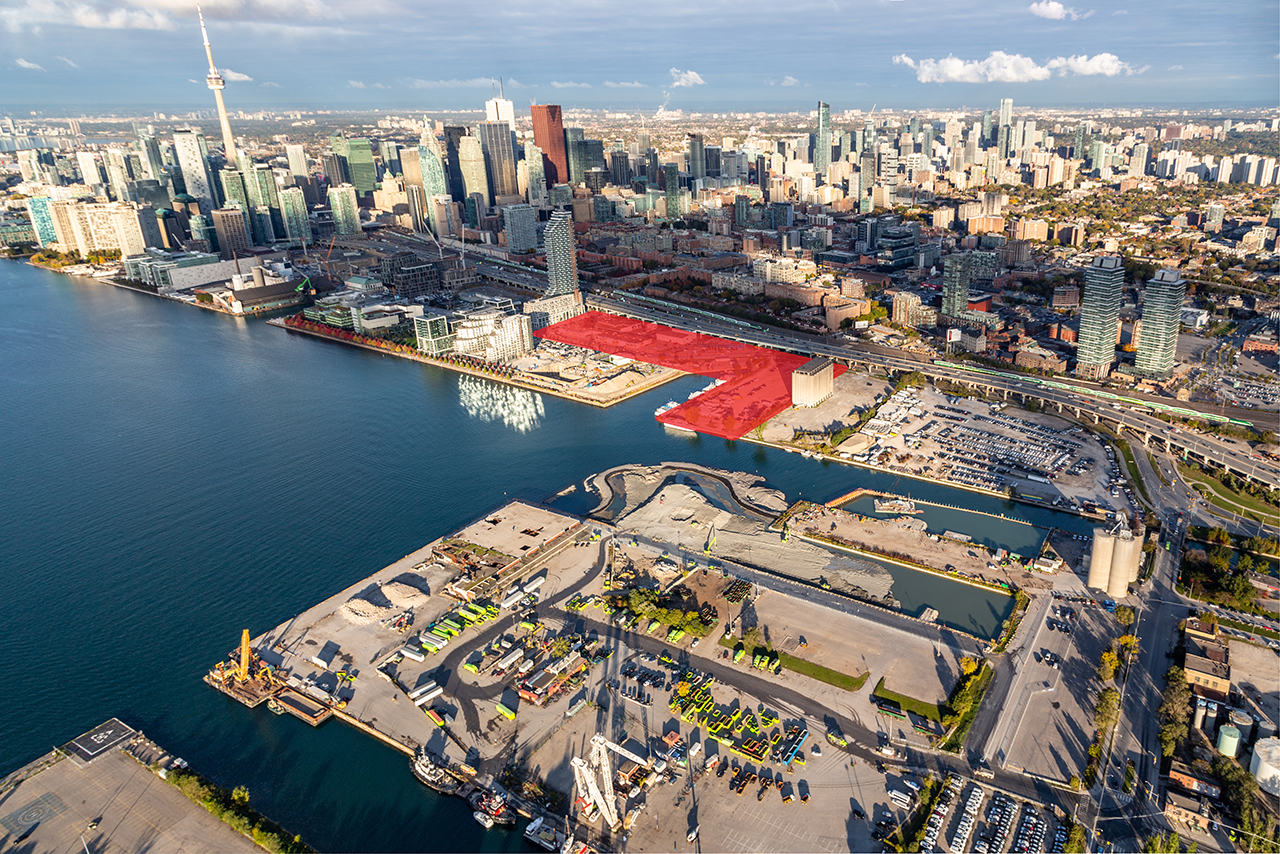 Quayside, a 4.9-hectare area of land at the foot of Parliament Street, is well positioned to be a vibrant hub, linking St. Lawrence, the West Don Lands, the Distillery District, Bayside, and Villiers Island.
Informed by our community consultations, we issued a request for qualifications to find a development partner for Quayside that shares our vision for the area. This vision includes our commitment to climate leadership; addressing much needed affordable housing; parks and public spaces; and social infrastructure that allows people to age in place. We expect to select the proponent with the best proposal by the end of 2021-22.
New Transit Connections
Not only are we focused on revitalizing the waterfront for nearby communities and visitors to enjoy, but we are also helping more people access the waterfront in economical and sustainable ways. We are working with the City of Toronto and the Toronto Transit Commission (TTC) to expand transit service in the eastern waterfront. Our shared goal is to complete the entire Waterfront Transit Network, linking the evolving precincts of the Central Waterfront, East Bayfront, West Don Lands, Lower Don Lands and the Port Lands.
This past year, we made progress on design and engineering for surface works on Queens Quay East between Bay Street and the Distillery Loop, as well as on an extension of Queens Quay East to New Cherry Street. When complete, this updated segment of Queens Quay will lead to innovative street improvements, including some green street design principles—adding features like landscape-based stormwater management, trees, bioswales and bioretention planters.
Image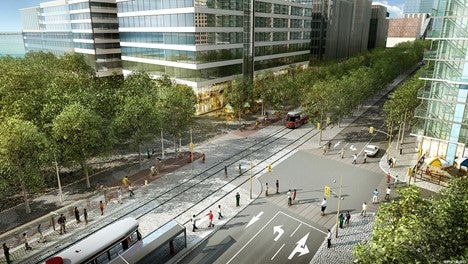 We are continuing to increase mobility on the waterfront by working with the City of Toronto and TTC to extend streetcar service eastbound.
Once complete, Queens Quay East will be a destination in and of itself. The planning and design has been made to create a sense of continuity with the central waterfront and will improve the public realm and arrival experience for visitors.
 
We have also been working with the City of Toronto to prioritize the Waterfront LRT, which is currently unfunded, to unlock mobility on the eastern waterfront.
Connecting Land and (Sea) Lake
Image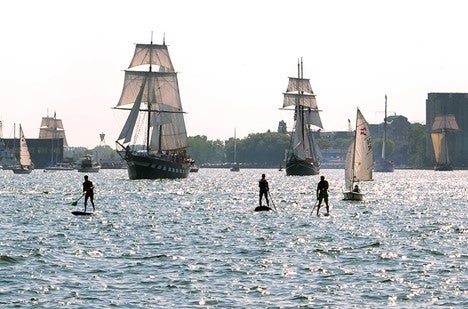 In collaboration with our partners, we released the 2020 Marine Use Strategy Report to reflect the current uses and potential future uses of Toronto's harbour. 
Currently, Toronto's waterfront facilitates industrial, commercial and recreational activity. As these activities on the water are projected to increase, finding a balance between users' needs while supporting an enjoyable harbour has become essential. This past year, we were proud to release the updated 2020 Marine Use Strategy Report, in collaboration with City of Toronto, PortsToronto and Toronto and Region Conservation Authority.
The report aligns the 2006 strategy with new and ongoing projects while considering the increased demand to move around by water transportation. It also explores how we can create opportunities for people to more easily access and interact with Toronto's harbour, both by water and by land — delivering a safe, active and accessible harbour.
While the report provides many aspirational changes, we have begun working with partners to create a Marine Coordination Committee that will move the strategy into its first implementation phase: establishing the feasibility, costs and timing of priority action items.
Looking back on the progress made shows us just how important it is to create a connected waterfront for everyone to enjoy. Not only does our work span the waterfront, but it also connects past projects, current undertakings, and future initiatives that transform and bring opportunity to the city, while creating vibrant public spaces.
Take a look at our 2020-21 Integrated Annual Report to learn more about the projects highlighted in this blog as well as our work over the past year.

DOWNLOAD OUR 2020/21 INTEGRATED ANNUAL REPORT