Toronto's Sustainable Innovation Centre
Image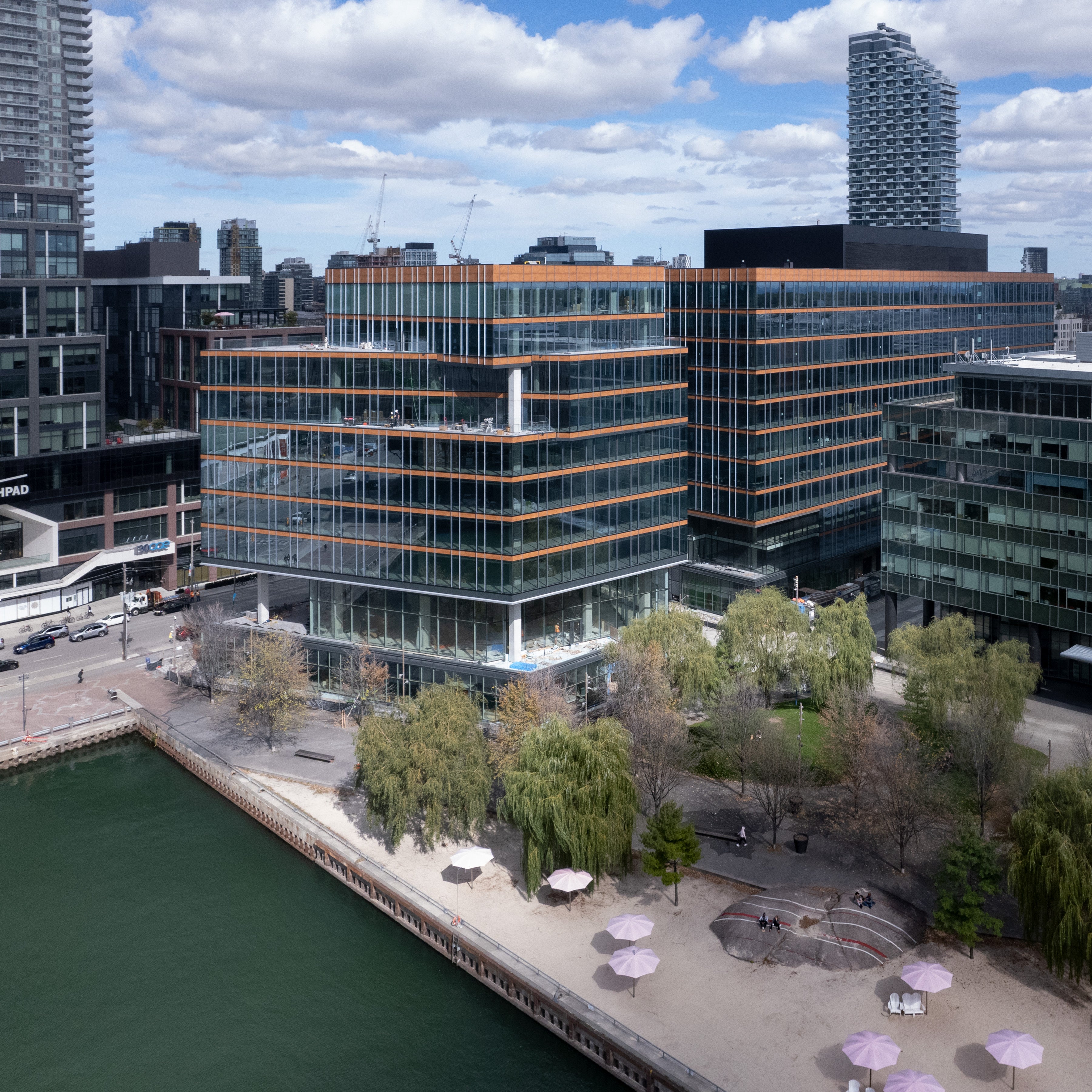 An office with a view. Waterfront Innovation Centre as seen looking northeast. Image courtesy of Menkes.
By: Corey Bialek
Waterfront Innovation Centre (WIC), a development in the East Bayfront dubbed the tech ecosystem's new playground, is set to welcome its first tenants by the end of May 2022. As previously discussed WIC anchors Toronto's surging innovation cluster on the eastern waterfront. Developed by Menkes Developments Ltd. in partnership with BentallGreenOak, and designed by architects Sweeny & Company, this hub of next wave technological inquiry represents an evolution in workplace design that is helping to reinvent how workforces in the creative and technology sectors collaborate and create value.
It's fitting that WIC will provide space for innovation, given that the space itself is designed with an innovative sustainability ethos.
Waterfront Innovation Centre puts sustainability first with a deep focus on energy, thermal comfort and air quality, and a high-performing landscape.
Image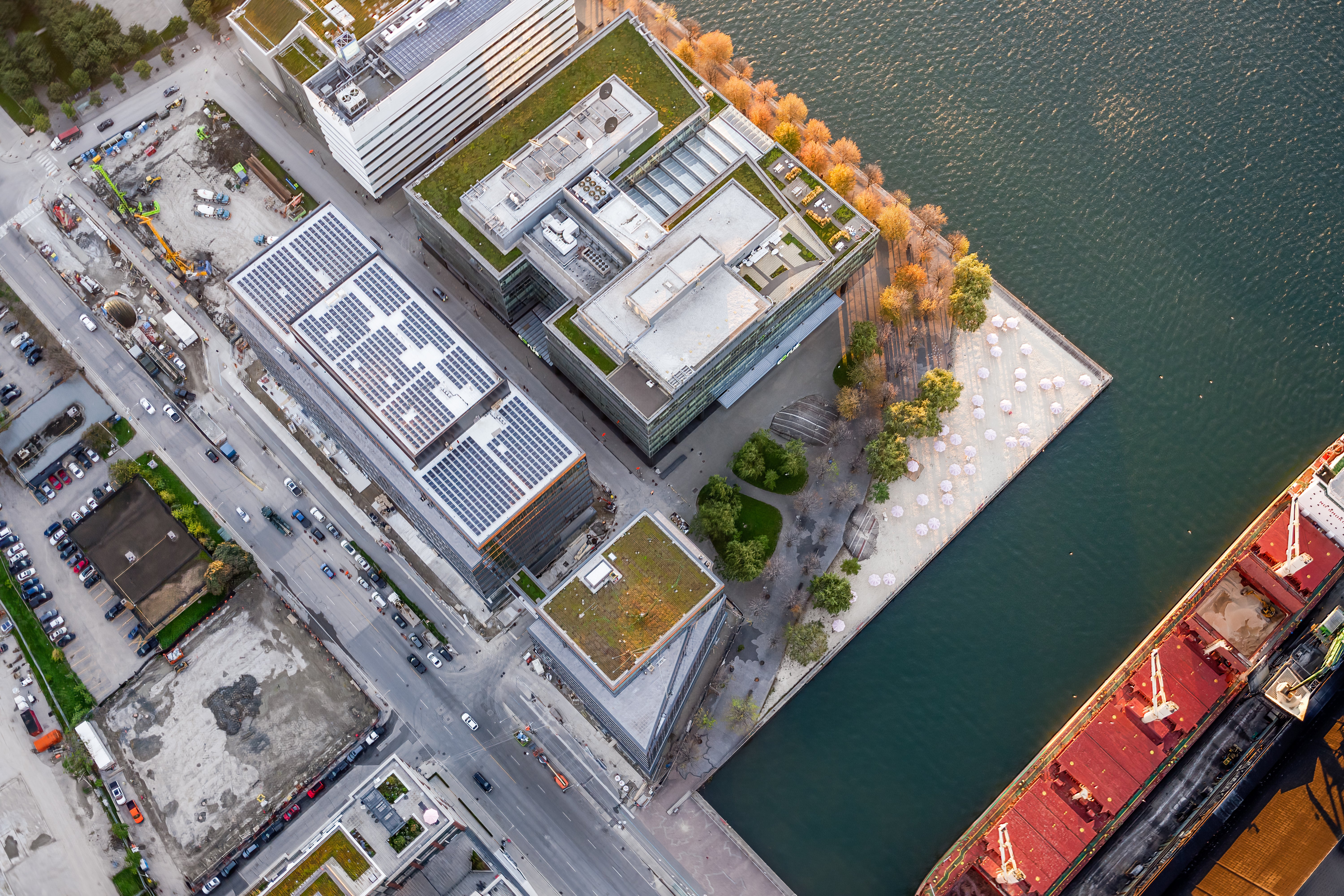 The green roof (bottommost building) and solar array (leftmost building) combine to generate renewable energy on-site while reducing the urban heat island effect.
WIC sits cheek by jowl with other highly sustainable developments, including Limberlost Place (George Brown College's new mass timber facility) and Sherbourne Common (outfitted with a state-of-the-art stormwater management system). By adhering to our Green Building Requirements while striving to achieve the highest echelon of LEED v4.1 certification, WIC continues in this tradition by delivering a new punch of green on the waterfront.
In practice, this means buildings that conserve energy, reduce carbon emissions, improve indoor air quality and thermal comfort.
WIC's commitment to energy efficiency and carbon emissions reduction is uncompromised. The building is outfitted with a photovoltaic (PV) solar array capable of generating 5% of the building's total energy. The building's roof includes both PV infrastructure and a green roof, which helps to reduce the urban heat island effect, increase local biodiversity, and provide visual access to nature.
The PV roofs sit atop building envelopes – or external structure – that feature high-performance curtain wall systems, which are engineered to reduce air and water infiltration. They enhance the thermal efficiency of a building by reducing fluctuations in temperature, and therefore energy demand, over the course of the day. WIC's operational energy use is further reduced by direct and indirect LED lighting; energy metering for both the base buildings and individual tenants; and occupancy/daylight sensors connected to cutting-edge building automation controls.
Thermal comfort is also addressed in the design and operation of WIC. Passive heating is achieved through floor-to-ceiling glass that maximizes natural light penetration. Thermal comfort is further enhanced via the buildings' under-floor air distribution network. In contrast to typical ceiling-based air distribution systems, where ventilation and conditioned air are delivered overhead, the under-floor system exploits the thermal properties of air: conditioned air is vented in at floor level, and as it warms (through a combination of natural processes and the added ambient heat of electronics), it rises to the ceiling where it is exhausted through return air ducts. This also improves air quality, as pollutants are removed alongside the warmer air. Other, indirect benefits of the under-floor system include reduced lifecycle building costs, reduced energy use, and improved productivity.
To ensure WIC's inhabitants are well-versed in the buildings' green features, including the air distribution system, tenants will be provided with an engagement and support package that includes green building education, an operations and maintenance manual, and access to a "green team."
Buildings nested within a sustainable site
Image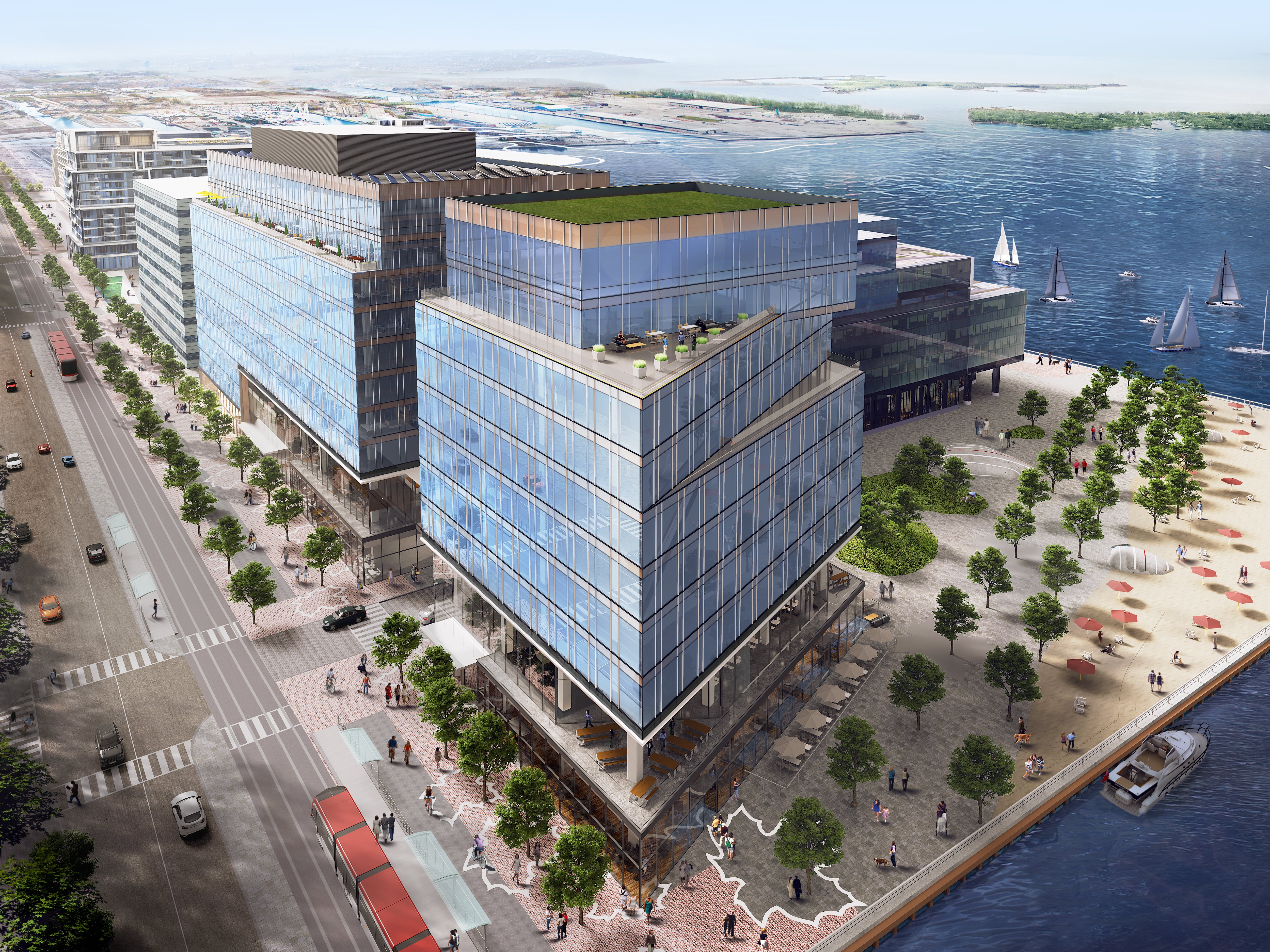 The grounds of WIC, shown above in light-coloured pavers, reflect more sunlight back into the atmosphere than a traditional asphalt application, thereby reducing the urban heat island effect. Rendering courtesy of Menkes.
Less prominent than the buildings, but no less important, WIC's grounds are equally attentive to sustainability. In accordance with LEED, hardscaped portions of the site incorporate high albedo surface materials – that is, materials that reflect more sunlight than they absorb – to reduce the heat island effect (which is also mitigated through the installation of green roofs).
The project also incorporates enhanced stormwater management elements that capture and treat water falling on site. Given the proximity of WIC to Lake Ontario and our ongoing efforts to rebuild and enhance the health of aquatic habitats, this is particularly important. In addition to treating the water that naturally falls on site, the project also adopts a water conservation mentality through the installation of drought-tolerant species and reduced potable water use for irrigation.
When the sun sets, WIC's commitment to sustainability continues unabated. This is because the lighting system has been designed to increase night sky access, improve nighttime visibility, and reduce the consequences of lighting on the circadian rhythms of humans and wildlife alike. Specifically, the exterior light fixtures selected for the project minimize glare while reducing light trespass (unwanted light that intrudes onto neighbouring sites and ecosystems) and skyglow (unnatural nighttime brightness attributed to light pollution).
Taken together, WIC is a site dedicated to innovation and sustainability. We are excited to follow the work that emanates from its new tenants and work together to bring new and innovative solutions to future waterfront projects.
To learn more about WIC, please follow this link.