Next-Generation Office Buildings Coming Into View in Bayside
T3 Bayside on Toronto's eastern waterfront will offer views of Lake Ontario and direct access to the Martin Goodman Trail. Seen here is T3 Bayside phase I while under construction.
POSTED: MAY 30, 2022 | DESIGN, SUSTAINABILITY, INNOVATION
BY: SHANE SCHOFIELD
North America's tallest mass-timber office building is anticipated to open in Toronto's Bayside neighbourhood in 2023. The Hines development, called T3 Bayside, is a destination for business leaders. Since breaking ground on Phase I in July 2020, you may have already noticed its eye-catching mass-timber construction underway on the southeast corner of Queens Quay East and Merchants' Wharf. 
T3 Bayside includes the current building under construction, along with a future mirror image building. The twin buildings will offer creative office space, curated retail and communal tenant areas. The design of the building is centered around elevating the tenant experience by providing a differentiated set of building amenities, including a tenant lounge and conference/events facility with extra tall double-height ceilings, a fitness centre, and a landscaped rooftop patio with panoramic views of the lake and city.
When the first building opens, it will provide 251,000 square feet of modern office space on the waterfront. Adjacent to Phase I, Phase II will provide a rare opportunity for companies to build a true corporate campus experience and accommodate future growth on the waterfront. Once both phases are complete, the ground floor retail and central plaza area, located between the two buildings, will be a welcoming space for nearby residents and visitors.
Image
T3 Bayside's mass-timber construction uses cross-laminated timber. The wood used for T3 Bayside is sourced from sustainably managed forests in Quebec.
Designing With Mass Timber 

Mass timber is integral to Hines' vision for T3 Bayside. It's the first 'T' in its name, which stands for Timber, Talent and Technology. Like its future East Bayfront neighbour, Limberlost Place, T3 Bayside is both a mass-timber and tall-wood building.
By using sustainable wood instead of standard building materials, T3 Bayside will store or prevent more than 10,000 metric tonnes of carbon emissions. This is the equivalent of taking 2,708 cars off the road for a year. With numbers like that, it's no wonder T3 Bayside is targeting LEED Gold certification.
This next-generation office space also uses mass timber to create a more natural environment. Its nature-based design approach connects people to nature with the goal of improving the well-being of employees by improving health, elevating mood, and enhancing productivity. 
T3 Bayside is the latest in a series of mass-timber workspaces built by Hines. Others include the T3 North Loop in Minneapolis, T3 RiNo in Denver, T3 West Midtown in Atlanta, T3 Goose Island in Chicago and T3 Collingwood in Australia. Danish architecture firm, 3XN, was chosen to design T3 Bayside after winning an international design competition.  
Image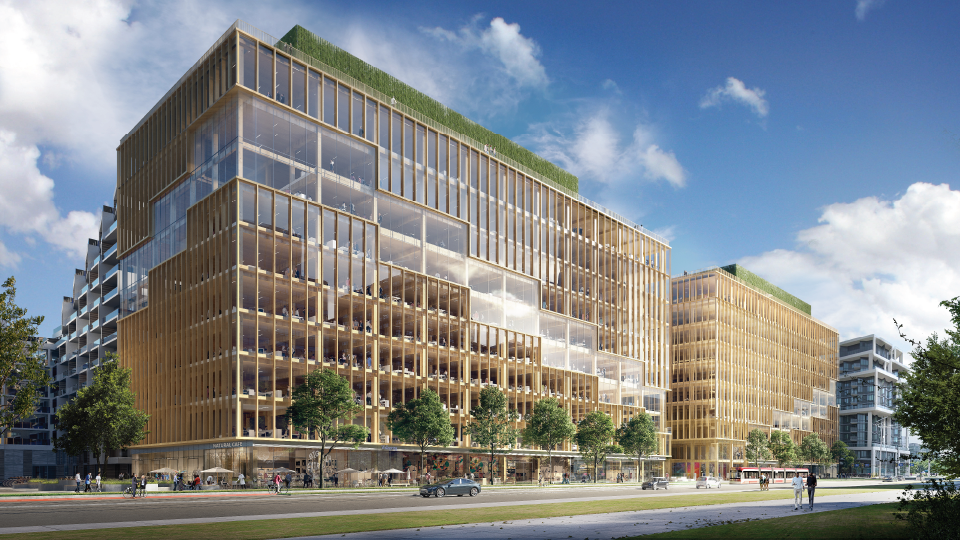 T3 Bayside is part of the Bayside master-planned community. Waterfront Toronto selected Hines as the master developer of Bayside following an international design competition. Rendering courtesy of Hines.
Live, Work and Play in Bayside

Bayside is becoming a vibrant neighbourghhood where you can live, work and play. It offers connections to Aitken Place Park, Sherbourne Common, the Martin Goodman Trail, and the Water's Edge Promenade. The 5.3 hectare neighbourhood is also adjacent to the future Parliament Slip – envisioned as a bustling year-round gathering place where people can swim, launch a kayak, visit a floating restaurant or have a picnic by the water's edge. 
T3 Bayside joins four condominium developments: Aqualina, Aquavista, Aquabella and Aqualuna. These four condos bring 1,071 residential units – including market and affordable rental units – to the area. A City-owned childcare facility located inside Aquabella (childcare facility expected to open in late 2022) and a City-owned and operated community centre in Aqualuna (expected completion by 2024) will also serve the surrounding community. 
The Bayside neighbourhood is part of the wider East Bayfront community that is drawing people to the lake. This former industrial area is quickly transforming into a thriving waterfront destination for people to live, work and play. 
Interested in updates on T3 Bayside? Sign up for our newsletter.