The Invisible Transformation Underway in the Port Lands
POSTED: SEPTEMBER 13, 2023
In This Blog:
As part of the Port Lands Flood Protection Project, we're building 2.2km of new roads, 3300 meters of tunnels, and 1200 metres of underground ductbanks. 

New and replacement utilities expand capacity to meet future needs as communities develop in the Port Lands. 

These utilities are critical infrastructure and lay the foundation for Canada's first climate-positive neighbourhood. 
As Toronto grows, the infrastructure to support new neighbourhoods and increasing population needs to grow with it. Basic infrastructure like watermains, storm sewers and sanitary sewers are usually out of sight and out of mind, but you're sure to notice if they aren't working! Port Lands Flood Protection is making space for a new community right downtown, allowing the city to grow sustainably. So the project also includes hidden underground infrastructure to support everyday life.  
Image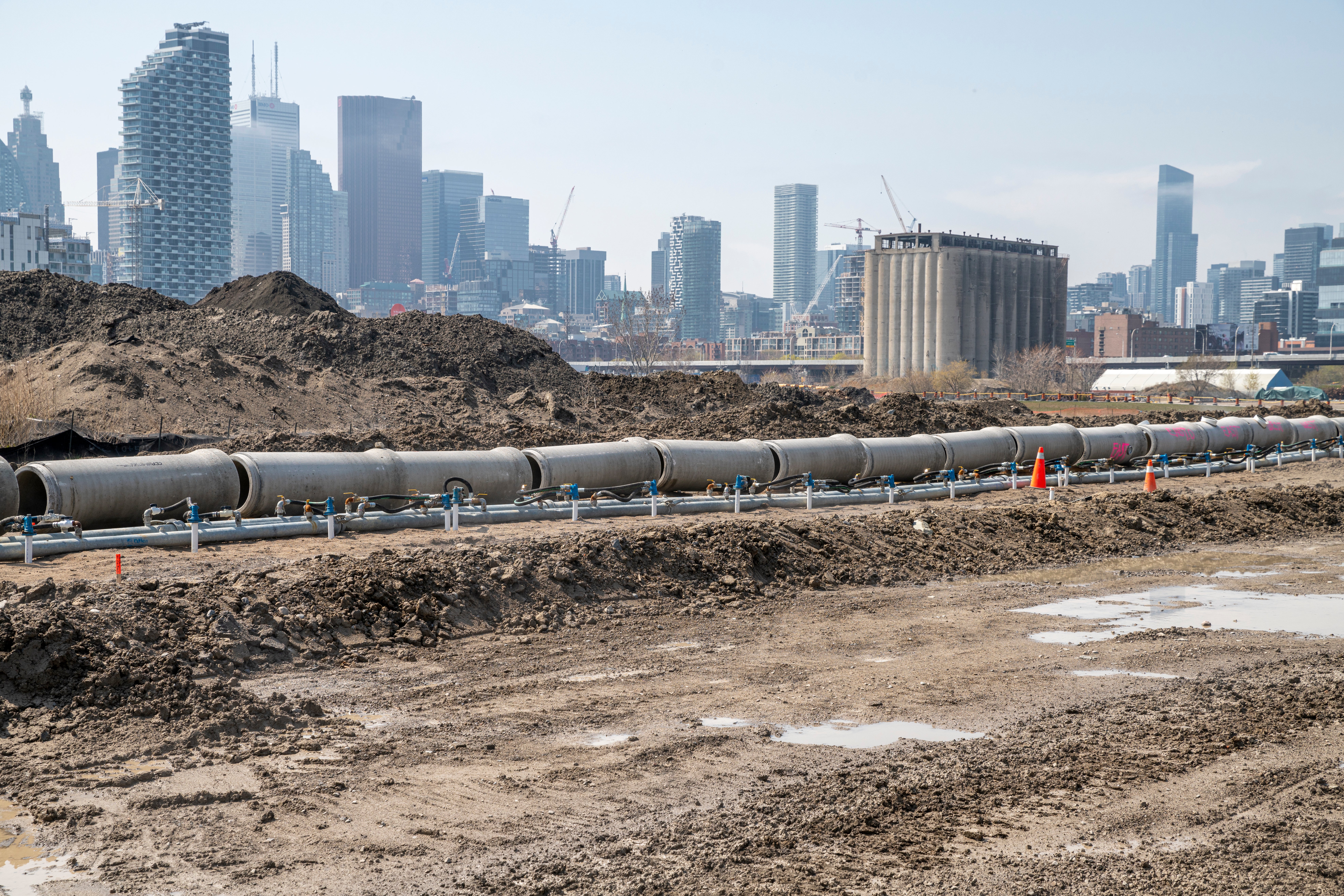 These pipes, along the new alignment of Cherry Street, show Toronto in the background 
The Port Lands Flood Protection (PLFP) project will protect 240 hectares of the Port Lands and surrounding area from flooding by digging 1km of a new river channel for the Don River, surrounded by parks that will be resilient to floodwaters. Flood protection makes it safe to build in an area where it previously wasn't. That's why the infrastructure we're building now has been designed with future needs in mind.  
What are we building as part of PLFP? 
Image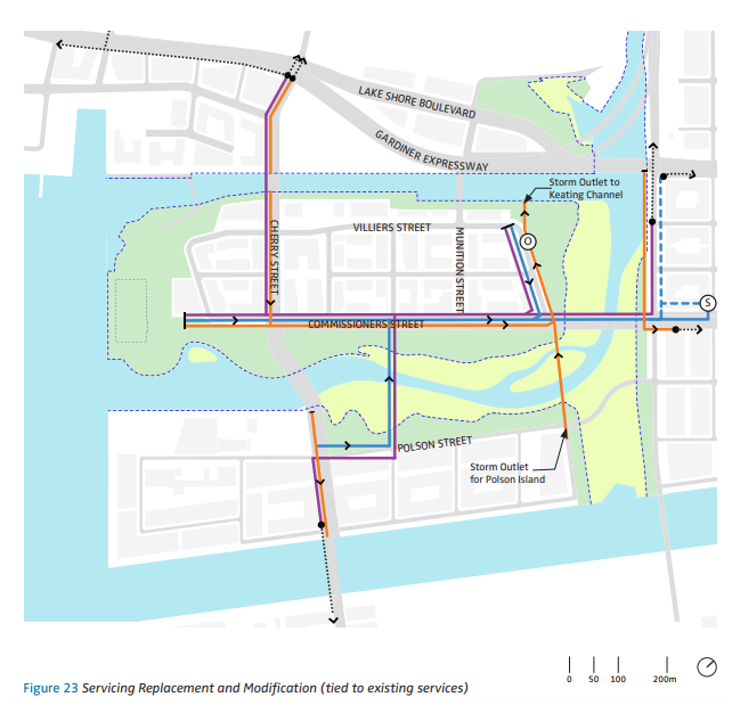 Image

This diagram shows utilities that will be built as part of PLFP. As you can see, the pipes run along the main streets.  
In total, PLFP includes 2.2km of new roads, 3300 meters of tunnels, and 1200 metres of underground ductbanks to support: 
Electrical:
We're installing high voltage cables to power new neighbourhoods. On completion of the flood protection project, they require transformers to make the energy usable for domestic needs.   
Image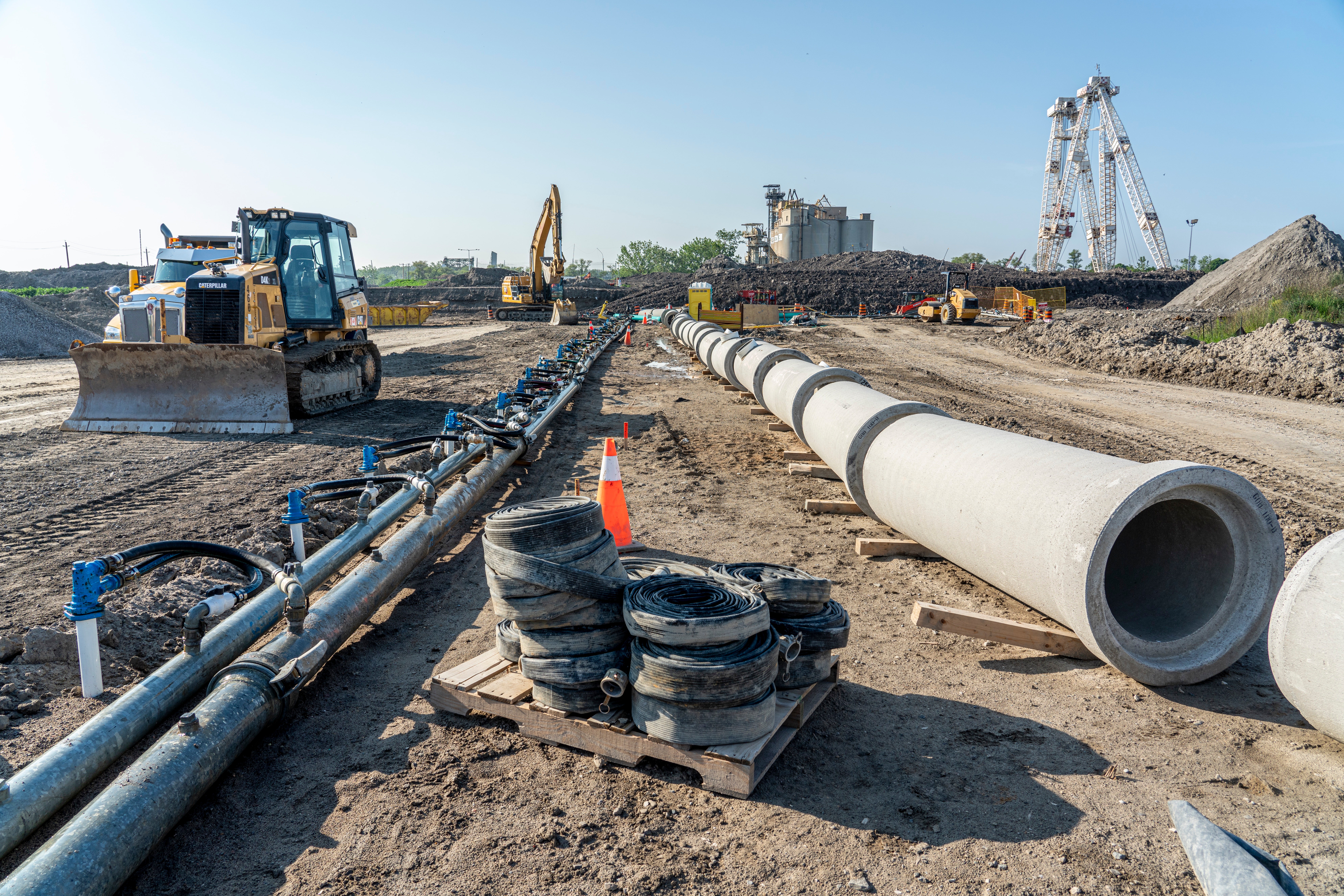 The rebuilt Commissioners Street will have a new watermain and storm sewer. The grey pipes on the right will carry stormwater to a future water treatment plant. 
Stormwater management:  
Stormwater will eventually run into the lake, and it's management is an important consideration for green neighbourhoods since runoff can carry pollutants. We've planned for a water treatment facility so that water can safely discharged into the Keating Channel.  
Image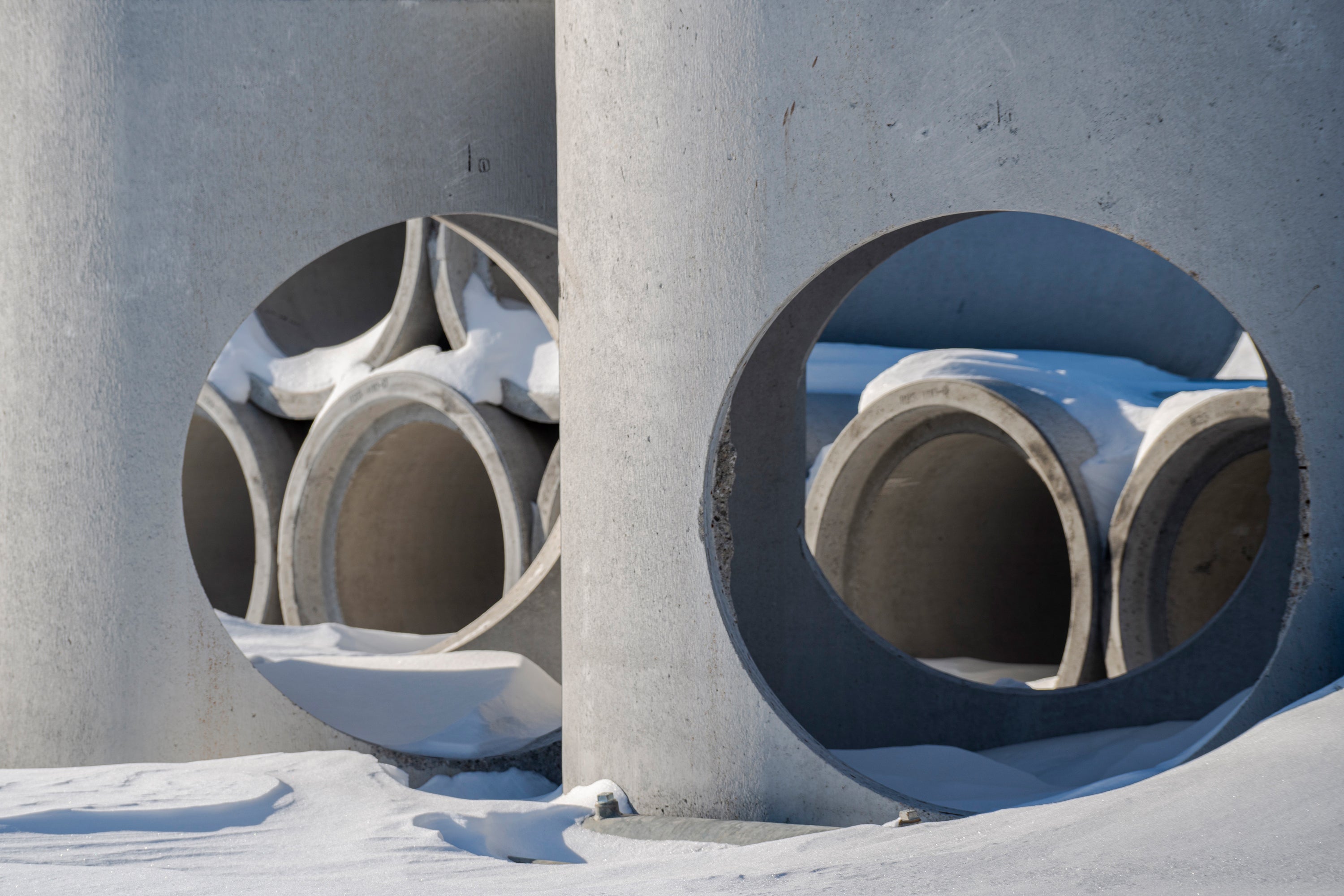 Pipes in storage awaiting installation.  
Sanitary Sewers:  
These pipes will carry all the human wastewater (sewage) to the Ashbridge's Bay Water Treatment plant. Sanitary sewers flow using gravity, not pumps, but you can only flow down for so long! We're building an underground pumping system on Commissioners Street that will bring the wastewater back up to a higher elevation so that it can continue flowing down towards the treatment plant.  
Image
The teal sanitary pipes run in alignment to the grey stormwater pipes, but at a shallower depth. 
Watermains:  
The existing watermains in the Port Lands are very old. New pipes will connect to existing watermains north of the Keating Channel to bring clean water on to Villiers Island and along future Polson Street. New watermain pipes in the Port Lands will be large enough to support the needs of a new mixed-use community on Villiers Island. 
Ductbanks: 
These are large sets of ducts (tubes) that preserve space for future utilities such as internet cables. Since we're already doing the work to build all the public utilities, it makes sense to build systems that can support all future utilities now. Then it will be less disruptive to add new services when there is demand for them. The ductbanks will also carry additional power cables when needed in the future. 
Connecting an Island to the City 
Image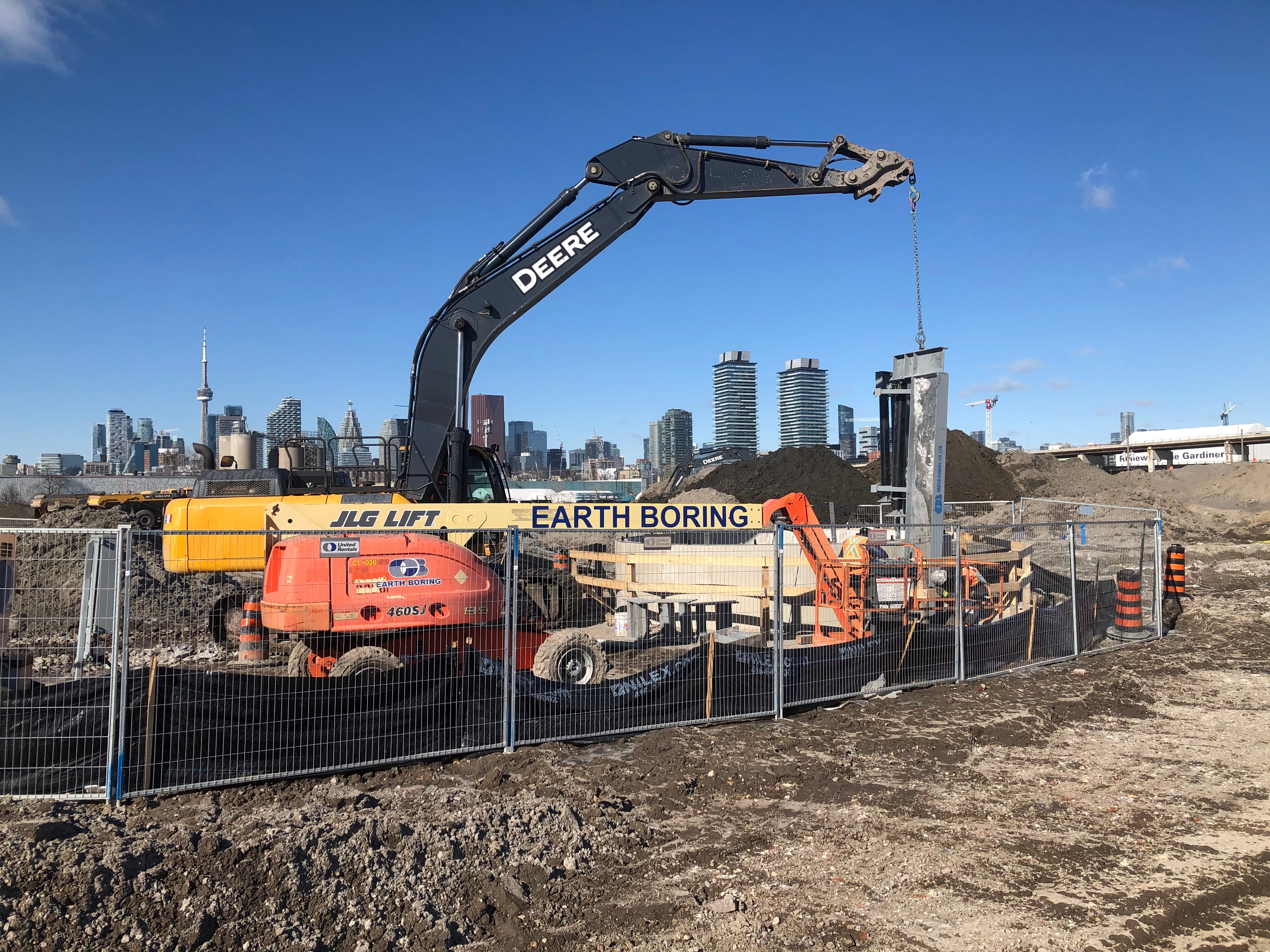 Building on a future island means taking the surrounding water bodies into account. This machine was digging a utilities shaft on Commissioners Street.  
Connecting Villiers to the rest of the city involved a lot of planning. Most utilities will run under the Keating Channel and new river valley, but some – like electrical utilities—will run along the new bridges we're building. In total, we're building 9 crossings under the river.  
How to Dig Under a River 
Image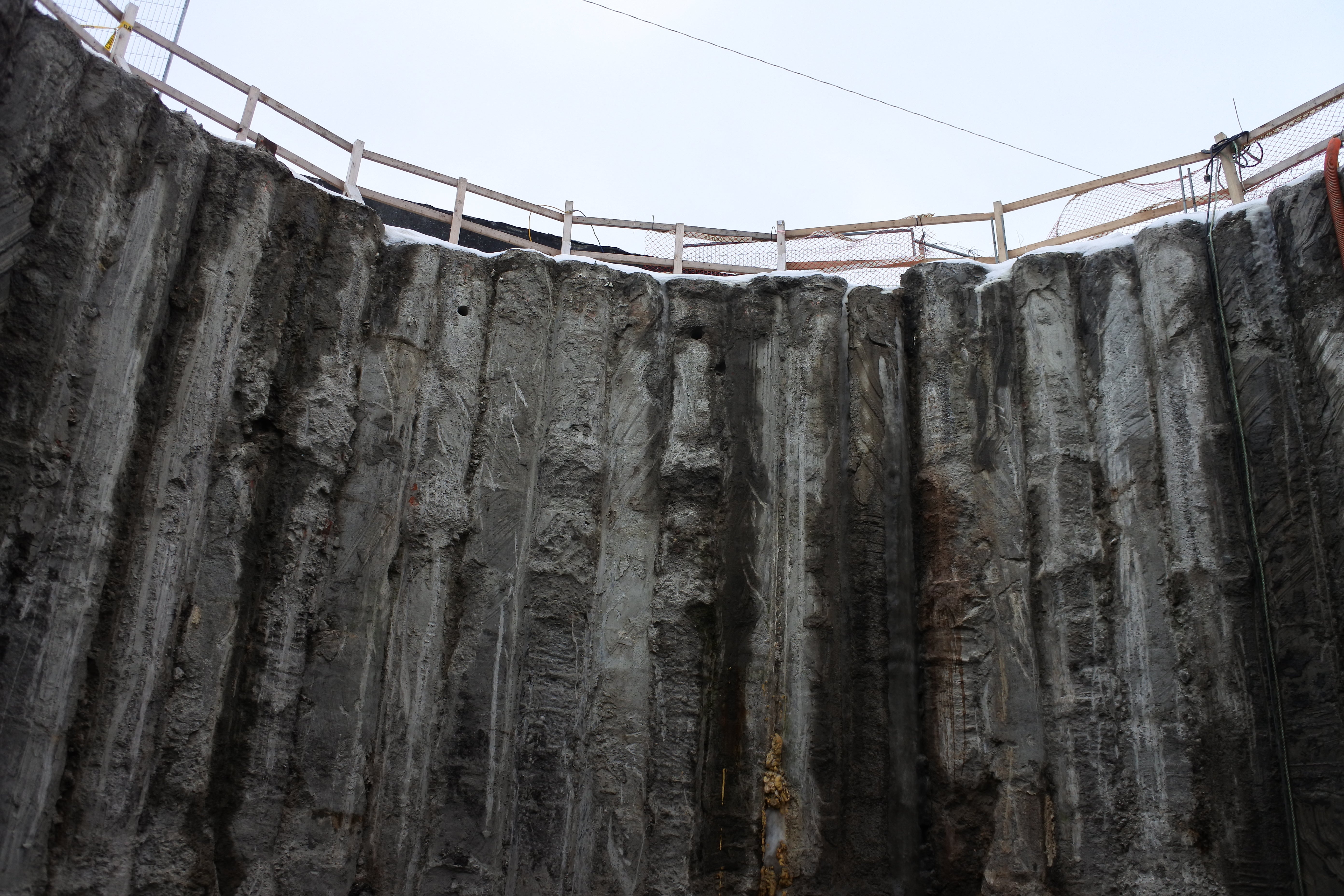 The view from the bottom of a shaft used to install the utilities 8-10metres underground.  
Digging a new river is one thing, digging under a new river is another. The new river in the Port Lands is surrounded by cutoff walls that go down to bedrock. It's as if we created a concrete and bedrock bathtub in the ground, and then filled it up with soil and sand before putting down a waterproof barrier to hold the river running down the middle. To install the utilities, we needed to go through the sides of the bathtub, but underneath the waterproof barrier.  
Image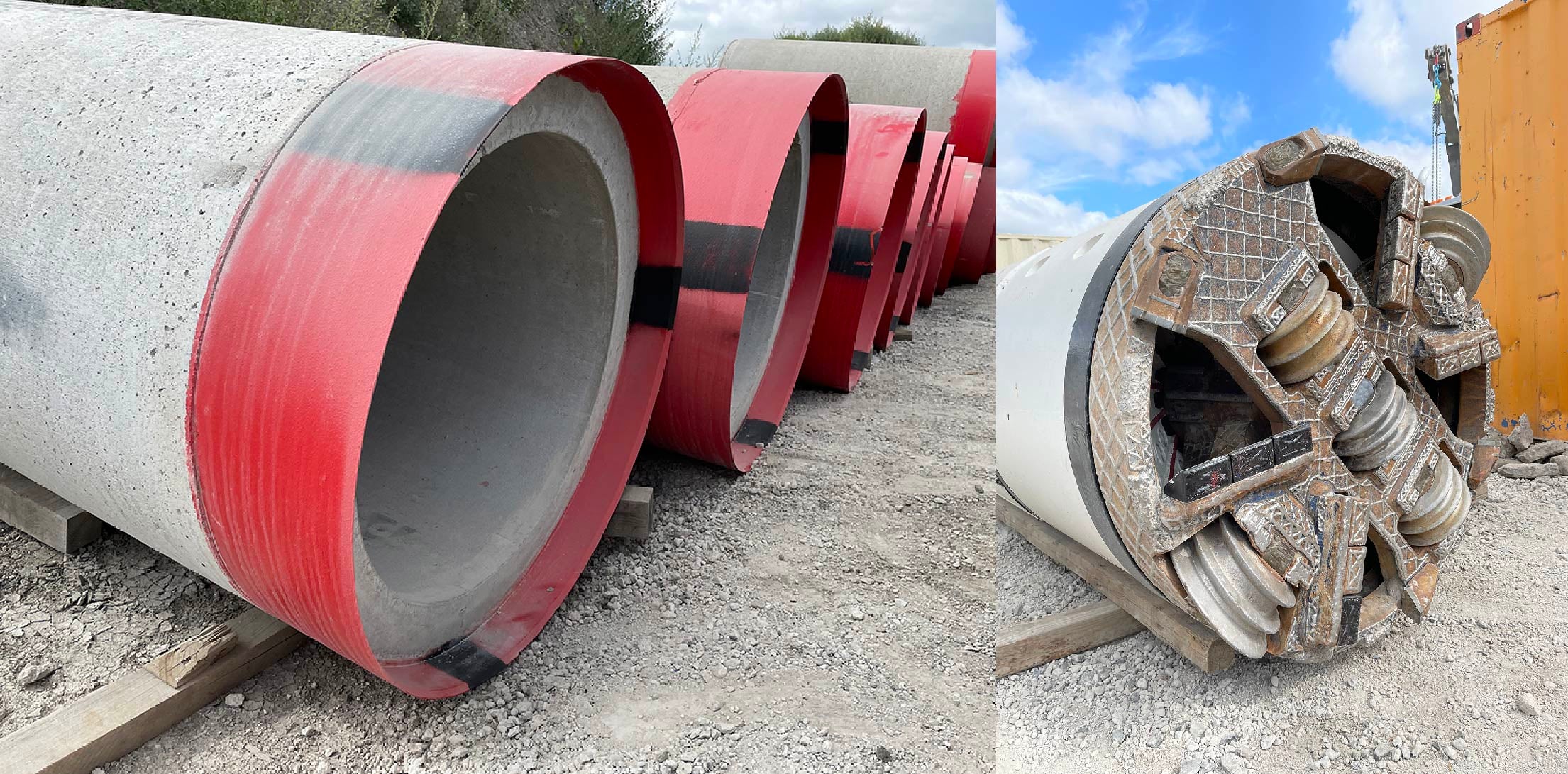 Right: a micro-tunnel boring machine. This machine digs a tunnel underneath the future river valley. Left: micro-tunnel sections. These pipes get pushed into the cavity created by the boring machine to create a tunnel. 
The cutoff walls are made of concrete reinforced with steel, so some sections of the wall were designed without the steel reinforcements so that it would be easier to drill through them later. Then a deep shaft was built outside the walls.  A tunnel boring machine started at the bottom of the shaft and dug horizontally to create a tunnel. The microtunnels are 8-10 metres underground, and bigger than their name would suggest: their diameter is 1200 mm! 
A launch pad for a new community 

Port Lands Flood Protection includes some critical infrastructure, but it's not everything that is needed for new communities. Additional municipal infrastructure will be required to support the development of Villiers Island, Canada's first climate-positive neighbourhood. 
Image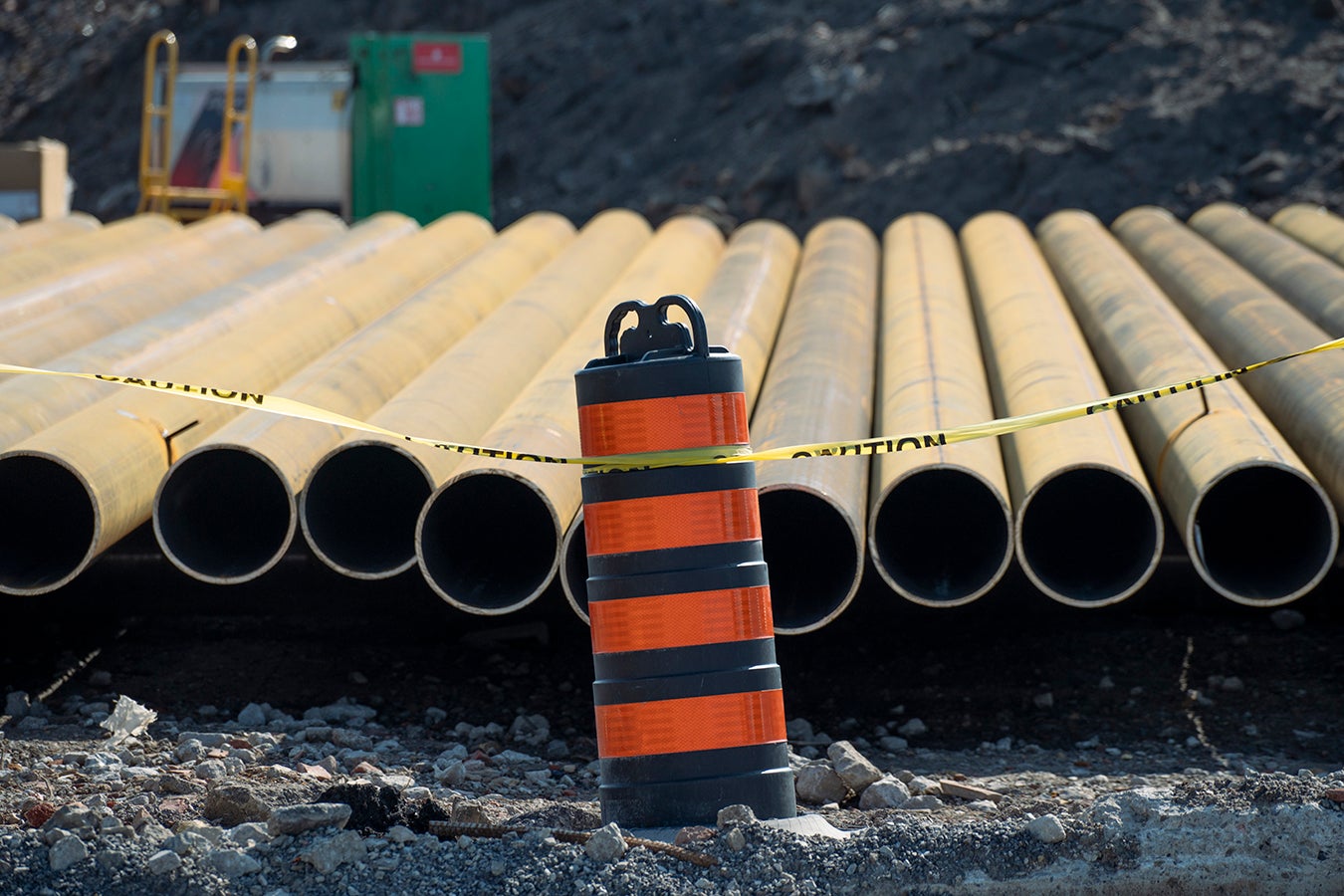 The new utilities installed as part of the Port Lands Flood Protection project are there to enable the growth of future communities.  
Want to be involved in future consultations about Villiers Island? Sign up for our Newsletter or visit the project website.