Happy Castaways: Introducing the New Floating Art in Harbour Square Park Basin
Happy Castaways is a temporary floating art installation created by Demers-Mesnard, a collective comprising artists Isabelle Demers and Fanny Mesnard. Pictured here, a 2019 installation in Longeueil, Québec.

POSTED: JULY 7, 2022 | PUBLIC ART, PARKS AND PUBLIC SPACES 
BY: ISABELLE DEMERS & FANNY MESNARD
Update (August 15, 2022): please note Happy Castaways incurred damage from human activity and had to be removed as of August 13, 2022.
A new floating art installation, called Happy Castaways, has arrived in Harbour Square Park Basin. The whimsical piece was selected after Waterfront Toronto issued an open call to artists in fall 2021.
Artists Isabelle Demers and Fanny Mesnard of Demers-Mesnard, a Québec-based collective, designed the temporary artwork. The 25-foot-long installation is on display until September 2022. Demers-Mesnard joins artists Judy Chicago and Lisa Hirmer, in creating dynamic cultural experiences by the lake this summer during Toronto's Year of Public Art.
This is the third floating public art installation in Harbour Square Park Basin commissioned by Waterfront Toronto. Happy Castaways follows SOS (Safety Orange Swimmers) designed by Ann Hirsch and Jeremy Angier of A+J Art+Design from 2019, and The Peacemaker's Canoe by Jay Havens from 2021.
We spoke to Demers-Mesnard to learn more about its installation.
Image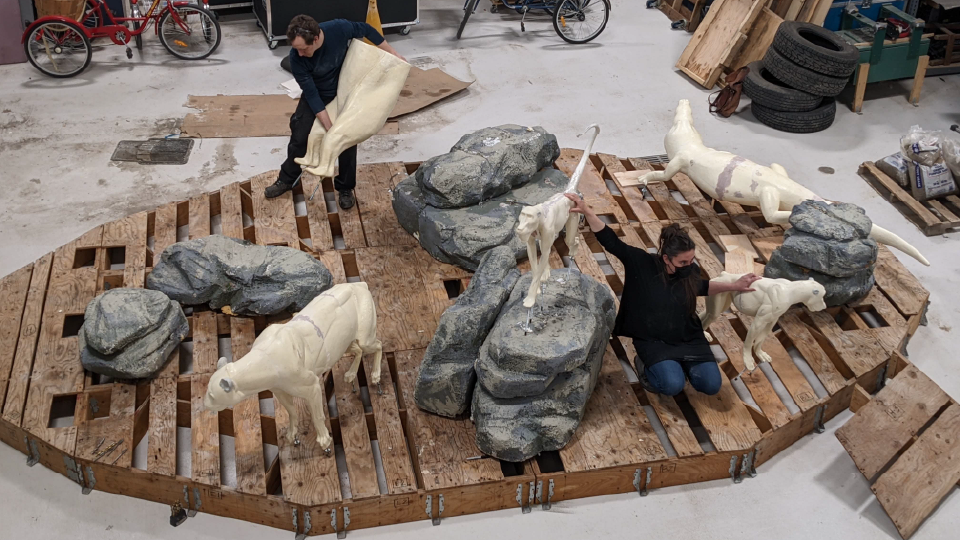 Happy Castaways in production, as the Demers-Mesnard team prepares for its Harbour Square Park Basin installation.
Q: What inspired you to create Happy Castaways?
A: For this work, we were inspired by current global environmental conditions and the influence of urban development on wild animals that are driven away — the impact on their natural habitats and migrations is significant. We imagined a more or less fictitious world where several species meet that are not supposed to, a world that is reduced to an island where these hybrid species would find themselves in the Harbour Square Park Basin to rejuvenate. And perhaps they are happy because they are saved.
Image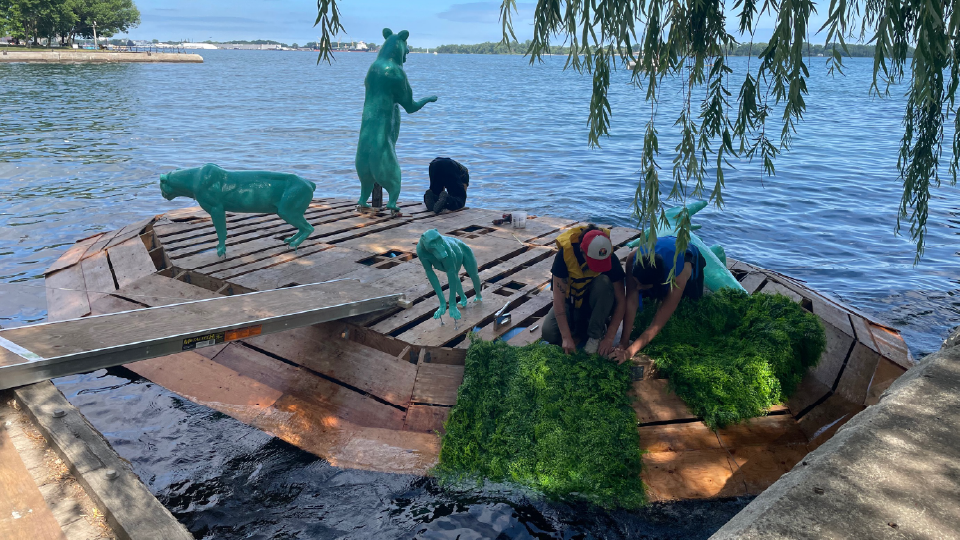 Demers-Mesnard installing Happy Castaways in Harbour Square Park Basin.
Q: Can you describe the process of creating this installation? 
A: The design and format of this floating sculpture was originally inspired by its first installation site, the Bassin Louise in the Old Port of Québec City (for Passages Insolites). The wooden platform is built and then launched on barrels that make it float. Then, we anchor the different animals to this platform by arranging them, a bit like the composition of a painting. The fabricated rocks are then anchored and we "garnish" the sculpture with reused artificial plants to completely cover the platform. We can also use natural elements found around the site, like bark or dead wood gathered from surrounding parks. The island becomes part of its environment, and sometimes becomes home to "real" local wildlife. It has welcomed ducks, gulls, turtles and molluscs!
Image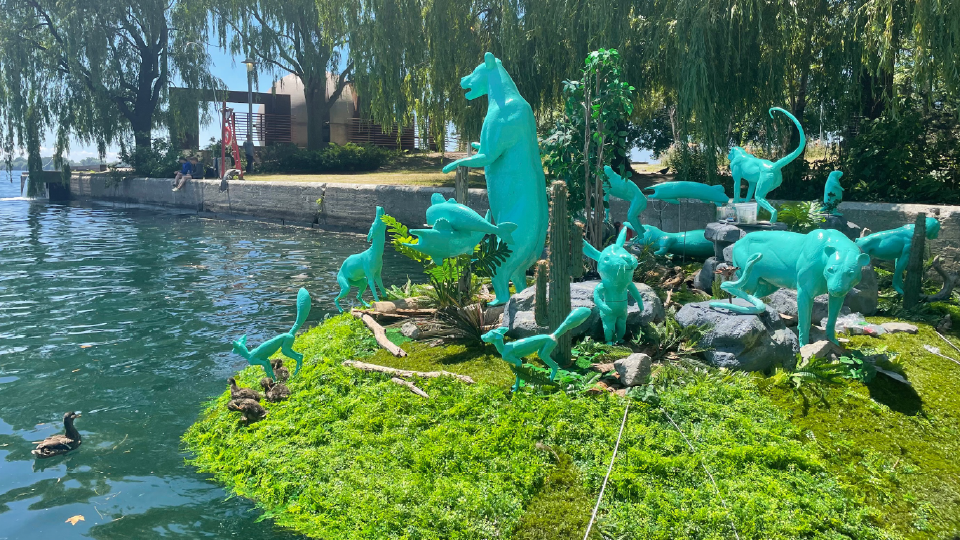 Local wildlife interacting with Happy Castaways during its installation.
Q: You've exhibited Happy Castaways in other cities. How do you pick which animals you use? Any new additions for this Harbour Square Park edition? 
A: Each presentation of our island is different, because we like to be inspired by the sites where it takes place. We alternate the arrangement of animals or use different plants, for example. Animal species are mixed regardless of where they originate, so you can see a kangaroo next to a deer and a porcupine-unicorn.
For this version of the island, all the animals are new since we currently have another island installed in Sweden. We wanted to enrich our collection of species and introduce animals we had not worked with before: a crocodile, a puma, flying fish and monkeys, among others. This will prompt questions like, what are they doing together? The link between all these animals is their colour. It's a blue that unites them and evokes our nordicity, distinct from its surroundings, wherever the island is placed.
Q: What do you hope people will take away from viewing Happy Castaways? 
A: First of all, we hope people will have fun when they see our work. We want them to be surprised and try recognizing the different animal species, and take time to look at our artwork from different points of view. The questions it raises are naturally linked with a concern about the current state of the planet; however, the idea of our work is not to lay blame, but to play with all our senses and sensibility. We want to provide enjoyment to as many people as possible!
Happy Castaways is on display until September 2022. Follow Waterfront Toronto on Twitter for more public art updates and share your photos of the installation using #HappyCastaways.