Creating an Accessible Waterfront
Our vision is one vibrant waterfront that belongs to everyone. That vision only becomes possible through a strong commitment to accessibility in everything we make and do.
 
POSTED: JUNE 2, 2022 | ACCESSIBILITY, URBAN DESIGN
BY: TRISTAN SIMPSON
 
The transformation that we have led on the waterfront has always met or exceeded accessibility rules. As always, our goal is to not just follow the rules but lead the way, just like we have through our Green Building Requirements. We want to enhance our capabilities in accessible design — to exceed expectations, show leadership and make accessibility another area of true design excellence on the waterfront.
To achieve this goal, we are developing Waterfront Accessibility Design Guidelines that will guide public realm design across the waterfront and shape our work in areas ranging from floating docks and promenades to playgrounds and dog off leash areas. The aim is to help establish the waterfront as a leading site of accessible public realm design, combining design excellence and accessible design. These guidelines will build on existing guidelines, like the Accessibility for Ontarians with Disabilities Act (AODA) and Toronto Accessibility Design Guidelines, and provide specifications on elements that are unique to the waterfront.
Image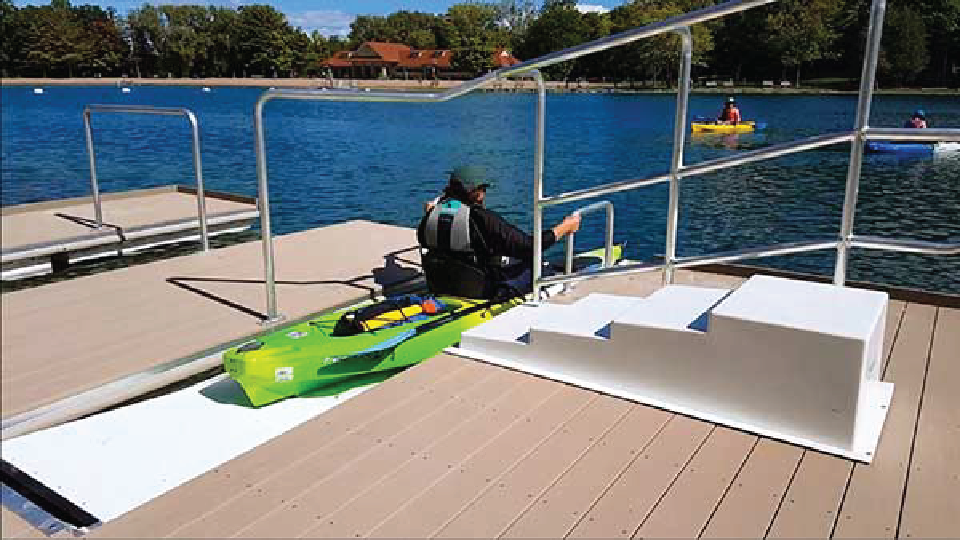 One of the elements being considered within the Waterfront Accessibility Design Guidelines is how to create accessible water access like this kayak launch.
In spring 2021, Waterfront Toronto issued a request for proposals seeking consultants with specialized design expertise to help us craft the accessibility design guidelines. Human Space, the accessibility practice at BDP Quadrangle, was the successful proponent. In addition to their many credentials, Human Space was also involved in co-creating the City of Toronto Accessibility Design Guidelines.
We also know that to do this right, we need to learn from many perspectives and, most importantly, those with lived experience. With input from Human Space, we convened Waterfront Toronto's Advisory Committee on Accessibility (ACA). The ACA consists of 13 representatives of advocacy organizations and individuals with relevant expertise, most of whom are persons with disabilities as defined by the Accessibility for Ontarians Disabilities Act. The ACA is providing feedback, guidance, and advice to Waterfront Toronto as the guidelines take shape.
So far, the team at Human Space has guided Waterfront Toronto through training sessions, workshops, and a review of industry best practices. We have also made progress in developing preliminary guiding principles and draft recommendations in collaboration with Human Space and the ACA. Two meetings have been held with the ACA since February of this year and we will continue to engage the committee and consult over the coming months.
We are excited about what we are learning and looking forward to sharing more information about the draft Waterfront Accessibility Design Guidelines and the process as the guidelines take shape.
Interested in updates on the Waterfront Accessibility Design Guidelines or learning more about Waterfront Toronto? Sign-up for our newsletter.