Building North America's Most Unique Streets
Looking west from the future park entrance on the south side of a rebuilt Commissioners Street.
POSTED: NOVEMBER 4, 2019 | DESIGN, INFRASTRUCTURE, PARKS AND PUBLIC SPACES
BY: SHANNON BAKER
By 2024, we will have transformed major sections of Cherry and Commissioners Streets and the Don Roadway. These streets will be some of the most unique landscapes in the city.  
How are they different from typical streets?
Compared to a typical Toronto street, these streets will dedicate more space for pedestrians, cyclists and transit and provide much more green space. Naturalized spaces will contribute more than just beauty to these streets. Prioritizing green infrastructure such as bioretention planters and green medians will help manage stormwater and improve survivability rates for urban street trees. It will also create better connections for urban wildlife, which affects the health of the entire city. 
Space 
The rights-of-way for Cherry and Commissioners Streets will each be 40 metres wide. That is wide! But it's how that space is allocated that counts. In a typical 40-metre street, the percentage of space given to vehicles would be substantial. Here, more space is allocated to pedestrians, bicyclists, transit and green space. 
Image
An average of 71.9% of space on Cherry Street, Commissioners Street and the Don Roadway is allocated to non-passenger auto use. That means there more space will be made for pedestrians, cyclists and plants. 
Low-impact development (LID)  
We're taking a low-impact development (LID) approach to the design to the streets. That means implementing systems that use or mimic natural processes to capture stormwater and keep it on the landscape instead of letting it run off into the lake and river.  
 
Image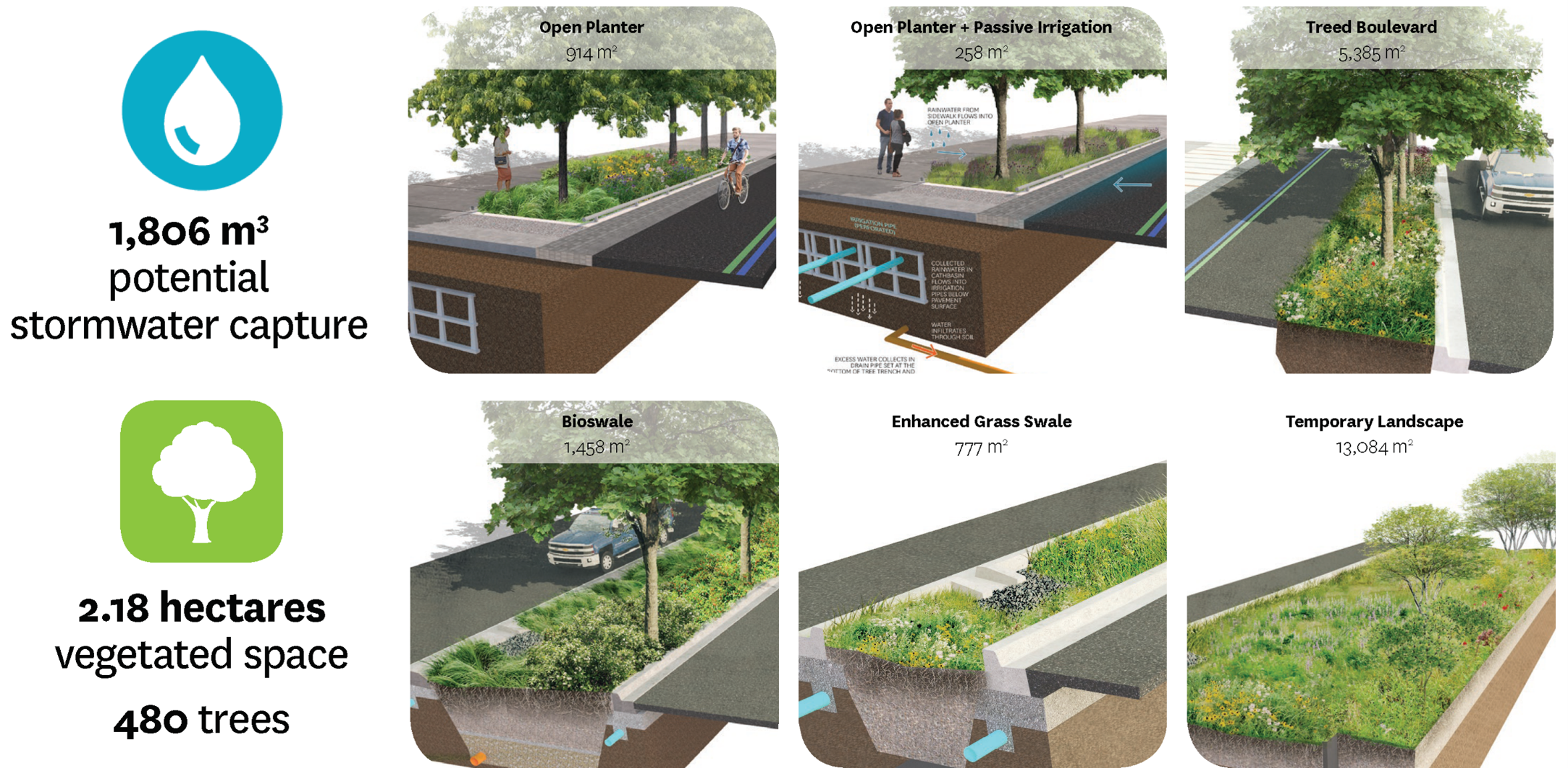 Over two hectares of vegetated landscape in the new streets could capture over 1 million litres of stormwater in a month.
Why is this important? 
Urban areas are at risk of flooding in part because they are typically made up of mostly impermeable surfaces, forcing water to run off these landscapes in pipes that outlet to our streams, rivers and the lake rather than infiltrate. Extreme weather conditions such as heavy rainfall, melting snow and ice are the most common causes of flooding in our city. Keeping water on the landscape is also important for natural systems. It allows our groundwater to recharge and provides much needed water for plants in the urban environment.  
We can reduce flooding on downtown streets by creating more naturalized spaces where rainwater can be absorbed instead of running into our storm sewers. And we're applying that to the new streetscapes for the Port Lands. 
 
We've worked closely with the City of Toronto to make sure we are implementing innovative sustainability and green infrastructure elements within these new streets in the Port Lands. As a result, the LID and green infrastructure features developed for new streets in the Port Lands will form the basis of a new city standard.  
Green streets 
Image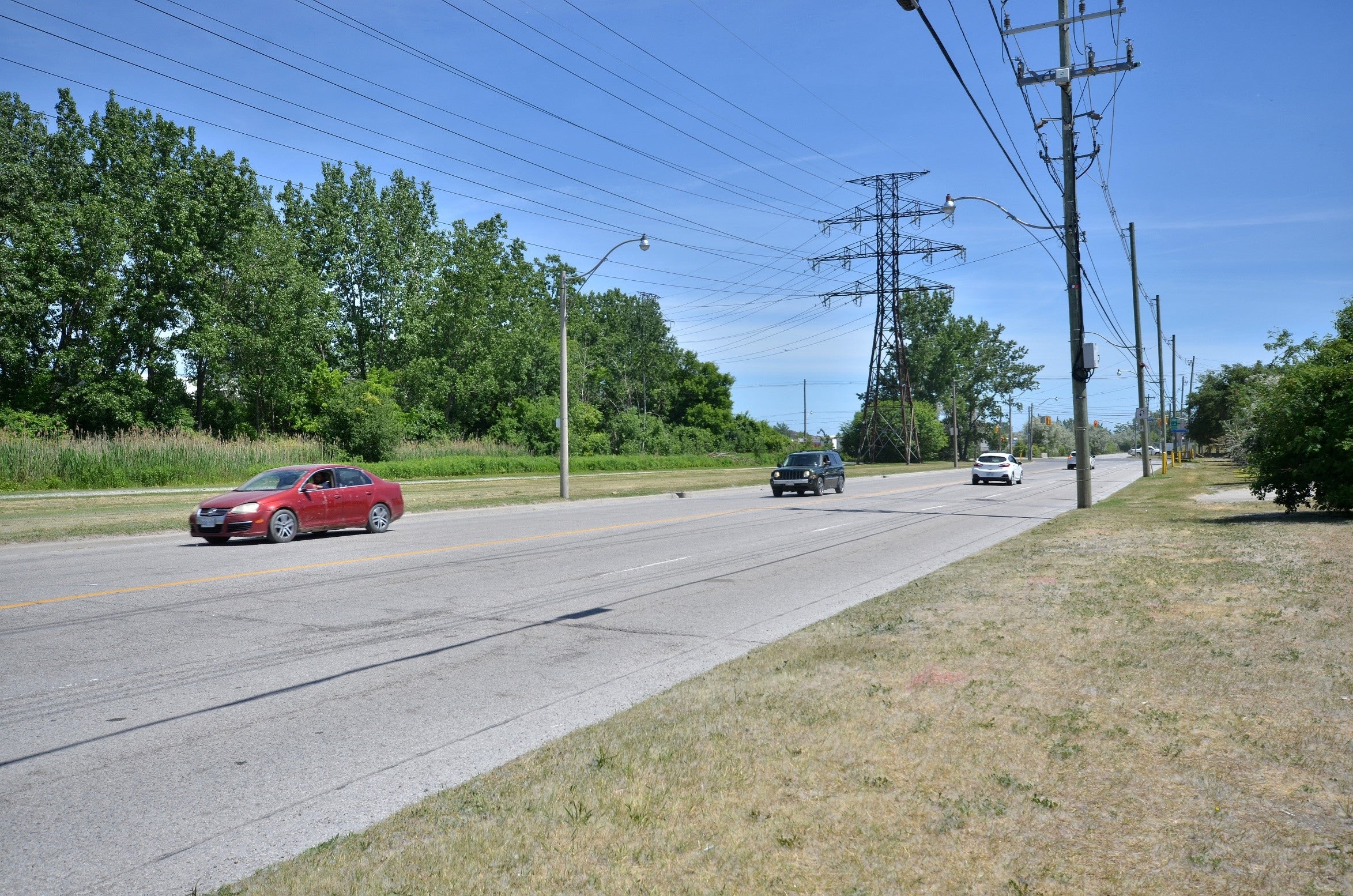 Here's how the Don Roadway looks today.
Looking at the Don Roadway today, you wouldn't guess that it has potential to become part of a crucial ecological corridor for the city. It will be adjacent to the riparian zone of the new mouth of the Don River, which means it can provide habitat for wildlife along the river's edge.  
The Port Lands are also on the North American flyway, a major migration path for birds. This means that the trees and shrubs along the Don Roadway can provide much needed food and shelter as the birds make their long journey, helping to reduce landscape-scale barriers for wildlife in the city.  
Ecological corridors are also critical for cities as they provide places for urban wildlife to live. Currently, biodiversity in cities globally is low. A 2019 report from the Intergovernmental Science-Policy Platform on Biodiversity and Ecosystem Services showed that around 1 million animal and plant species are now threatened with extinction. Introducing new habitats wherever possible will help change this statistic. Efforts such as reintroducing milkweed into cities to help support monarch butterflies are a fantastic example of the impact that can be made. 
Image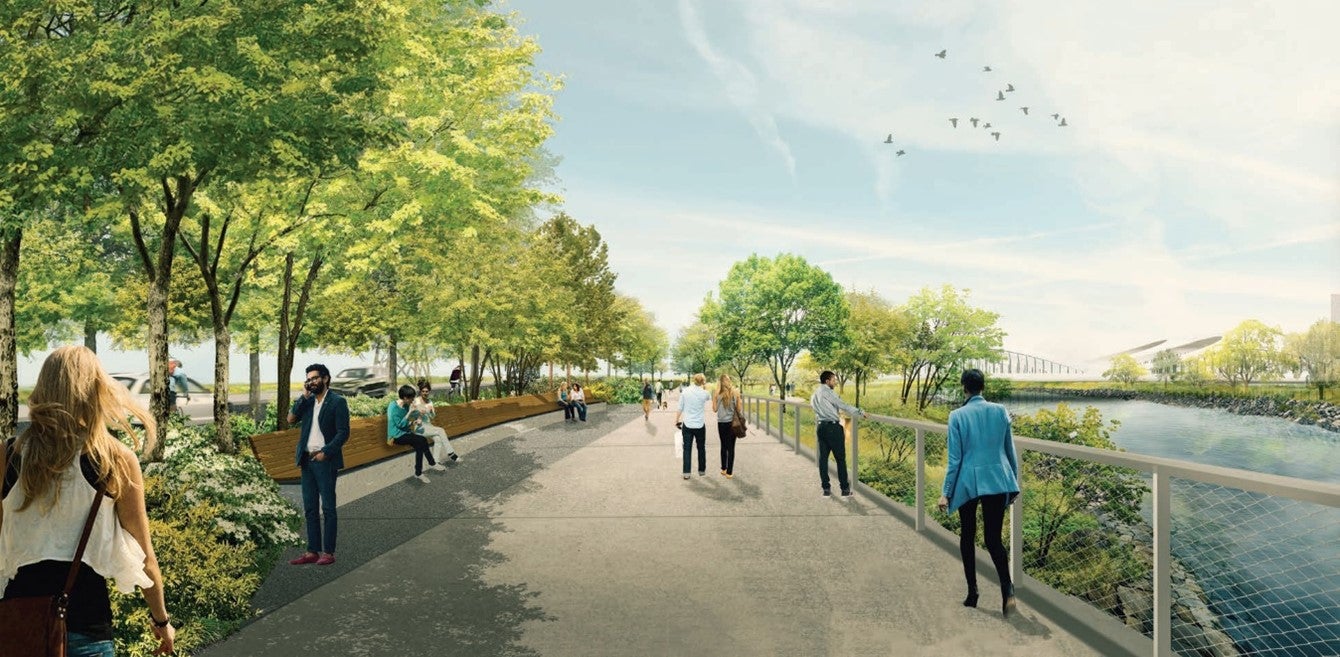 View of the future Don Roadway looking south towards Commissioners Street.
 
Image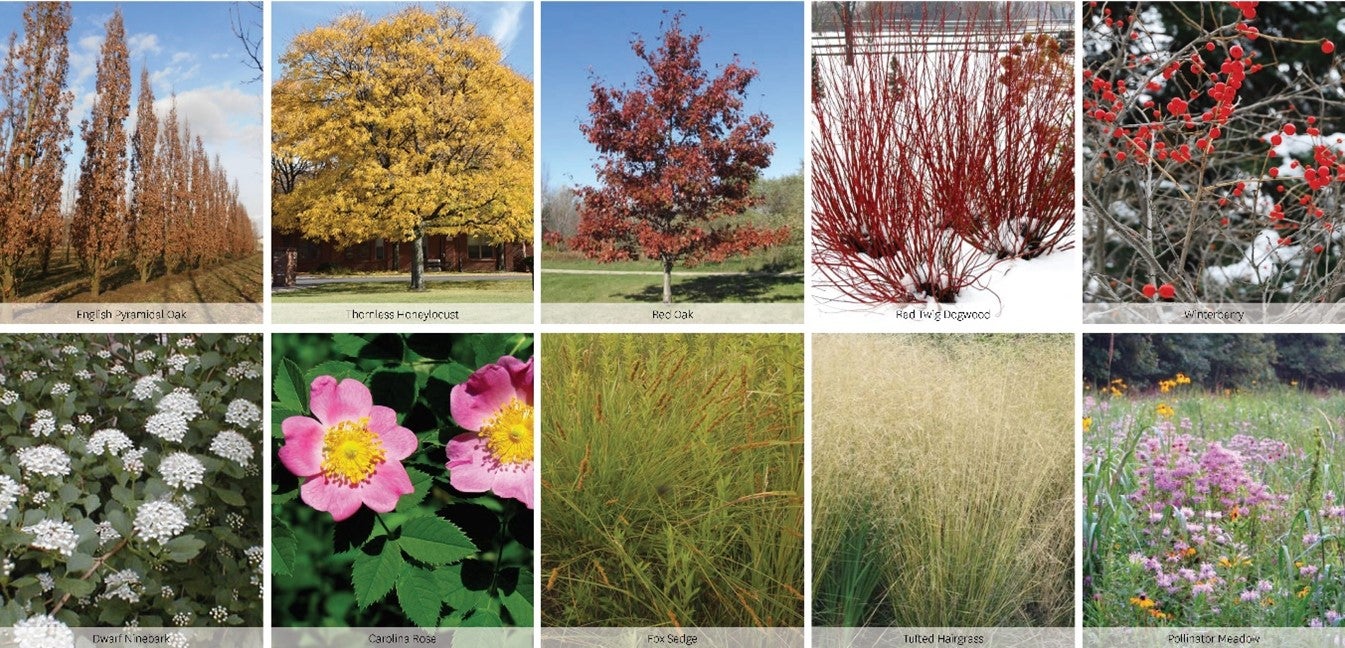 Vegetation that will be planted along the roadway and in the medians

This wild landscape can also help reduce carbon intensive maintenance practices for the City. Traditionally, grass grown in medians requires a great deal of maintenance, usually using gas-powered mowers. Studies have found that planting a mix of native grasses can reduce watering and eliminate the need for synthetic fertilization. Techniques such as rotational mowing for meadows is a less intensive maintenance practice, being used locally at the Meadoway. Another approach could involve bringing in animals to graze.
 
The City of Toronto is currently introducing more resources for green street maintenance. The City's Transportation Services department is launching a series of pilot projects which include training for a team dedicated to green infrastructure maintenance.   

Future proofing 

Because the Port Lands were created by placing fill in the lake, the water table is especially high in this area. That means groundwater is just below the surface – as close as one metre underground in some places. This unique situation creates some challenges when planting street trees, as there's less opportunity for infiltration because the groundwater is so high. Coupled with the potential for lake levels to continue to rise in the coming years, street tree plantings could sometimes be inundated with water.  
With this in mind, street tree species have been selected, and bioretention cells designed to tolerate these wetter conditions. 

A new park street  
 
Image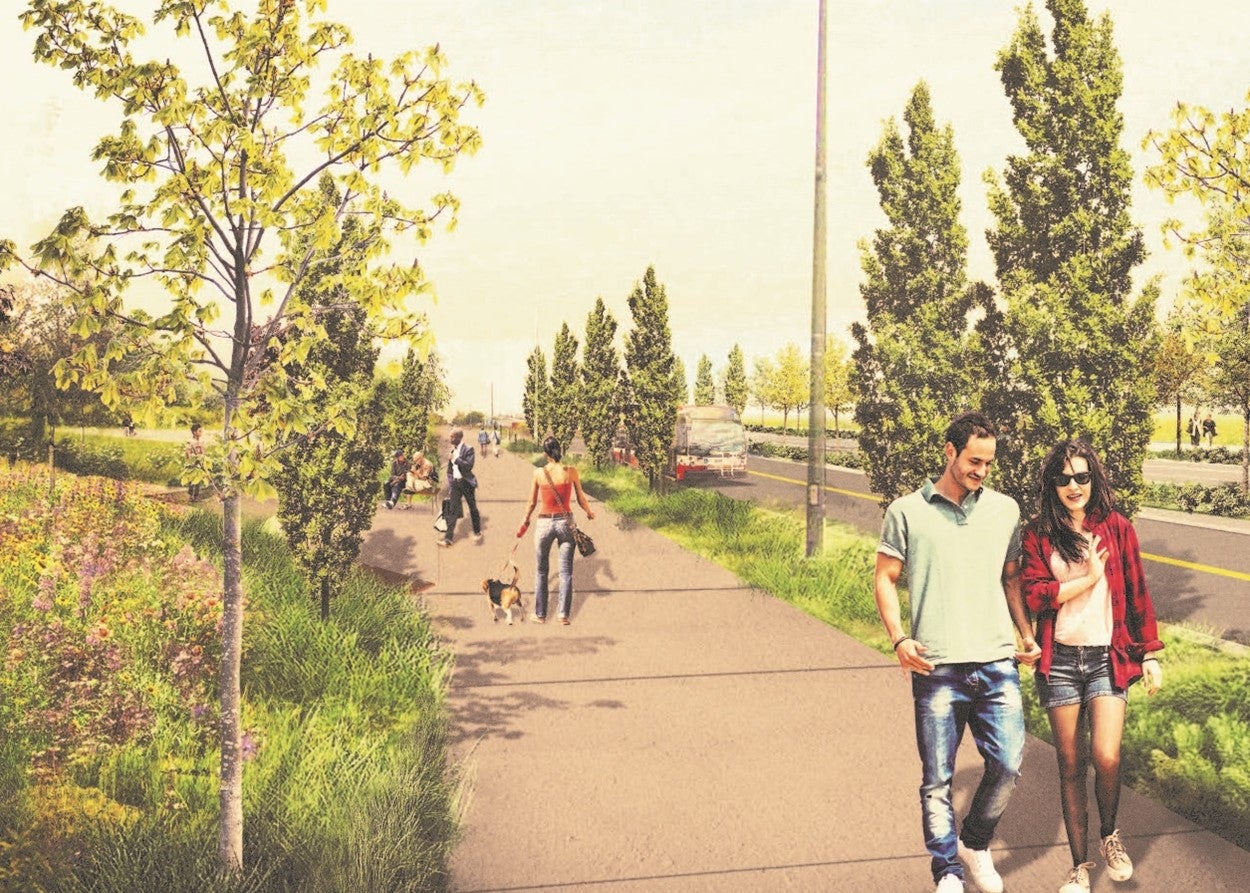 Looking west on Commissioners Street on opening day
 
Image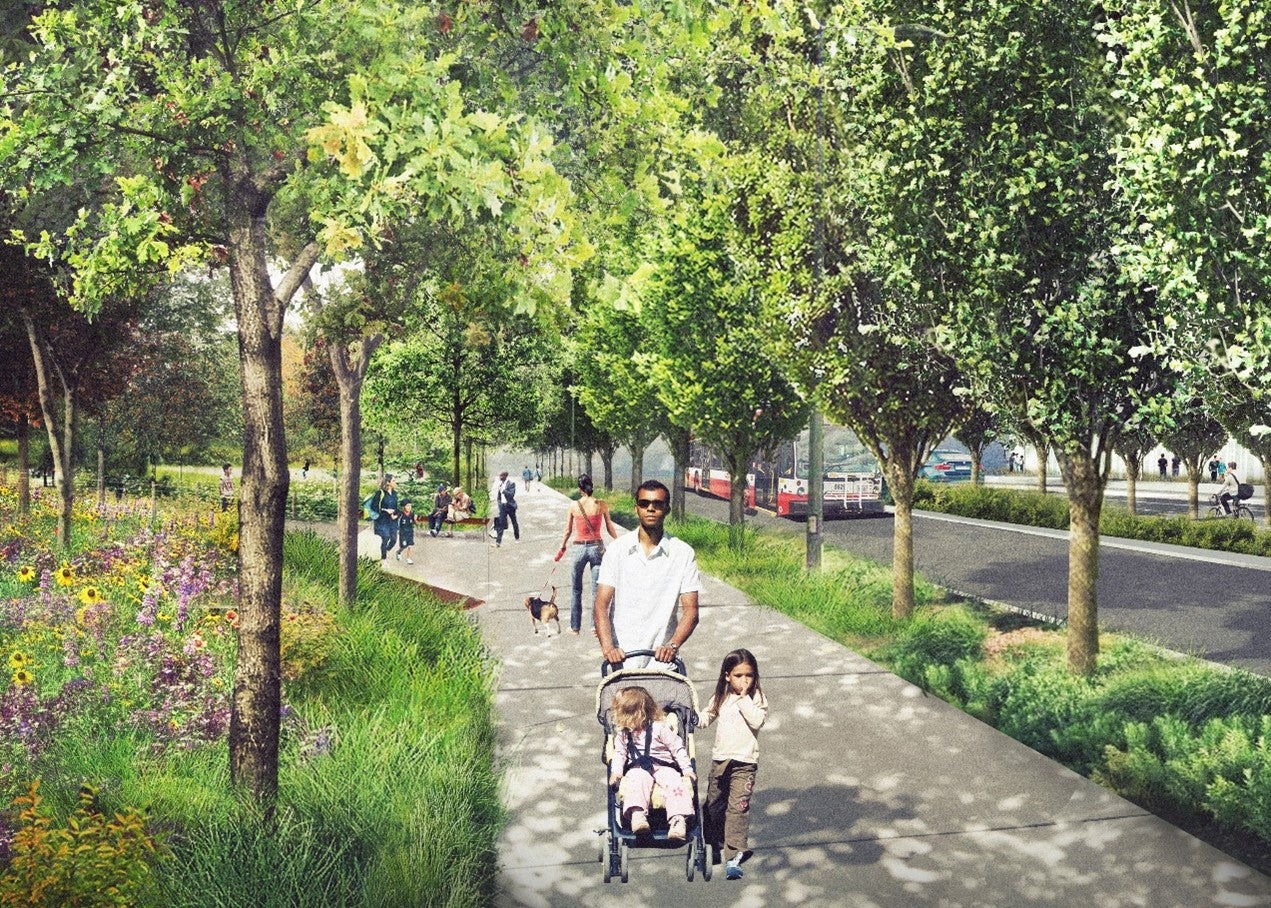 The same view as above - looking west on Commissioners Street once new trees grow and mature.

Commissioners Street will be Toronto's introduction to the most unique park and play space in the region. Because it's a park-edge street, our Design Review Panel and the project's Stakeholder Advisory Committee have encouraged us to blur the boundaries between Commissioners Street and the park. The design creates a street that feels more natural and less urban, creating a welcoming entrance to river valley park.
 
To watch a video about how we're transforming the streets and roadways in the Port Lands, click here. 
 
To learn more about Port Lands Flood Protection, visit PortLandsTO.ca.