Artist Sara Pearson's studio at Akin's Dupont location. Photo: courtesy of Akin.

POSTED: January 18, 2022 I PUBLIC ART, SUSTAINABILITY, ECONOMIC DEVELOPMENT 
By: Shane Schofield
Waterfront Toronto has a new partnership with Akin that creates affordable studio space on the waterfront at Quayside. Activating unused space on a temporary basis will bring many visual artists, designers and creatives to 200 Queens Quay East.  
Enhancing the waterfront's cultural vibrancy is at the heart of Waterfront Toronto's mission. This partnership will help animate the area, extend the creative corridor emerging along Queens Quay and heralds the future of Quayside as a cultural hub in Toronto. 
 
Image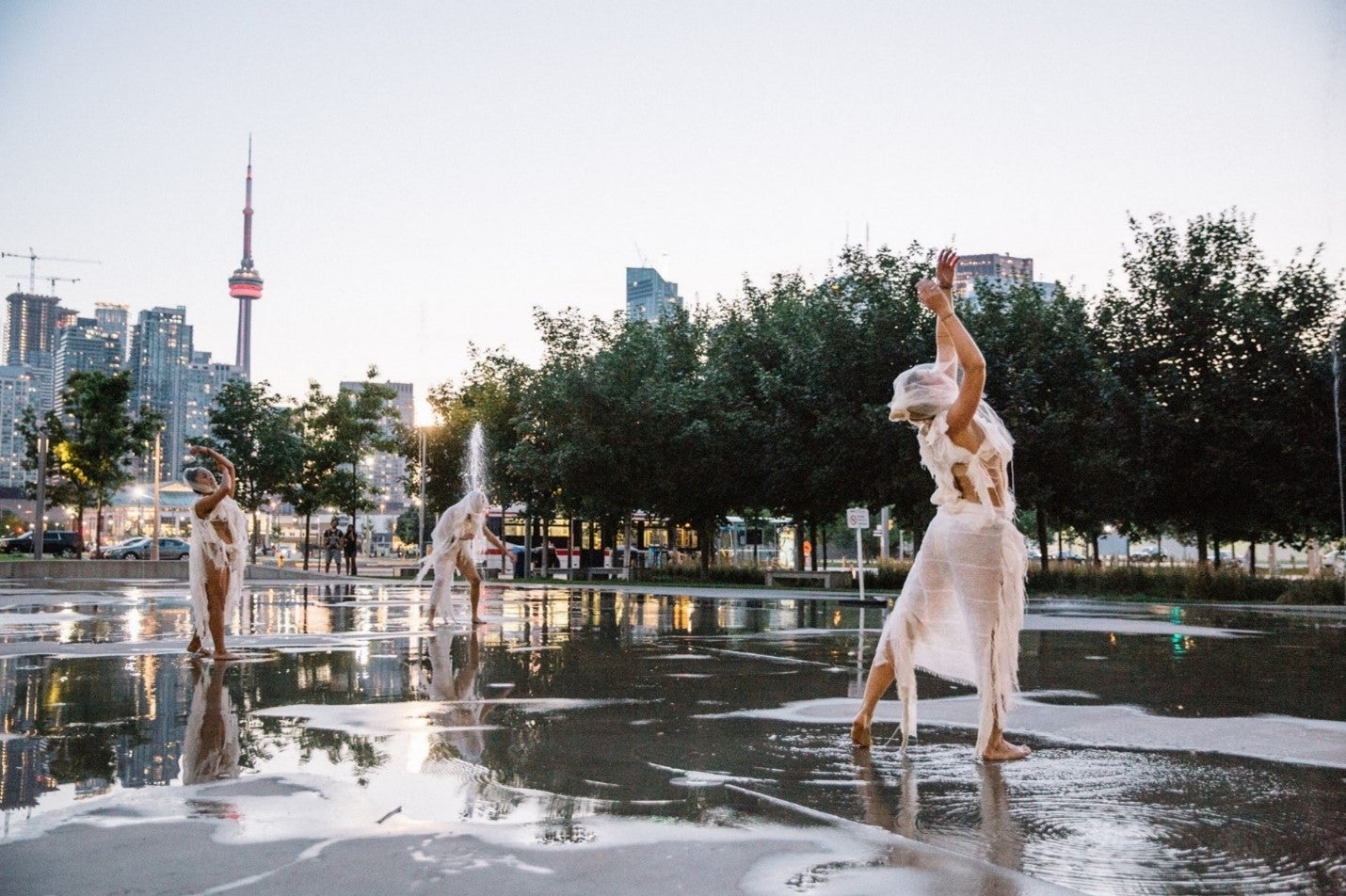 Waterfront Toronto's summer 2016 cultural programming brought dancers Irene Cortes, Mary-Dora Bloch Hansen and Zach Olesinski to Sherbourne Common as part of The Gata: Water Ceremony. Photo by Connie Tsang. 
Cultural Programming Activates the Waterfront 
Increasingly, we're curating seasonal and temporary art projects, creating dynamic cultural experiences by the lake and animating public spaces in transition. This work is keeping the waterfront lively in all seasons and drawing visitors from across the region. 
Chloe Catan, Public Art Program Manager at Waterfront Toronto, is responsible for bringing our cultural programming to life. 
"Cultural programming is essential to creating dynamic and engaging public spaces. It creates active environments where residents and visitors can have meaningful encounters, perhaps inspiring them to think of their environment in new and exciting ways," says Catan. 
"It is also infinitely flexible—it is able to reach many audiences and adapt quickly to respond to contemporary issues. Cultural programing creates a rich layer of engagement with our public spaces," Catan added.  
 
Image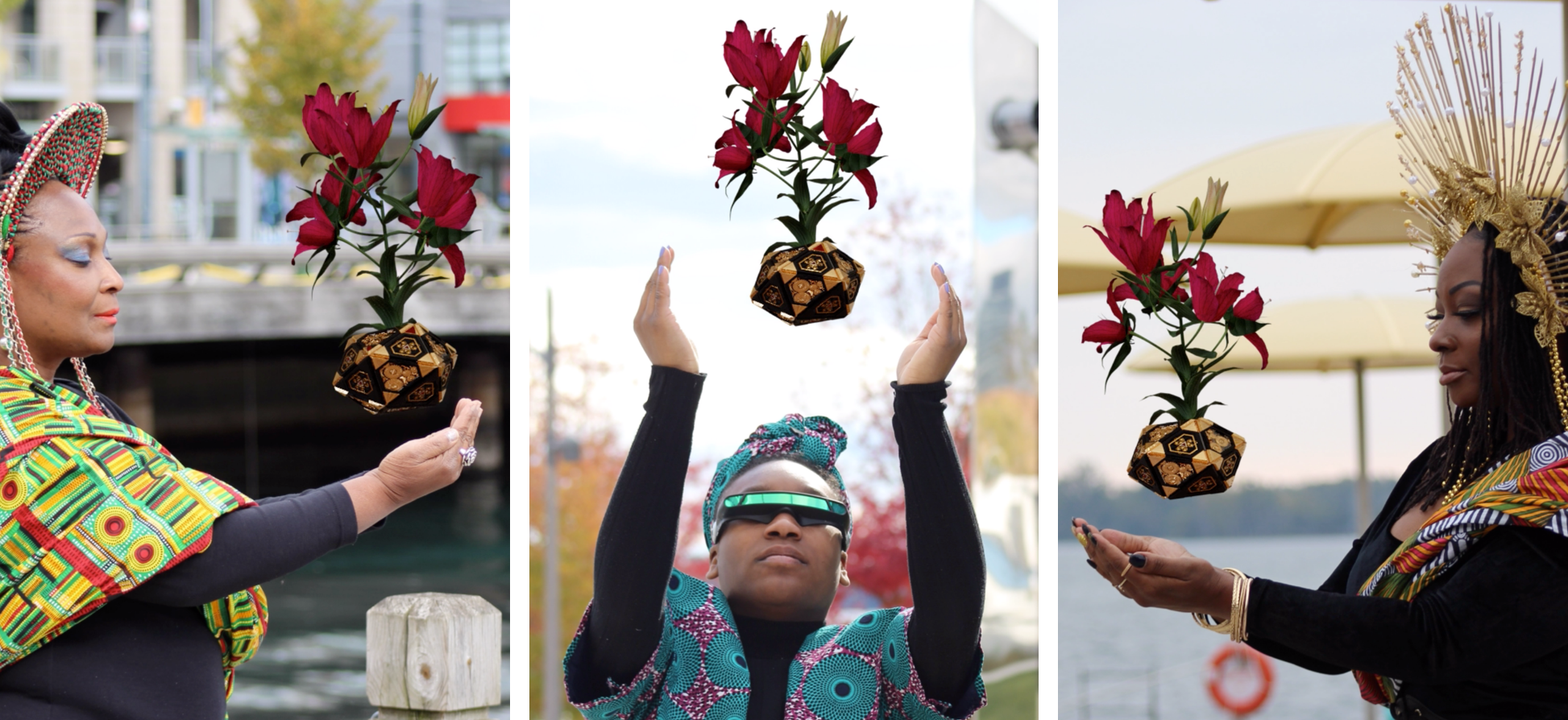 Photographs from Artists in Residence BSAM Canada's Earthseeds: Space of the Living. From left to right: The Elder, The Youth and The Adult. During BSAM Canada's residency, some of its work was celebrated as part of Toronto's Year of Public Art.  
 
Welcoming Akin to the Waterfront 
Waterfront Toronto is proud to partner with Akin, providing 6,500 square feet of space at no cost until it is needed for the Quayside development. The Toronto-based non-profit is focused on supporting artists, designers and creatives by providing subsidized shared studio space at several locations across the city.  
When Akin issued a call for interest for a new waterfront studio, it received an overwhelming response from its community. Currently, Akin is working with artists to allocate the new studio spaces.  
This isn't the first time Quayside has attracted people to the waterfront. 
In 2019, the same neighbourhood hosted the inaugural Toronto Biennial of Art, with Waterfront Toronto providing one of the signature exhibition spaces. The Biennial examined the city's relationship with its shoreline. 
 
On the other side of the block, you'll also find Jacquie Comrie's mural installation Birth of Light.  
Partnering with organizations and events like Akin, the Toronto Biennial of Art and Toronto's Year of Public Art helps set the stage for future cultural programming at Quayside. 
As Waterfront Toronto works towards the development of Quayside, we continue looking for creative interim uses for the space. 
 
Image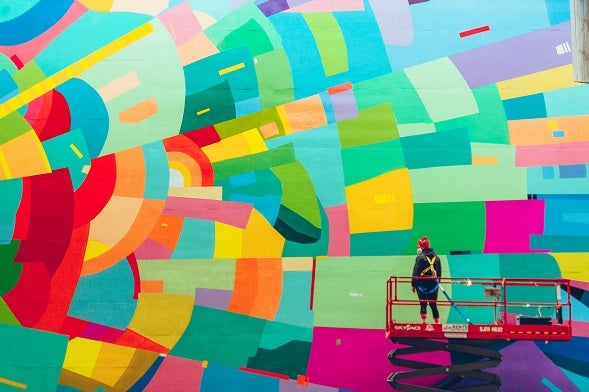 "Birth of Light" by Jacquie Comrie is painted on the wall of a Waterfront Toronto–owned building at 291 Lake Shore Boulevard East. Photo by Chet Tilokani. 
Quayside as a Cultural Destination 
Our vision for Quayside builds upon the creative, cultural corridor already emerging on the waterfront. This corridor includes Harbourfront Centre, Daniels City of the Arts, OCAD University, George Brown College School of Design and Bayside Artscape Lofts. 
We believe cultural elements will help make Quayside an attractive place for residents, visitors and employers alike. In addition to providing year-round animation, the integration of cultural uses will contribute to economic growth and prosperity through direct and indirect job creation by supporting cultural-based sectors and cultivating creativity and innovation in other industries. 
 
Quayside is well positioned to become a vibrant hub, connecting St. Lawrence, the West Don Lands, the Distillery District, Bayside and the future Villiers Island. As the geographic heart of this cluster of neighbourhoods, Quayside will help the area become more than the sum of its parts.
Read more about more Waterfront Toronto's cultural programming, here: Public Art at Waterfront Toronto.