From the Archives: Corktown Common
POSTED: AUGUST 9, 2016 I PARKS AND PUBLIC SPACES, DESIGN, INFRASTRUCTURE, INNOVATION, SUSTAINABILITY
By: Tennille Dowers and Meghan Hogan
What was once part of a neglected post-industrial area within a floodplain, Corktown Common now functions as both a captivating public space and critical flood protection mechanism. 
Located in the emerging and highly desirable West Don Lands community, Corktown Common has quickly become a key destination for the neighbourhood since its official opening in 2014. At 7.3 hectares (18 acres), Corktown Common is the largest park in the area and draws visitors from all across Toronto year-round. 
The park is innovatively positioned on top of a massive flood protection landform, which unlocked the West Don Lands revitalization and protects more than 200 hectares of downtown Toronto – including much of the financial district – from flooding.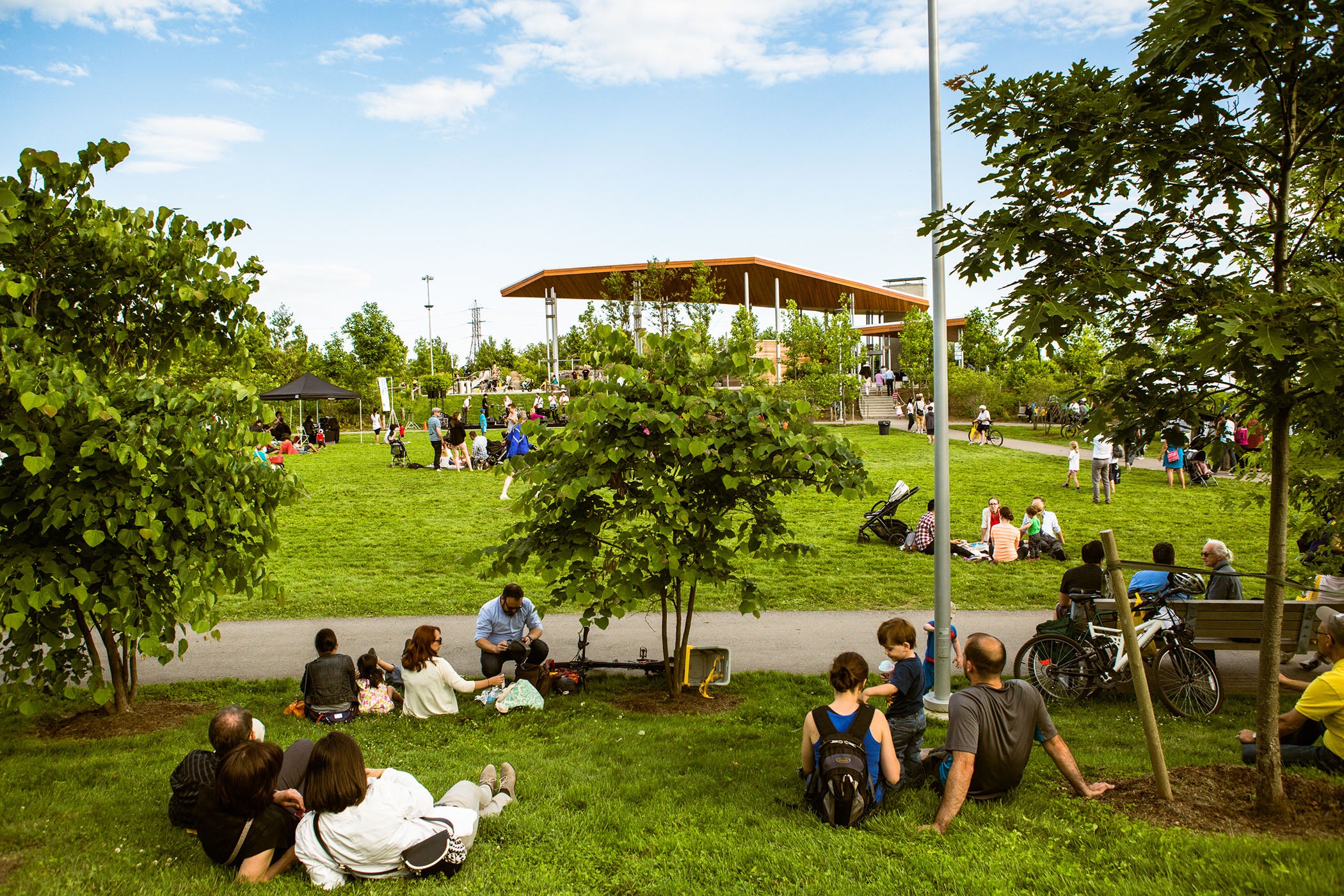 Visitors of all ages lounge on the open lawns at Corktown Common, taking in the breathtaking views of the park. (Image by: Connie Tsang).    
Park-goers at play on the sloped grounds and swing set of Corktown Common. (Images by: Nicola Betts)
Did you know? Approximately 40,000 dump truck loads of clean soil gathered from the Greater Toronto Area was used to construct the Flood Protection Landform.
Designed by Michael Van Valkenburgh Associates, Corktown Common uniquely integrates the contours and elevations of the flood protection landform to create a grand landscape that offers exceptional sightlines of the Toronto skyline. Barrier-free multi-use pathways and trails welcome and entice visitors to explore this urban green space that is topographically divided into three distinct regions, each with its own personality and features.

 An aerial view of the flood protection landform under development in Corktown Common and the wider West Don Lands area. 
Running parallel to the Don River, Corktown Common's eastern portion is commonly referred to as the "urban prairie" or "wet side". The urban prairie features long grasses, gently sloping hills and a small, off-leash urban dog run. You'll also find a portion of the park's multi-use trail and a nature path that traverse the landscape before connecting with the Bala Underpass and the broader Don River Trail network. The "wet side" reference is an acknowledgement that this section of the park is the critical element in providing flood protection. Visitors will notice that there aren't any trees, woody vegetation or other structures here. That's because nothing can be planted, buried or otherwise penetrate and compromise the flood protection features. 
From there, we move into what is known as the "western" portion of the park or the "dry side", representing roughly 3.6 hectares (8.9 acres) of the park. It's important to note that "dry" refers only to its location within the park, and does not extend to the lively gatherings and activities that take place throughout this part of the grounds. With an extensive play area (and structures), pavilion, open lawns and marsh, this region of the park is regularly abuzz with activity.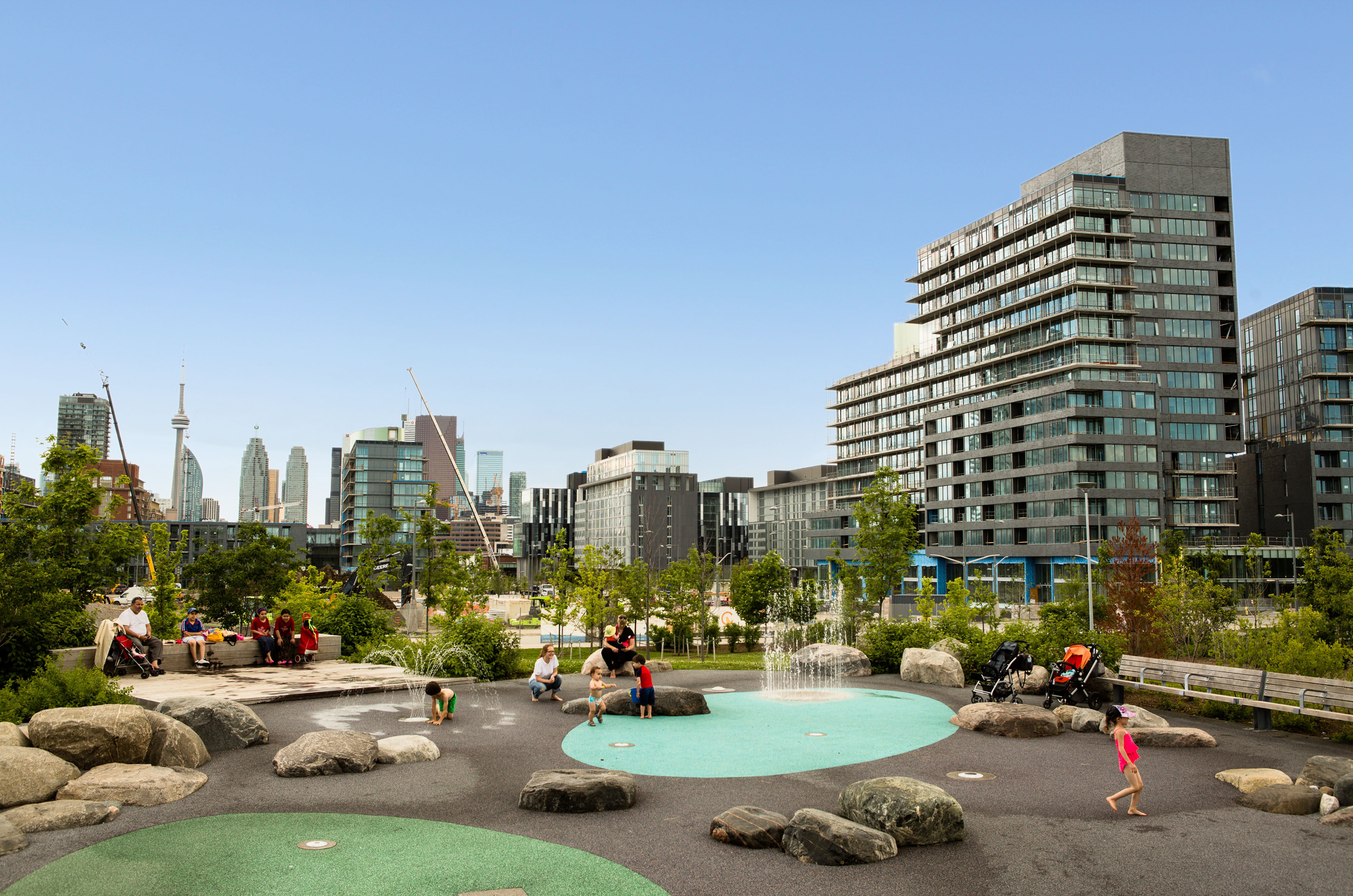 People at play on the splash pad overlooking the downtown skyline (Image by: Connie Tsang)
This space is versatile and lends itself to multiple uses - its very composition encourages social gathering. Whether formal or informal, groups congregating at Corktown Common are able to use tables, benches, playgrounds, hills for wintertime sledding, a refreshing splash pad in summertime, an athletic field, a barbeque station and fireplace. The site also encourages individual activities. With more than 700 trees across this section of the park visitors have no trouble finding a perfectly shaded reading spot. And, if sunbathing is your thing, wide open grass fields will fill that need.  
Whatever your interests or age, Corktown Common invites you to play. 
The pavilion reflects Corktown Common's practical urban design aesthetic of beauty and functionality. Washrooms, drinking fountains, a kitchenette, the management office, and a basement utility room are all located in the striking pavilion. Solar panels along the south side of the pavilion also assists in supplementing onsite power needs.

The large scale of "No Shoes" is revealed by a passing cyclist and adjacent buildings. (Image by Nicola Betts)
At the foot of the open sports field at the south end of the park you'll also find a spectacular public art installation, No Shoes, from internationally recognized artist Mark di Suvero. This large piece was originally installed in High Park but was restored and relocated in Corktown Common in 2013 as part of the West Don Lands Public Art Strategy. 
Corktown Common is biologically diverse and home to thousands of plants, providing aquatic and on-land habitat for many different animals and organisms. 
On the western edge of the park, a large marsh provides habitat for local wildlife such as birds, ducks, frogs, insects and microorganisms, and provides opportunities for visitors to enjoy the sights and sounds of this tranquil oasis. The marsh is also part of the parks ecological stormwater management system, receiving and treating runoff water that is then used for onsite irrigation needs, which reduces the park's consumption of treated potable water.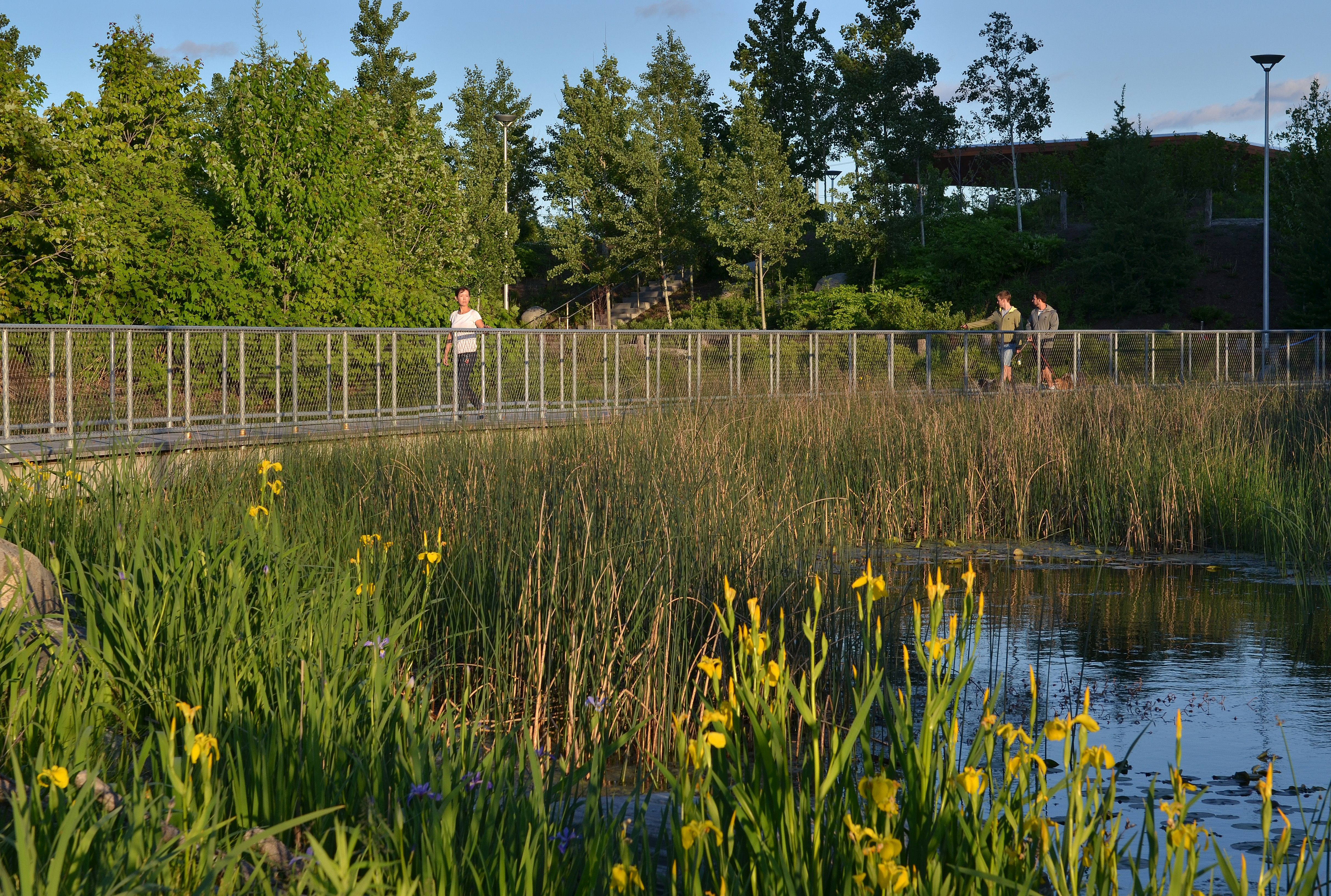 A view of the Corktown Common marsh and surrounding vegetation. (Image by Nicola Betts)
Earlier this year, the final portion of the park opened, which we refer to as the "northern entrance". As the name suggests, this portion of Corktown Common is located to the north with a welcoming entrance at the intersection of King Street, Queen Street and River Street. Here you'll find some informal seating, gently sloping hills and more urban prairie. Follow the asphalt pathway down the slope and travel along the northern portion of the flood protection landform to the intersection of Bayview Avenue and Lower River Street where you can safely cross into the main part of the park.
Corktown Common is a one-of-a-kind park that combines unique terrains, sustainability, innovation and urban design while celebrating the juxtaposition of critical infrastructure and ecology. It fosters connectivity and community in an area that was previously inaccessible to the public and is a must-see Toronto destination.