From the Archives: Canada's Sugar Beach
This once lakefront parking lot has been transformed into a unique urban space that raises the bar for city-building and set a new standard for the creativity of design and quality of materials.
POSTED: OCTOBER 23, 2014 I PARKS AND PUBLIC SPACES, DESIGN
By Heather Glicksman
Five years ago today, on a very chilly October morning, we broke ground on Canada's Sugar Beach. Today, this popular waterfront park is a favourite for tourists visiting our city and Torontonians looking to cool off in the summer months. It's also rented out for festivals and special events, and used as the backdrop for commercials, television shows and movies.  

On the left: Before - A view of the surface parking lot beside Corus Quay before it was transformed into Canada's Sugar Beach. On the right: After - A view of Sugar Beach in 2011, one year after its official opening.
The design, by Cormier + Associés in association with the Planning Partnership, draws upon the industrial heritage of the area and its relationship to the neighbouring Redpath Sugar factory. With its brightly coloured pink umbrellas, sugar-like sand and iconic candy-striped rock outcroppings, Sugar Beach has become a must-see waterfront attraction.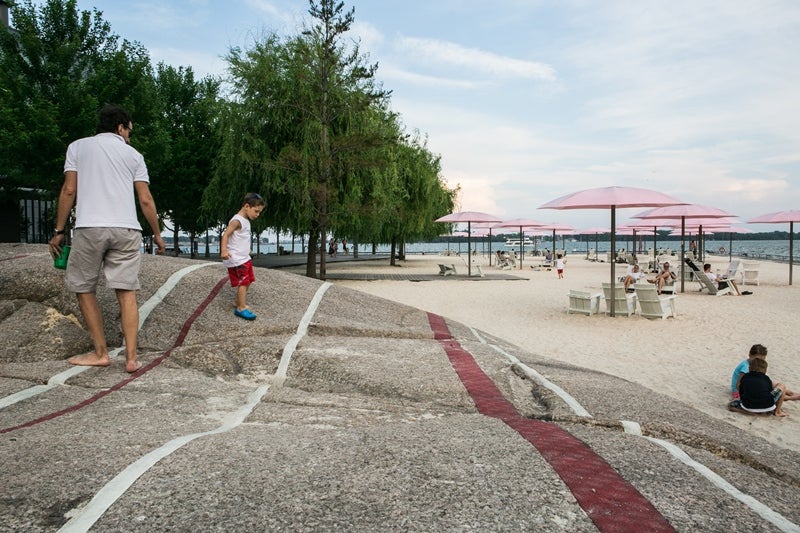 See just how far this public space has come by taking a look back at our official ground breaking video for Canada's Sugar Beach.