POSTED:  FEBRUARY 24, 2021 | PARKS AND PUBLIC SPACES, INNOVATION, SUSTAINABILITY, DESIGN, INFRASTRUCTURE
By Kaleigh Wisman
We are excited to share our 2020-2025 Strategic Plan—a guiding document that explores past accomplishments, outlines the exciting work that is currently underway on the waterfront and proposes a series of aspirational projects for the future.  

The plan is organized around three themes: place, partnership and potential. In today's blog, we will explore the concept of "place" and how our completed/current projects are laying the groundwork for an exciting future for the waterfront. 
Next-Generation Sustainable Communities  
Since 2001, we have been tackling the barriers that, for years, inhibited Toronto's waterfront from reaching its full potential. We have overcome challenges like environmental contamination, aging or absent infrastructure and the lack of a cohesive vision for waterfront revitalization, through thoughtful placemaking and effective partnerships. Although there is plenty more work to do, we are at a moment in time where we can look back on our accomplishments and see how they have laid the groundwork for our upcoming projects.  

The West Don Lands—Waterfront Toronto's first complete community—is great example of what is possible. What was once a post-industrial brownfield, is now a thriving community with essential infrastructure, affordable housing, new transit options, parks, public art and vital community amenities. A masterclass in placemaking, the West Don Lands is a prime example of our ability to work effectively with our partners and community stakeholders to create accessible and inclusive neighbourhoods that work for residents, businesses and the environment.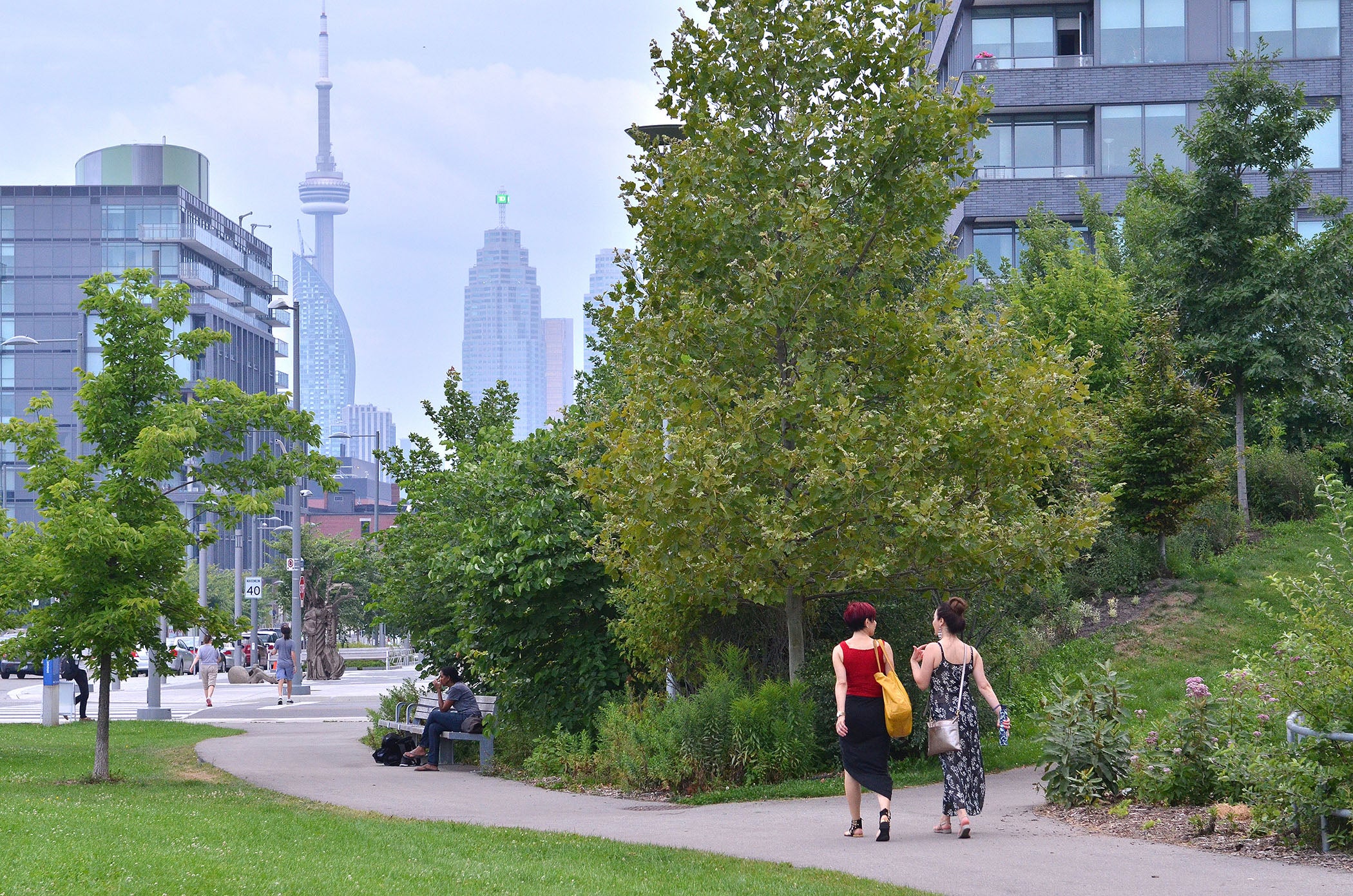 Built from scratch, the West Don Lands is Waterfront Toronto's first complete community and is laying the foundation for next-generation sustainable communities on the waterfront.  
As we look forward to the next five years, we are excited to create next-generation sustainable communities that build on our experience in the West Don Lands. Quayside and Villiers Island in the Port Lands will be the sites of these communities where, like in the West Don Lands, we will create places where communities are able to take root and grow. With sustainability top of mind, not only will these new neighbourhoods follow in the footsteps of our existing work, they will push the envelope even further and are slated to be among the first climate positive communities in Canada. 
Infrastructure as a placemaker  
Holistic planning is at the heart of everything we do. We know that when you build communities from the ground up, it is essential to see where ideas and plans intersect so that smart and integrated planning decisions can be made. 
For example, municipal infrastructure doesn't have to serve just one purpose. It can be multi-faceted as in the case of the new in-water storm pipes that will be constructed along the lake between Dockside to Bayside. The new pipes will move stormwater eastward to be treated at the nearly completed Cherry Street Stormwater Facility before flowing into the lake. As we planned the construction of the in-water storm pipes being built in 2020/21, we also planned for complementary improvements. We will improve marine infrastructure in the area with a reinforced dockwall and add to the continuous waterfront walk with a new segment of boardwalk that will sit atop the structure that contains in the in-water pipes. You can read more about this upcoming project here.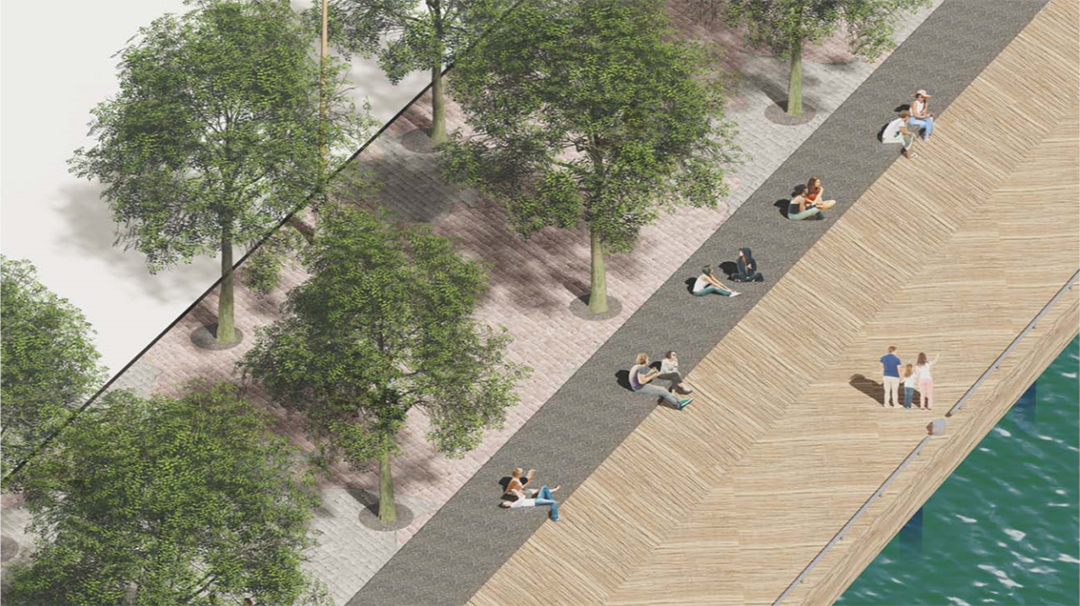 The new boardwalk will sit atop the structure containing new in-water pipes. Adding new public space to the waterfront, it will be 6 metres wide and feature a herringbone pattern and a granite bench.  
Another example of an integrated approach to infrastructure and public space is at Sherbourne Common—the first park in Canada to incorporate a neighbourhood-wide stormwater management system into its design. Stormwater runoff and lake water is treated with ultraviolet light underground and is then released through three nine-metre-high public art sculptures called Light Showers. Rather than hide an innovative water treatment system, Light Showers puts innovation and sustainability on display for the public to interact with and enjoy.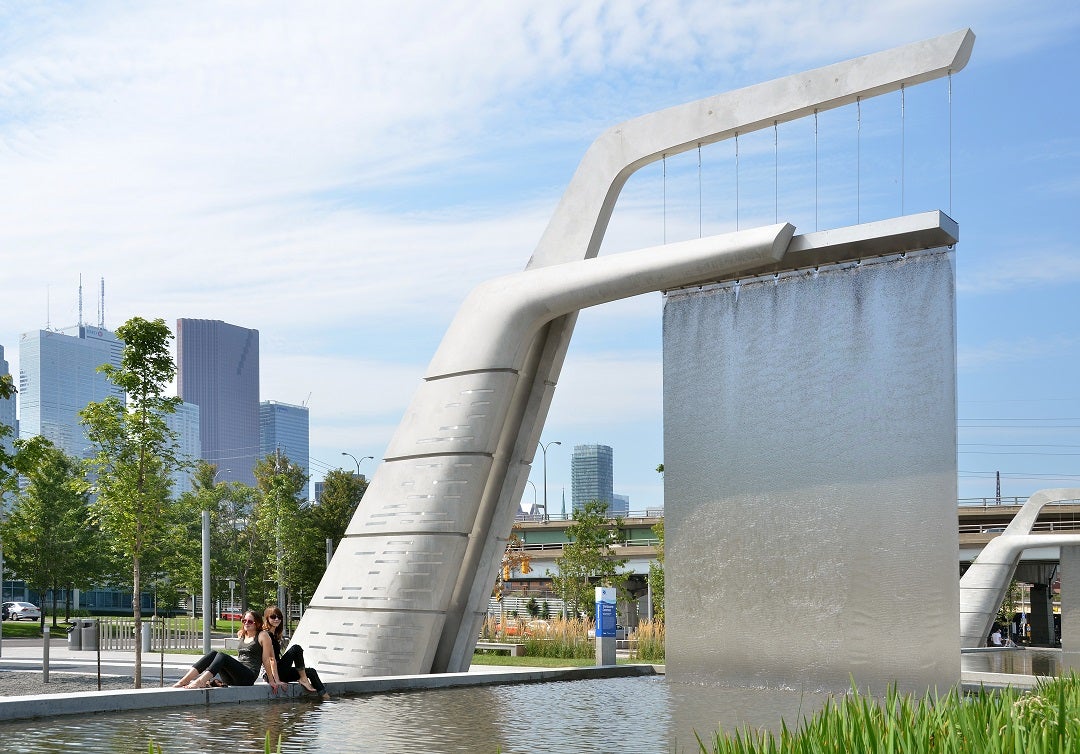 Where stormwater management meets public art – treated stormwater feeds the Light Showers sculptures at Sherbourne Common.   
Creating a place for everyone 
Our over 20 years of placemaking along Toronto's waterfront provides us with a strong foundation as we deliver ambitious projects that create a vibrant waterfront that Toronto deserves—a waterfront for everyone.

The Strategic Plan can be found here. Next week, we will explore the plan's theme of "partnership" and how this concept will play an important role in the future of the waterfront's revitalization.