Image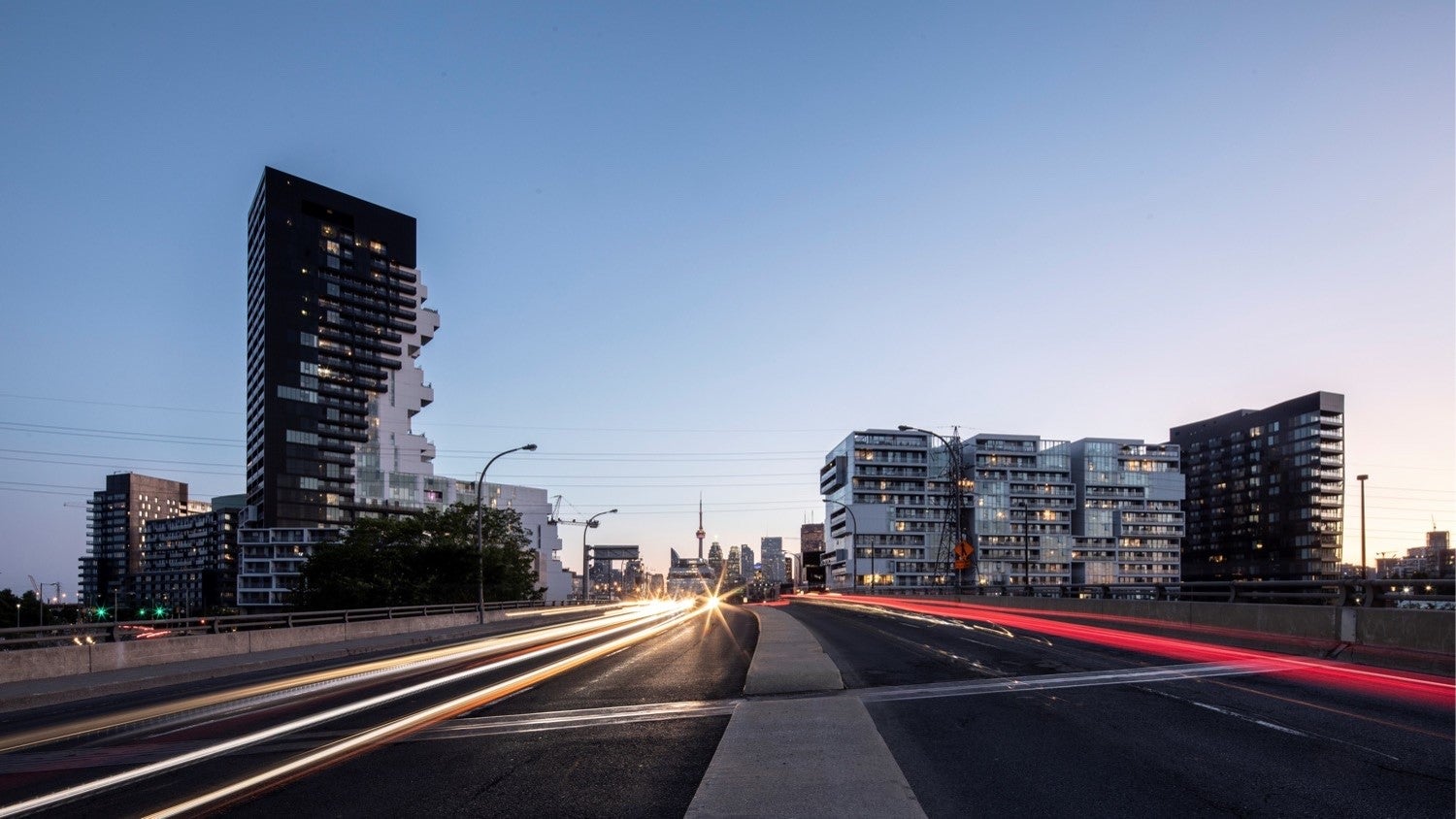 South of King Street between
River Street and the Don River
River City, the first private sector development project in the West Don Lands, set a new benchmark for sustainable urban design in Toronto and across Canada.
This four-phase development by Urban Capital known as River City includes 1,100 loft-styled condominium and townhouse units, as well as boutiques, stores and restaurants. River City has a range of beautifully designed suites and amenities that include stunning landscaping throughout the complex, an outdoor pool and dining area, a two-storey glass "lightbox" lounge and party room, two fully-equipped exercise rooms and a furnished guest suite.
 
RC1, the first phase of this development, comprises 349 units across two buildings - a 16 storey building along King Street and a three storey building along Lower River Street - connected by a four storey bridge. RC1 was completed in 2013.
RC2 comprises 249 units across three 12-storey mini towers connected by glass bridges along Lower River Street facing Corktown Common. Phase two's sleek white exterior is designed to be a dramatic contrast to the edgy dark exteriors of the first phase. RC2 was completed in 2015.
RC3 comprises 333 units in a 29 storey tower located south of the Richmond-Adelaide ramps, facing Corktown Common. RC3 complements the first two phases with bold asymmetrical lines, striking proportions in a distinctive black, white and gold palette. RC3 was completed in 2019
RC4 (Harris Square) comprises 154 units in a 13 storey building at the head of Lawren Harris Square. This is the final phase of River City and was completed in 2021.
Designed by Saucier + Perrotte Architects and ZAS Architects, two of Canada's most respected and award-winning design firms, River City's buildings are like no other buildings in Toronto. The development is an innovative, environmentally friendly collection of bold forms and inventive spaces. Although River City is not Urban Capital's first development, nor their largest, it has become internationally recognized as their signature development.
LEED® Gold
In keeping with Waterfront Toronto's sustainable development goals, River City will be a LEED Gold carbon-neutral development, the first such residential building in Canada. Buildings will have green roofs, and the development will feature a hybrid car and bike share program, plus parking garages will be wired for electric-car charging stations.
Developer Selection
Urban Capital Development Group was chosen as Waterfront Toronto's first private sector development partner in April 2008 following a competitive selection process. A two-stage request for qualifications and request for proposals process was conducted, guided by a Steering Committee composed of Waterfront Toronto staff and subject matter experts in design, sustainability, and real estate. The entire process was overseen by a Fairness Advisor, The Honourable Justice Coulter A. Osbourne.
Urban Capital was chosen because their submission best responded to Waterfront Toronto's criteria for sustainability and design excellence. It also provided the best overall value. Their proposal embraced Waterfront Toronto's public policy objectives of creating inclusive, walkable communities, reducing urban sprawl, taking a transit first approach and leveraging the use of parks and public spaces to create vibrant new urban neighbourhoods.
Award Winning Design Team
Montreal-based Saucier + Perrotte's bold and innovative architectural designs have garnered the firm over 45 national and international awards, including five Governor General's Awards for Architecture and was awarded "Best Firm in Canada" by the Royal Architectural Institute of Canada in 2009. Saucier + Perrotte is regarded by many to be the premier architectural design firm in Canada.
Toronto-based ZAS Architects has a long history in Toronto civic architecture, creating buildings that play key roles in bringing communities together.
Image

Image

Image

Image

Image

Image

Image

Image

Image

Image

Image

Image