Body
Construction of Queens Quay - Toronto's waterfront boulevard - was completed and the street officially opened on June 19, 2015. After three years of construction, the transformation of Queens Quay completely rebuilt and revitalized Queens Quay both above and below ground.
The revitalization of Queens Quay was about much more than rebuilding the roadway. Waterfront Toronto led a coordinated construction effort that integrated improvements to the public realm with much needed infrastructure and utility upgrades. The goal was to avoid the need for construction in the near future by making these upgrades at the same time.
There were many changes in how the street (Bay St. to Yo Yo Ma Lane) operated during construction.
One way traffic on either the north or south side of the roadway – alternating between where crews were working.
TTC was rerouted when the streetcar was out of service.
Temporary gangplanks for foot traffic while zones in front of stores were being rebuilt -- access to all storefronts was maintained.
Fences around construction areas were in place to maintain pedestrian and vehicular safety.
Construction noise as permitted by City bylaws.
Eastern Construction was the Construction Manager and was responsible for overseeing the project on behalf of Waterfront Toronto.
Construction Schedule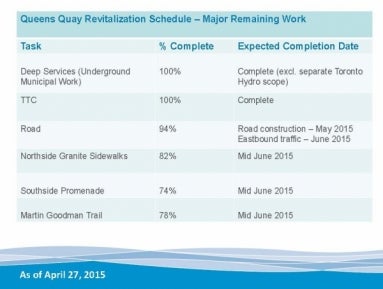 What We Built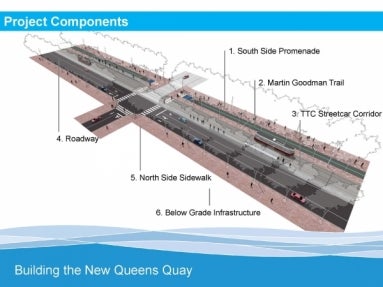 The new Queens Quay has six major components. See how they come together to make a beautiful waterfront street.
Construction Liaison Committee
The Queens Quay Construction Liaison Committee provided a forum for residents, businesses and neighbourhood groups to discuss construction related issues.  The committee met on a monthly basis during construction.  
Queens Quay CLC material - including the Committee membership, Terms of Reference, Minutes and Presentations can be found in our document library. 
Open for Business
Queens Quay was open for business during construction. All area businesses, waterfront festivals and events continued and Queens Quay remained open to transit, car and pedestrian traffic. Access was maintained to all businesses at all times. Visit the waterfront now.
Construction Notice
Throughout the construction of Queens Quay we issued a detailed  construction notice every week and special notices when required.  An archive of notices can be found in our document library here.  
Queens Quay looking west
Watch the revitalization of the central waterfront in this time lapse video as Queens Quay transformed into one of the world's most beautiful waterfront boulevards. This view was taken from the rooftop of Admiralty Point Condominiums at 251 Queens Quay West and is facing west looking at the Rees WaveDeck and HtO Park.
Queens Quay looking east
View construction time lapse footage of Queens Quay – Toronto's main waterfront street - as it was revitalized into a showpiece for the city and a world-class waterfront destination. This view was taken from the rooftop of the Radisson Hotel Admiral Toronto-Harbourfront and is looking east with the Simcoe WaveDeck and Harbourfront Centre in the foreground.

Video: Welcome to your new Queens Quay
Video: Understanding your new Queens Quay
We've built a completely new street, designed to let you walk, ride or drive safely along the waterfront's main boulevard. This short video demonstrates the basic rules for cyclists, motorists and pedestrians on the new Queens Quay. Following signs and signals helps make sure that everyone enjoys this space.