Quayside: From a Proposal to a Development Plan
POSTED: AUGUST 29, 2023
In This Blog:
Waterfront Toronto has a track record of building successful communities where thousands of people live, work and play like the West Don Lands and East Bayfront. 

In June, our partners at Quayside Impact achieved an important milestone, submitting seven (7) planning and development applications to the City of Toronto. 
These applications provide details on the plans, including proposed density and building heights, building uses, and public realm amenities. 

Quayside's development is complemented by public realm and infrastructure work led by Waterfront Toronto, including essential infrastructure and servicing for the buildings and public realm improvements. 

You can ask questions and share feedback at a series of upcoming community pop-ups or at the City of Toronto community consultation.
Waterfront Toronto was created in 2001 to tackle big issues that only collaboration across all three levels of government could solve. At that time, the downtown waterfront was evolving as a patchwork of isolated development. Since then, we've focused on strategic revitalization by prioritizing design excellence, innovation and sustainability, building award-winning parks and public realm, and creating a waterfront that is accessible to all with economic opportunities inclusive of everyone. 
The success of our approach is evidenced by the thousands of people who live, work and play in forward-looking new communities like the West Don Lands and East Bayfront and enjoy vibrant public spaces like Corktown Common and Canada's Sugar Beach. Now, after careful planning and thoughtful public engagement, the submission of planning and development applications to the City of Toronto in late June marks an important milestone for our most recent complete community, Quayside, which is moving from a proposal into a detailed development plan. 
Waterfront Toronto is delivering the area's infrastructure and public realm (including new streets, public spaces, active transportation infrastructure and other amenities), and local developers Dream Unlimited and Great Gulf Group – together known as Quayside Impact Limited Partnership (Quayside Impact) – are developing the mixed-use community. These two streams of work will ultimately create a seamless complete community and dynamic connection to the eastern waterfront.
Image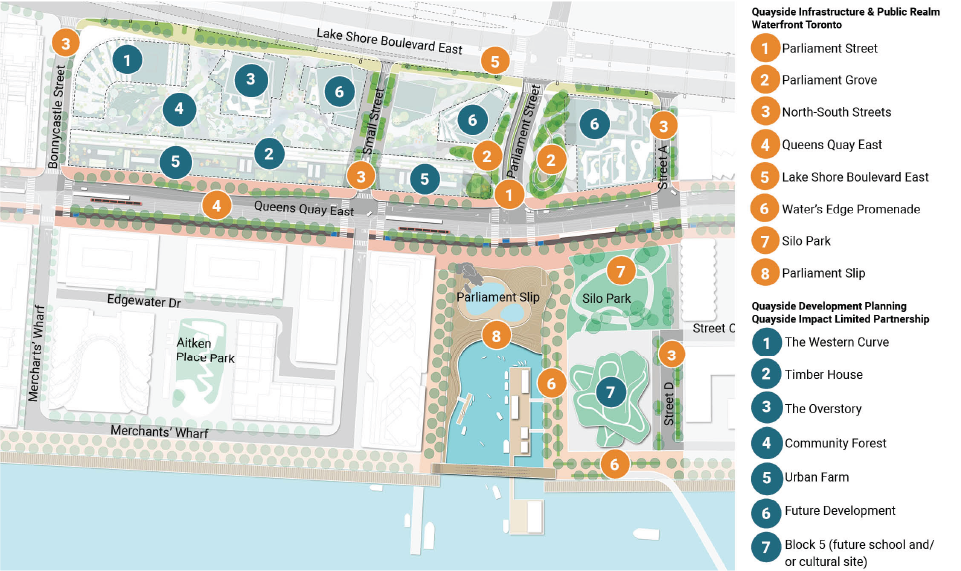 Quayside Infrastructure and Public Realm and Development Planning components.
The development application provides further details on how Quayside will come to life as a dynamic, inclusive and resilient community. Through the development application process there are opportunities for the public to get informed, involved, and engaged through public consultation.
The Specifics 
Quayside Impact has submitted 7 applications (reference addresses 259 Lake Shore Blvd East, for Blocks 1 and 2, and 333 Lake Shore Blvd East, for Blocks 3b, 4, 5):  
Application 1: Zoning by-law amendment: Block 1 and 2  

Application 2: Combined official plan and zoning by-law amendment: Block 3b, 4 and 5  
Applications 3-6: Site plan approval: master site plan for at grade and below grade; buildings 1a, 1b and 1c (second story and above)  

Application 7: Part-lot control exemption  
City of Toronto staff are reviewing the applications and there will be an opportunity for the public to comment on the applications at a City-led community consultation later this fall. After comments are received, Quayside Impact will revise their applications and resubmit them later in the fall. 
For more information on the planning approvals process and to understand what each of the applications address you can read this recent blog post. Here we'll explore some of the details revealed in these applications. These details will help us understand how Quayside will achieve its key objectives of becoming a dynamic, inclusive and resilient community for people of all ages, backgrounds, abilities and incomes.
Image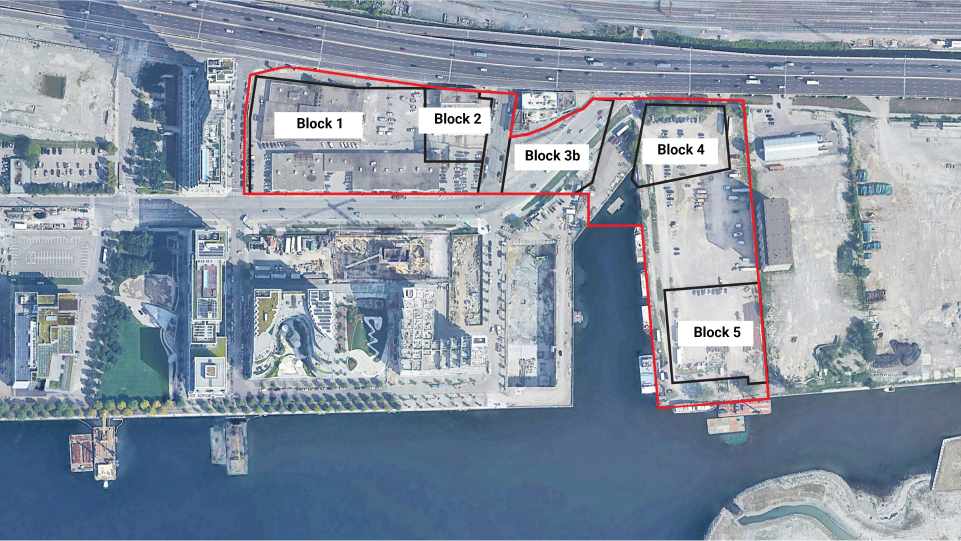 An aerial view of present-day Quayside overlayed with the future development blocks.
In addition to the Quayside Impact applications, Waterfront Toronto has submitted a draft Plan of Subdivision for Blocks 3b, 4 and 5. Once approved, the draft Plan of Subdivision will establish the boundaries for Blocks 3b, 4 and 5, which will be created by extending Queens Quay East and realigning Parliament Street – part of Waterfront Toronto's public realm improvements for the area. These blocks establish the areas that will eventually be developed. (Blocks 1 and 2 already exist.)
Image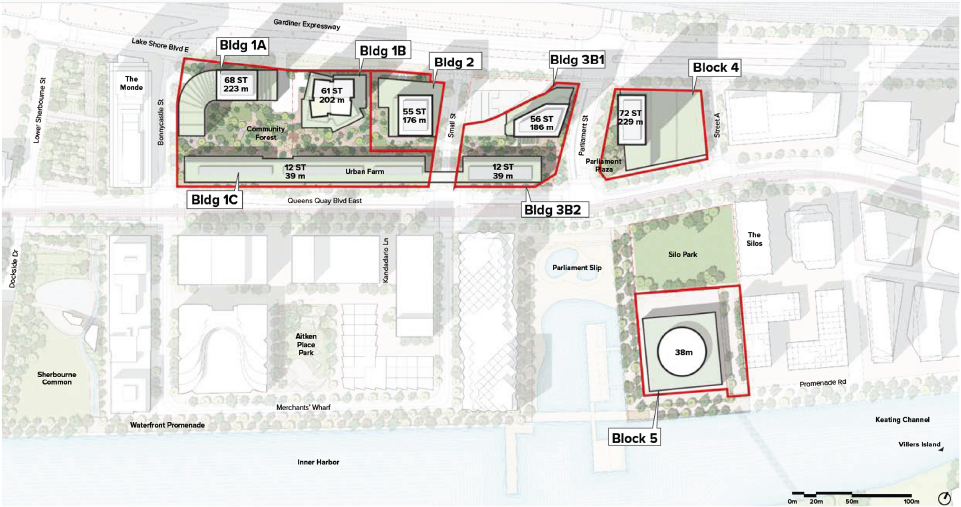 Proposed building heights (metres) and number of stories.
Once approved, Quayside will comprise five development blocks with a significant amount of new public park and recreational space. Across four of the blocks we'll see five high-rise towers and one mid-rise timber building (considered two buildings in the application as it will be developed in two stages, east and west of Small Street), across the northern blocks. Block 5 is reserved for a future school site and potential Indigenous-focused arts and cultural facility as well as a future park. Although most of the buildings will be residential, there will be space for commercial, community use, educational or institutional use, as well as retail spaces on the ground floor for restaurants and cafes, and more. 
Image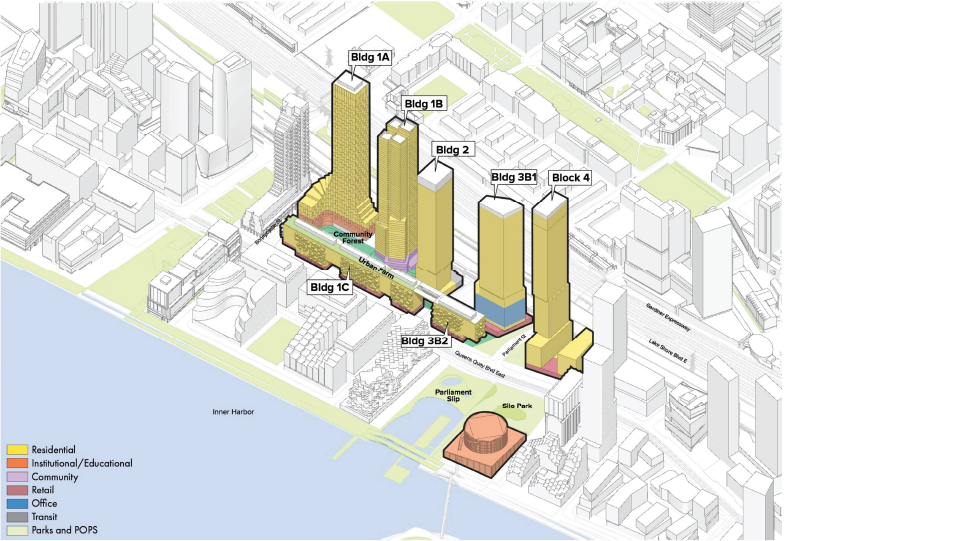 The mix of uses proposed for Quayside.

The site plan applications contain details on the seven buildings. 
As proposed in the applications, Quayside will comprise 321,760 square metres (3.5 million square feet) of development, including a mix of residential and non-residential uses. The residential area will provide approximately 4,600 residential units, including about 860 affordable units - more than half of them being family-sized (2+ bedroom). This is a significant number of affordable units that will help to address the current shortage of housing available to families of all income levels. 
Non-residential space will include: 
Commercial space to provide jobs and economic activity in the community. 

A Community Hub with health and wellness services , including a private daycare, community support, education, and co-working spaces, health and wellness spaces, and art spaces. 
Institutional space to provide opportunities and activate the community. 

Retail space and food and beverage for residents, as well as visitors to the waterfront.
The public realm to be delivered by Quayside Impact includes a 2-acre public space dubbed the Community Forest offering extensive and biodiverse landscaping, pedestrian pathways, formal and informal seating areas, children's play areas, a dog run, and flexible spaces to house everything from a small amphitheatre to retail patios. The Community Forest will be a valuable asset, providing park space flexible enough to accommodate a variety of community needs across the four seasons. In addition, plans include an Urban Farm on the roof of Timber House that will provide locally grown produce to the community, and supply area restaurants and cafes. 
Quayside's Infrastructure and Public Realm 
Quayside's development is complemented by public realm and infrastructure work led by Waterfront Toronto. Waterfront Toronto's work includes essential infrastructure and servicing for the buildings and public realm improvements. The public realm improvements include revitalizing Queens Quay East into a signature waterfront boulevard (much like with the transformation already completed along Queens Quay West) and extending it east through the waterfront, including provision for a dedicated Light Rail Transit right-of-way for the future Waterfront East LRT.
 
Parliament Street will be realigned and will include bicycle infrastructure, extensive greenery, and improved public space. The side streets, including Bonnycastle and Small Street, will prioritize the pedestrian experience and include trees and open planters with hardy greenery. The Water's Edge Promenade will be extended around Parliament Slip and will intersect with the new accessible Keating Channel Pedestrian Bridge at the south end of Block 5. 
Finally, the long-term vision includes a new local park (Silo Park) adjacent to Block 5, which will be awarded through a design competition in the coming years.
Together, Quayside's development and its infrastructure and public realm will create a new and vital neighbourhood. 
Image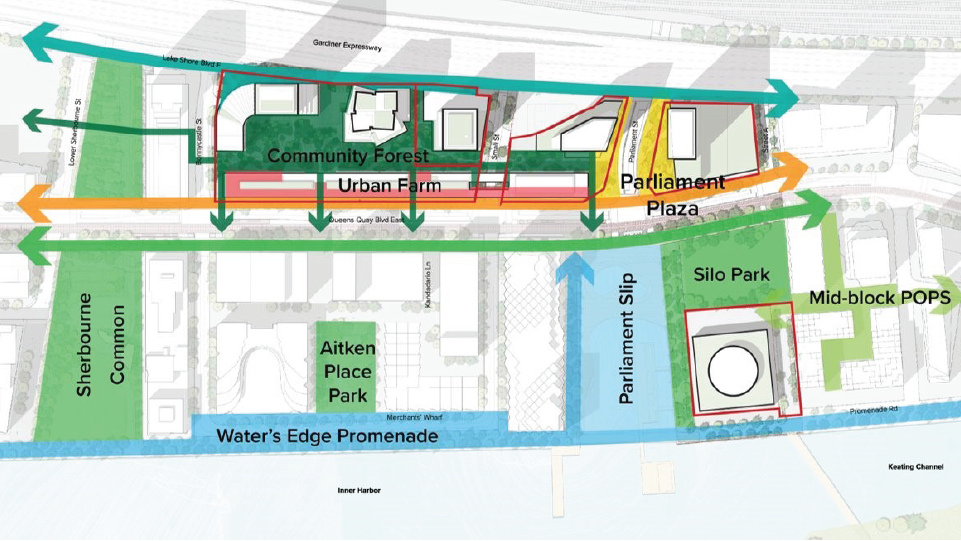 How Quayside's proposed public realm relates to neighbourhood public spaces.
How We Got Here 
As with all Waterfront Toronto projects, the vision for Quayside has been shaped with the community through deep and extensive public engagement (more on this here) that has helped the project partners better understand and respond to the needs of the many communities that Quayside will serve.
Before the applications were submitted, Quayside Impact met with Waterfront Toronto's Stakeholder Advisory Committee to share information and hear feedback. They also shared information with the public at Waterfront Toronto's public open house in May. The planning applications submitted to the City in June trigger a new stage of public engagement that will continue to help shape Quayside including a City of Toronto community consultation in the fall.
To learn more about community pop-ups and consultations, sign up for the quaysideto.ca newsletter or stay tuned to our website.