Looking Back at York Quay: Once a Parking Lot Now Vibrant Plazas
POSTED: March 21, 2023
In This Blog:
Revitalizing underused lands creates more public space on the waterfront. 

Waterfront Toronto and Harbourfront Centre partnered to turn York Quay into a thriving destination.

In 2013, three new public spaces—Canada Square, Ontario Square and Exhibition Common— replaced the surface level parking lot.

Ten years later, these public spaces continue to enhance the cultural vibrancy of the waterfront with events like Art Spin's Public Sweat, sponsored by Waterfront Toronto.
In 2013, Harbourfront Centre and Waterfront Toronto opened Canada Square and Ontario Square. These large public plazas replaced a surface parking lot, creating new public access along the waterfront. Today, this area is a thriving part of Harbourfront Centre's campus. 
Canada Square and Ontario Square show how Waterfront Toronto and its partners transform underused lands into vibrant public and cultural spaces for all Torontonians. Ten years after the revitalization, this place continues attracting people to the water's edge.
Image
Ten years after York Quay's transformation from a parking lot to a series of public spaces, it continues attracting people to the water's edge.
From Parking Lot to Public Plazas
Beginning in 2005, Waterfront Toronto partnered with Harbourfront Centre to revitalize York Quay. After creating a widened promenade between York and Simcoe Slips, we replaced the surface parking lot with three new public spaces. 
Canada Square, Ontario Square and Exhibition Common were all designed by landscape architect Michael Van Valkenburgh Associates and provide well-used public access to the waterfront. They also provide Harbourfront Centre with programming options, like Ontario Square serving as an informal pick-up and drop-off location for summer campers. Read more about the revitalized York Quay here. 
Image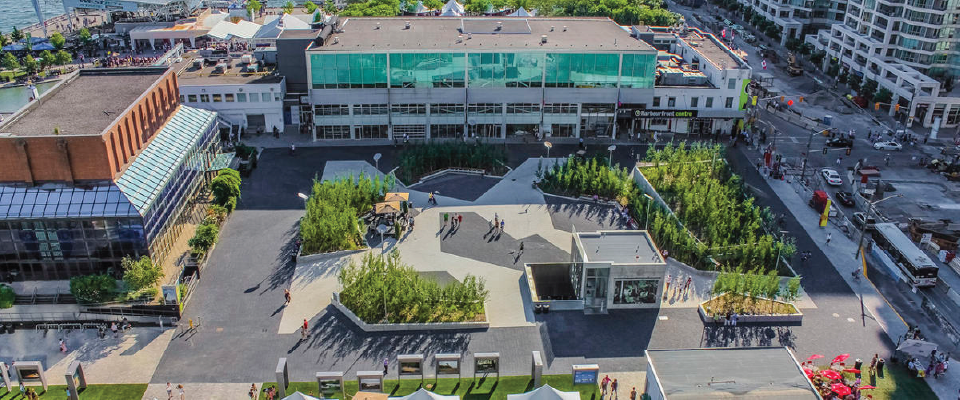 Harbourfront Centre draws more than 12 million visitors a year to its four hectare (10 acre) site in the heart of Toronto's central waterfront.
Year-round Public Art on the Waterfront 
Public art enriches our revitalization work on the downtown waterfront. Commissioning a variety of temporary and permanent art installations has attracted new visitors to the lake. Partners like Harbourfront Centre help activate the waterfront with public art and cultural events year-round.
From March 15 to April 23, 2023, Harbourfront Centre hosts Public Sweat by Art Spin. The event combines public art and sauna culture and is taking place at Ontario Square. Visitors will be able to enjoy five different saunas. Each one was designed by artists commissioned by Art Spin.
Public Sweat builds on the success of past Art Spin sponsorships. In 2016, Waterfront Toronto sponsored a series of talks at Art Spin's in/future arts and music festival. The series included talks by innovative city building professionals helping festival goers reimagine the future of urban communities. Then in 2017, Art Spin presented Desire Lines. The free exhibition showcased works from visual and performance artists in a venue provided by Waterfront Toronto.
Now Art Spin returns to the waterfront with this latest installation. Public Sweat brings art to a former parking lot, emphasizing public art as an important part of Toronto's waterfront revitalization.
To learn more about Public Sweat from Art Spin, visit its event page.