Laying the Foundations for a Sustainable and Resilient Waterfront
The selected proposal for Quayside will create a zero-carbon development and new public spaces, including a two-acre forested green space, plus a significant urban farm atop one of Canada's largest residential mass timber buildings.
POSTED: August 15, 2022 | ECONOMIC DEVELOPMENT, DESIGN, PARKS AND PUBLIC SPACES
BY: SARAH ASKETT
We put sustainability at the core of our work by setting ambitious standards in green building requirements and prioritizing climate resilience in all our revitalization efforts. Our 2021-22 Integrated Annual Report showcases how our efforts are coming together, creating more resilient and sustainable communities now and in the future.

This second of our three-part blog series focuses on how we are ensuring the long-term environmental sustainability of revitalization across the waterfront.
Highlights from this blog: 
We invested a total of $217.1 million in the Port Lands Flood Protection Project, a significant share of the $773 million invested to date, and reached several milestones towards creating a resilient and sustainable neighbourhood on the waterfront. 
Innovative climate leadership at Quayside will demonstrate our commitment to progressive sustainable developments and show how a climate positive Villiers Island is within reach.  

We reached the 30% design and engineering milestone for the Waterfront East Light Rail Transit along Queens Quay East from Bay Street to Cherry Street, and made progress on designing the extension of the LRT into the Port Lands.
Delivering Infrastructure for New Neighbourhoods 
The Port Lands is being transformed from a mostly unused area into a place with thousands of homes and offices in addition to existing light industrial uses (read more on page 40 of the report). At the heart of this transformation will be Villiers Island, which aims to become Canada's first climate-positive community. In 2021-22, we invested a total of $217.1 million in the Port Lands Flood Protection Project, a significant share of the $773 million total invested to date. From these investments, we reached several milestones towards a new resilient neighbourhood on the waterfront. 
Image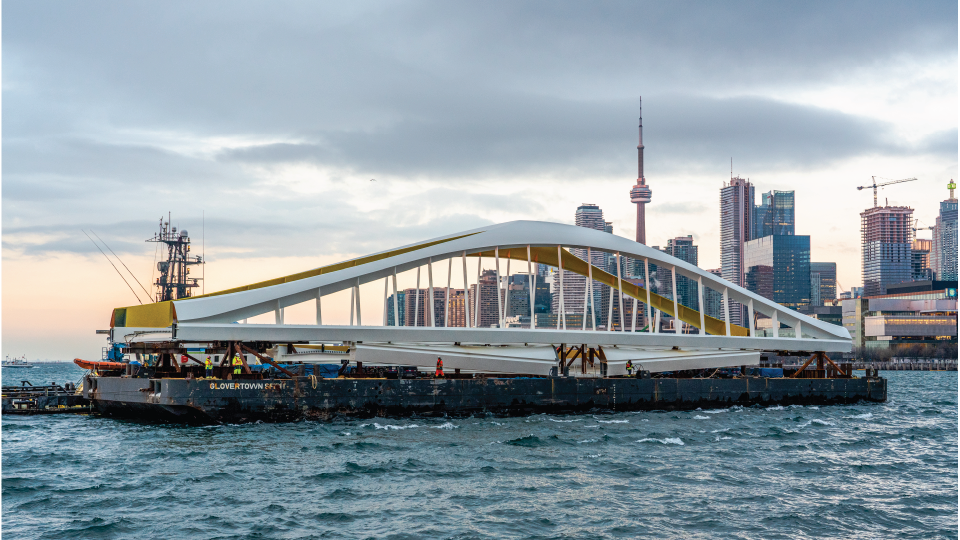 The Cherry Street South Bridge pictured arriving in Toronto. Image by Vid Ingelevics and Ryan Walker.
Connecting the future Villiers Island to the mainland, the bridges in the Port Lands have literally and visibly come together this past year. Both halves of the red and white Commissioners Street Bridge — east and west — were delivered by barge in 2021 and then assembled and welded together in early 2022. The yellow and white Cherry Street South Bridge was also delivered by barge, arriving in December and installed in January 2022. In the midst of the ongoing work in the Port Lands, these colorful bridges stand out as beacons of the exciting new island community on the horizon.
Creating a Resilient River Valley 
This year, we moved into the final stages of our work on Risk Management Measures in the river valley and spillway to protect the river and the lake. To enable drainage and to protect the Don River and Lake Ontario from any contaminants that may remain in the soil from past industrial uses, we installed protective layers at each site where the riverbed was excavated.
Image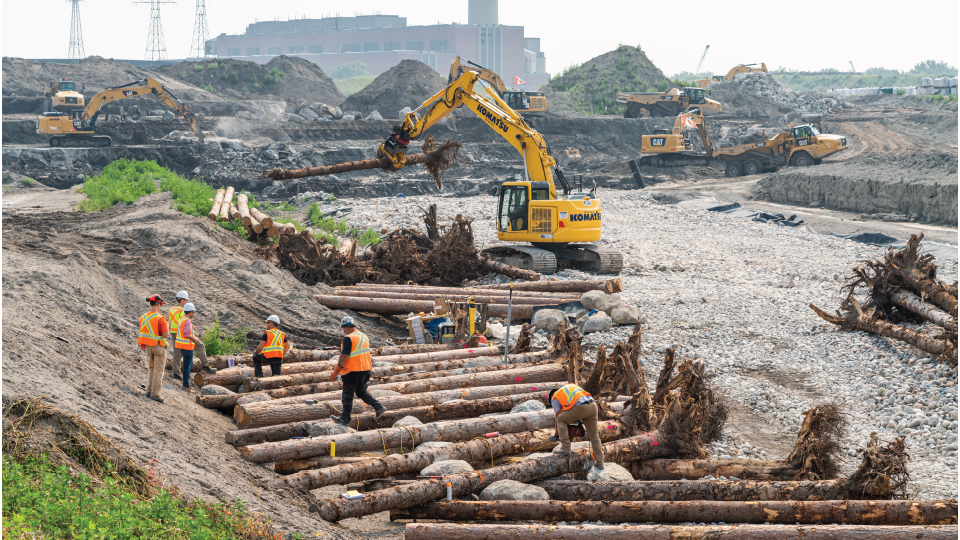 We also installed the boulders, rocks, and logs (often called "river finishes") that will rest along the riverbed in the central river valley. These natural materials will stabilize the riverbanks, prevent erosion, help plants take root and provide healthy marine habitat. Image by Vid Ingelevics and Ryan Walker. 

Read our 2021-22 Integrated Annual Report to learn more about the progress in the Port Lands.
Setting the Stage for Climate Positive Neighbourhoods 
Our Green Building Requirements set ambitious standards that all future developments must achieve on the waterfront, including Quayside.
Image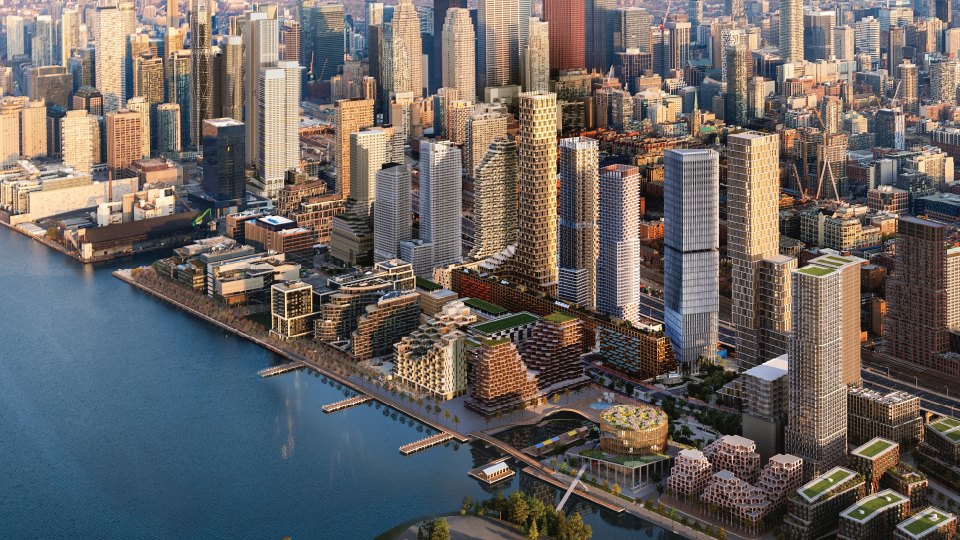 The proponents we selected this year rose to the challenge and delivered an innovative proposal for Quayside that exceeded our expectations and will make it Canada's first all-electric, zero-carbon community at this scale.
Creating the largest zero-carbon development in Canada is no easy task and cannot be achieved through buildings alone. Our selected proponent's proposal incorporates innovative sustainability measures in both the buildings and the landscape to achieve this. 
Some of these measures include:  
Capturing heat from wastewater  

Using a Geothermal System to reduce carbon emissions by 90% compared to a typical Toronto building 
Leveraging battery energy storage to provide carbon free backup for short term electricity loss and to shift electricity drawn from the grid to night-time when carbon emissions are lowest 

Ensuring the elimination of single-use plastics in tenant agreements for retail and restaurant spaces 

Using FSC Certified Lumber for mass-timber construction 

Creating a 2-acre community forest and a large urban rooftop garden 
Achieving success in Quayside with innovative environmental leadership will demonstrate that climate positive communities are within reach and will set the standard for future revitalization, including Parliament Slip and Villiers Island.
Image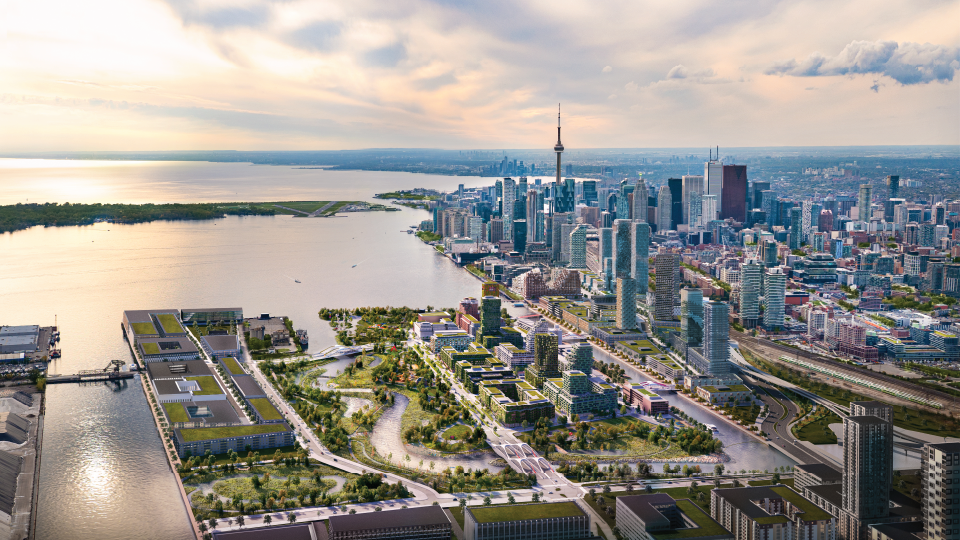 When fully realized, Villiers Island will be the first climate positive neighbourhood in Canada with leading-edge sustainability features and will also include a significant quantity of affordable housing, and diverse economic and cultural uses.
New Transit Connections 
Excellent transit connectivity is essential to the waterfront's success, and we're working closely with the City of Toronto and the Toronto Transit Commission (TTC) to plan and deliver new transit connections. This year, we reached the 30% design and engineering milestone for the Waterfront East Light Rail Transit along Queens Quay East from Bay Street to Cherry Street, and made progress on designing the extension of the LRT into the Port Lands. 
Image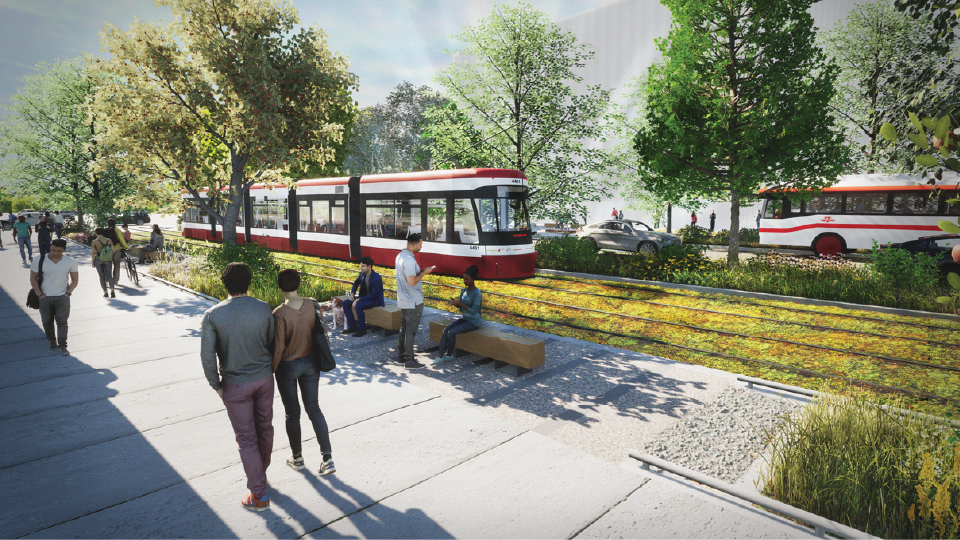 The planning and design work for the Queens Quay transit extension will improve the public realm along the corridor by adding trees and plantings to increase shade, wildlife habitat and permeability (which supports stormwater management) on the new streets.
Learn more about the progress we've made on transit here in our 2021-22 Integrated Annual Report.
Additionally, we have always looked for ways to minimize the greenhouse gas (GHG) emissions associated with every aspect of waterfront revitalization. This year we commissioned a study of embodied carbon (emissions associated with the production of materials like steel and concrete) as part of our work on revitalizing Queens Quay East and extending transit infrastructure there, seeking opportunities to minimize the project's GHG emissions footprint. Through this study, we identified opportunities to reduce the embodied carbon of our future work on the Queens Quay East public realm by 6%.
Promoting Sustainability in All Aspects of Our Work 
With climate resilience and sustainability at the heart of all we do, we made climate change the focus of the second Waterfront Artist Residency, in partnership with the Waterfront BIA.
Lisa Hirmer, this year's Artist in Residence, will address climate change in her artwork through thematics, and will focus on sustainability and the environment by exploring practices, processes, materials, and reuse as important mitigation solutions towards impacts on nature. 
Image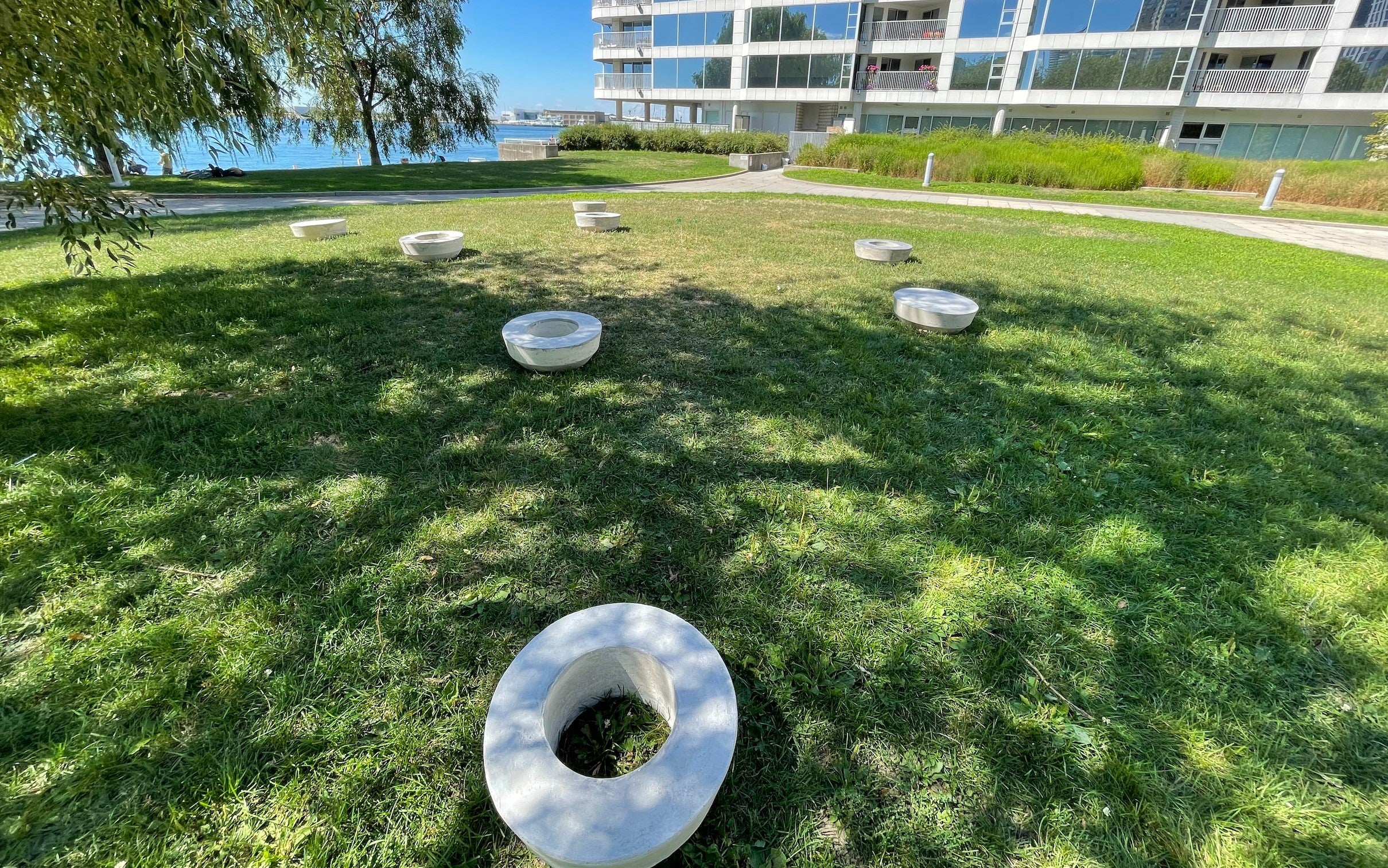 A piece installed in HTO Park West as part of the Waterfront Artist Residency in August 2022 by Hirmer, "The Atmosphere is Always Still Being Made" is a carbon capturing sculpture that continuously absorbs atmospheric CO2. This means that as your breath joins the air between you and the sculpture, some of the carbon in your exhalation is likely to become part of the sculpture.
Be sure to keep an eye out for her projects on the waterfront this summer! 
Learn more about how our projects are helping to make the waterfront a greener place in our 2021-22 Integrated Annual Report.