How Villiers Island Will Create Jobs, Greenspace and More
POSTED: JUNE 23, 2020 I COMPLETE STREETS, DESIGN, INFRASTRUCTURE, PARKS AND PUBLIC SPACES, SUSTAINABILITY, WALKABLE NEIGHBOURHOODS
By: Jed Kilbourne
Since our inception in 2001, we've worked with City of Toronto to plan new neighbourhoods. Our most recent collaboration, the Villiers Island Precinct Plan, will help create a destination on the waterfront for tourists and residents alike. And it will create new jobs downtown, helping the city to grow.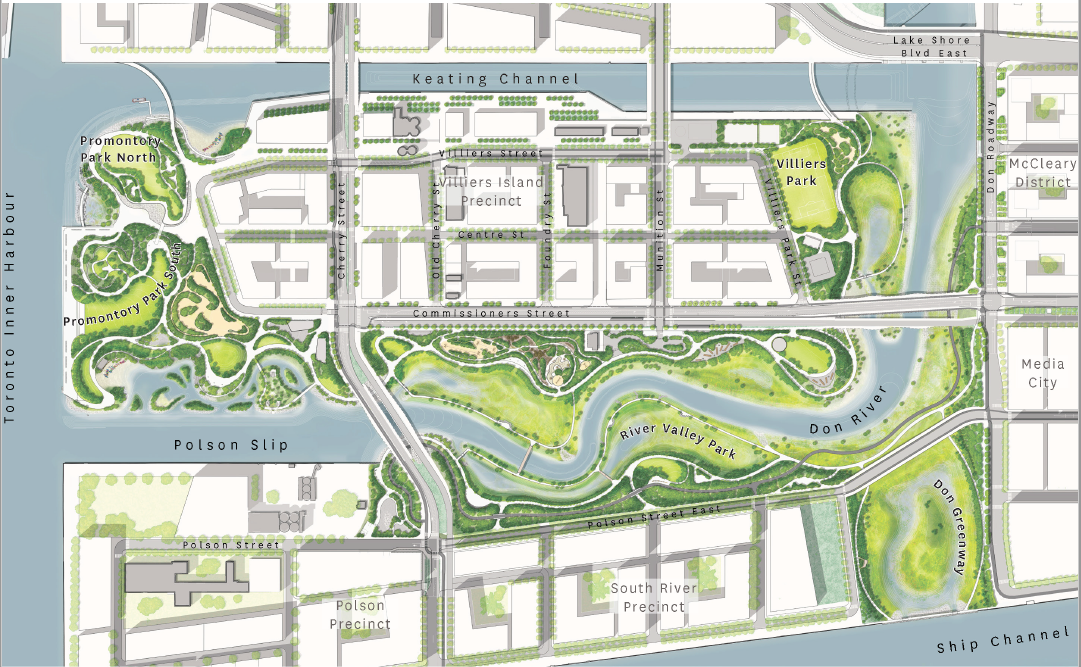 Villiers Island will be surrounded by parks and public spaces, creating a space for people to live, work, and play.
Villiers Island will be created as a result of the
Port Lands Flood Protection Project
– a $1.25 billion project to protect 240 hectares of land on Toronto's eastern waterfront from flooding. The Precinct Plan allows us to leverage this significant investment to create an extension of downtown Toronto that's resilient to the effects of climate change, including lots of new greenspaces.
What is a precinct plan?
A precinct plan is a planning tool that lays out potential streets, blocks, and building sizes and identifies the assets needed to create a complete community: a mix of residential and commercial spaces, community services and facilities, schools, public art, heritage conservation, transportation and more.
The precinct plan for Villiers Island is blueprint for a new climate positive neighbourhood that will bring jobs and greenspace to Toronto's water's edge. Precinct plans lay the groundwork to rezone land for new uses, including residential and park land.  The 33.5-hectare area in the Port Lands that will become Villiers Island is currently zoned only for industrial use, like most of the Central Waterfront before we began revitalization.
The plan is also unusual because the Port Lands are not a completely blank slate – it accommodates existing and historical port uses while bringing residential and new commercial uses to the area. 
How is the Villiers Island Precinct Plan Climate Positive?
While all Waterfront Toronto developments since 2006 must meet our Minimum Green Building Standards, the Villiers Island Precinct Plan is raising the bar on sustainability.
When we first planned for flood protection in the Port Lands, our project was recognized by the C40 Climate Positive Development Program. It includes an ambition to make Villiers Island a climate positive community that will reduce greenhouse gas (GHG) emissions to near zero while also catalyzing GHG emission reductions in neighboring communities. Climate positive communities produce more clean energy than they use and provide clean energy for neighbouring areas as well. So rather than simply avoiding harm to the environment, they improve it.
In order to achieve this ambitious goal, we worked with Sustainability Solutions Group to create the Villiers Island Precinct Plan Climate Positive Assessment Report, which informed the precinct plan – the first time we have undertaken such a study. The report included six major design recommendations to create a climate positive neighbourhood.

This diagram shows how placement of buildings allows more sunlight to reach shorter buildings during the winter months.
To facilitate Passive House design, which reduces the energy needed to heat and cool buildings, the Precinct Plan mandates that taller buildings be placed where they won't block sun from reaching shorter buildings. Buildings can then harness that solar energy and reduce their need for heating in the winter.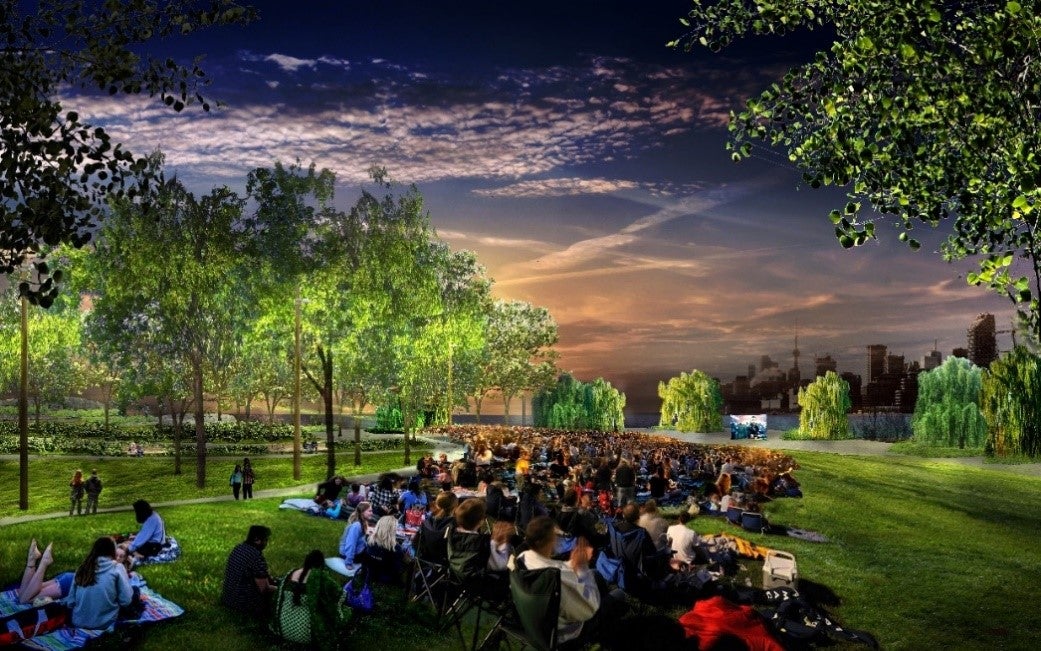 Promontory Park, on the western edge of Villiers Island, will provide stunning views of the Toronto Skyline, allowing you to lose yourself in nature right in the heart of the city. It is part of 25 hectares of publicly accessible greenspace we're creating in the Port Lands.
How Does the Precinct Plan Create Greenspace?
The plan identifies what can be built in each area of the precinct. Like all neighbourhoods we build, the concept for Villiers Island leads with the landscape, including parks and open space. The western edge of the island provides some of the most spectacular views of downtown Toronto, and those have been preserved for public access by creating 25 hectares of greenspace, including 11 hectares of programmed park space, that will run around the west, south, and east sides of the island.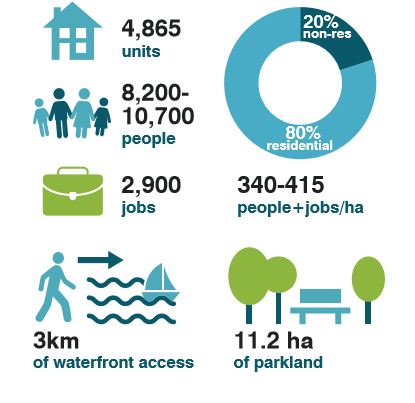 The precinct plan calls for the creation of new housing – 20% of which will be affordable – jobs, greenspace and a positive impact on the climate.
How Does the Precinct Plan Create Jobs?
By defining the mix of uses on Villiers Island, the Precinct Plan ensures that the neighbourhood includes retail, bars and restaurants, offices, and other commercial spaces. Some of these businesses are planned for a main stretch of Villiers Street, creating an outdoor living room where storefronts and restaurants  become the hub of the community.
The plan also includes an Elementary School, sports field, Community Centre with a pool, two licensed non-profit childcare facilities and emergency services to support the new neighbourhood, while creating more jobs.
It's going to be an island!
The Villiers Island Precinct Plan is a great example about how we are continually pushing ourselves to be on the cutting edge of sustainability, innovation and engineering. To make this happen, we're first protecting the Port Lands from flooding by renaturalizing the mouth of the Don River.