Art Inspired By People Who Live and Work on the Waterfront
POSTED: OCTOBER 26, 2023
In This Blog:
Together with the Waterfront Business Improvement Area, we created the artist-in-residence program to activate public spaces with temporary artwork and bring people to the water's edge.
Announced in January 2023, Simon Pope is the third waterfront artist-in-residence.
Pope's residency explores how walking helps people understand Toronto's waterfront in new ways. 
This past September, Pope produced a pop-up performance series inspired by people who live, work and play on the waterfront. 
Stay tuned to Pope's website,

walkingtowork.ca

, for information on upcoming projects and performances.
Waterfront artist-in-residence, Simon Pope, is busy creating new works for you to enjoy this fall. Pope is the third waterfront artist-in-residence selected by Waterfront Toronto and the Waterfront Business Improvement Area. Following his September pop-up performance series, there are some exciting works to come as part of his year-long residency.
Pope's residency explores our understanding of Toronto's waterfront as a place and its relationship to elsewhere. He embraces walking as an art form, with inspiration coming from the people he meets who live, work and play on the waterfront. Taking inspiration from the way waterways connect different locations, Pope's work showcases how storytelling, movement, and materials create emotional and physical connections to other places.
Waterfront Toronto's temporary art program activates public spaces along the water's edge and brings residents and visitors to the shoreline. The waterfront creates a backdrop for artists to foster public dialogue on timely issues. Pope's work joins the work of artists like Wandy Cheng and Lisa Hirmer, who also have temporary installations currently on view along the waterfront. Cheng's Summerburst mural is on display at the foot of Yonge Street, celebrating diverse cultures through food. Hirmer's installation, Careful Infrastructures for Reassembled Lands, is a series of four poetry-based sculptures along the Water's Edge Promenade created during her tenure as the 2022 waterfront artist-in-residence.
Here's more about Pope's work and what to look for in the coming months. 
Image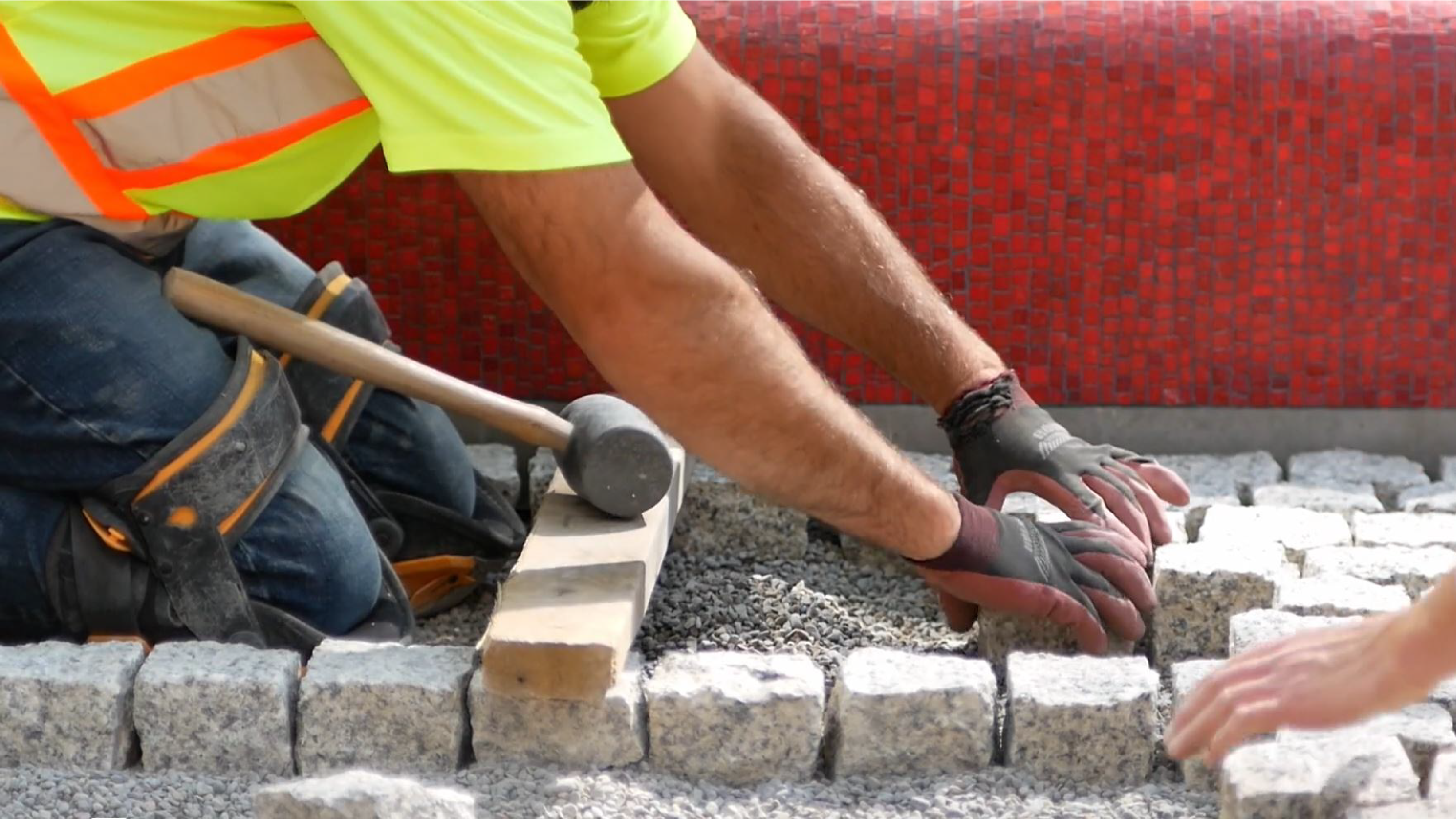 During Love Park's construction, Simon Pope documented crews laying granite pavers around the heart-shaped pond. 
The Life of a Stone
To explore how Toronto's waterfront is shaped by materials from other locations, Pope took a closer look at the beloved Love Park. During its construction, Pope met with the crew installing the granite pavers surrounding the heart-shaped pond – a material that helps give the park its signature look. He traced the origins of the granite to a quarry in Quebec, showing the impact of other areas on the waterfront. 
Love Park, designed with materials from elsewhere, will be enjoyed for generations to come.
Watch Simon Pope's video of the granite paver installation at Love Park.
Image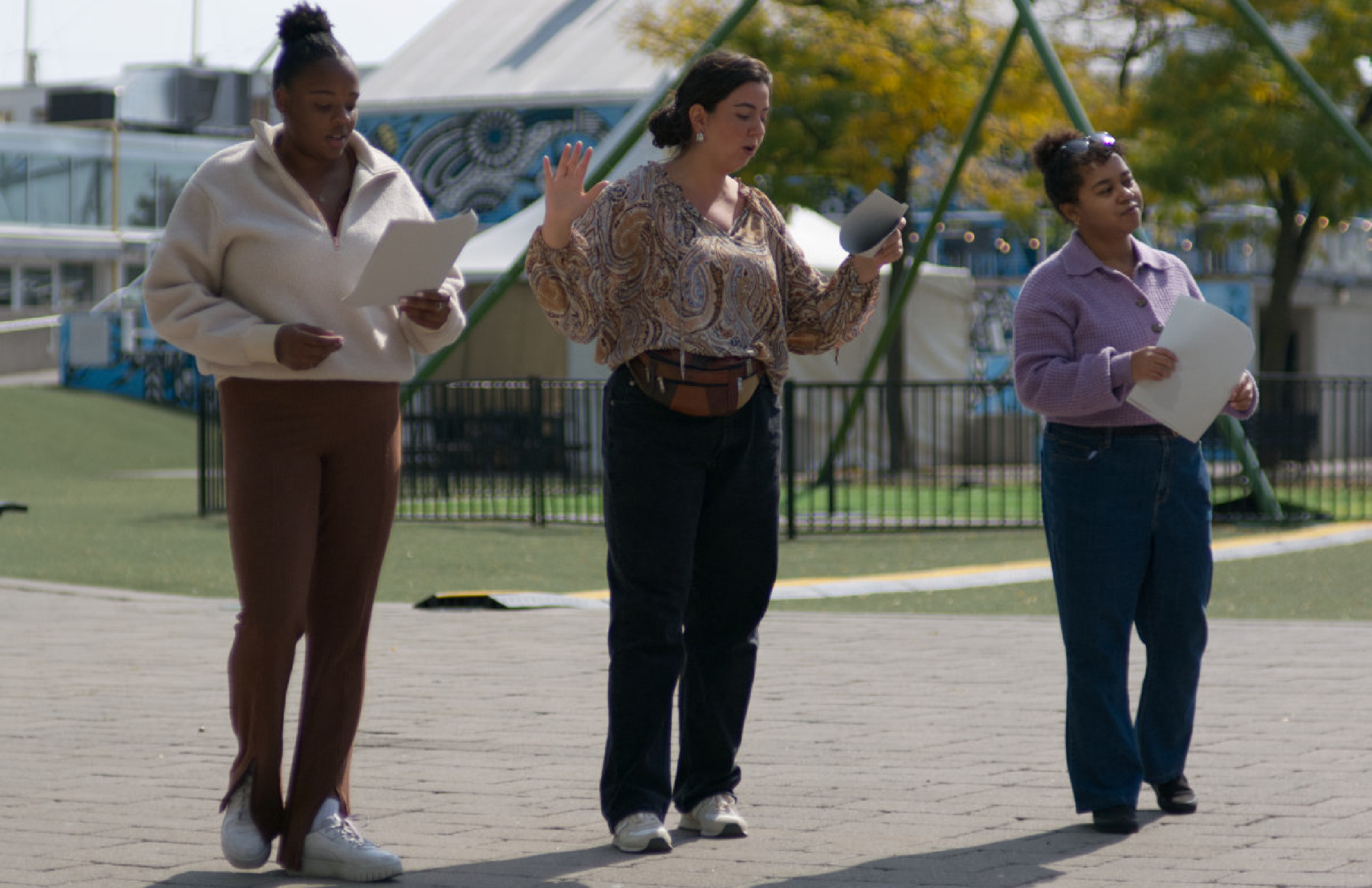 Simon Pope developed a script based on 'walking and talking' with people on the waterfront. Seen above, actors perform This Wave of Memories at Harbourfront Centre. 
This Wave of Memories
From September 26–30, Pope hosted a pop-up performance series called This Wave of Memories. Pope wrote the script based on his conversations with people who live and work on the waterfront, discussing their recollections of other places. A cast of five actors from Soulpepper Theatre Company performed This Wave of Memories outdoors at Harbourfront Centre and the Waterfront Neighbourhood Centre for curious passersby.
Read more about how Pope developed the script for This Wave of Memories.
What's To Come?
Stay tuned to Simone Pope's website, walkingtowork.ca, for updates on his residency this fall.
Visit Waterfront Toronto's website to learn more about our public art program.