From the Archives: Underpass Park
The park's location under an overpass provides great protection from the sun, rain and snow allowing visitors the opportunity to use this uniquely urban space in all weather conditions. (Photo credit: Waterfront Toronto/Nicola Betts).
POSTED: JANUARY 7, 2015 I PARKS AND PUBLIC SPACES, DESIGN
By Heather Glicksman
Many parks and public spaces in Toronto can be enjoyed all year round, but one of my personal favourites is Underpass Park in the rapidly emerging West Don Lands community.
Located under and around the Eastern Avenue, Richmond and Adelaide overpasses, Underpass Park is currently the most extensive park ever built under an overpass in Canada, and the first park of this kind in Toronto. This innovative park has transformed a derelict and unused space beneath a series of overpasses into a great community asset and raised the bar for urban design.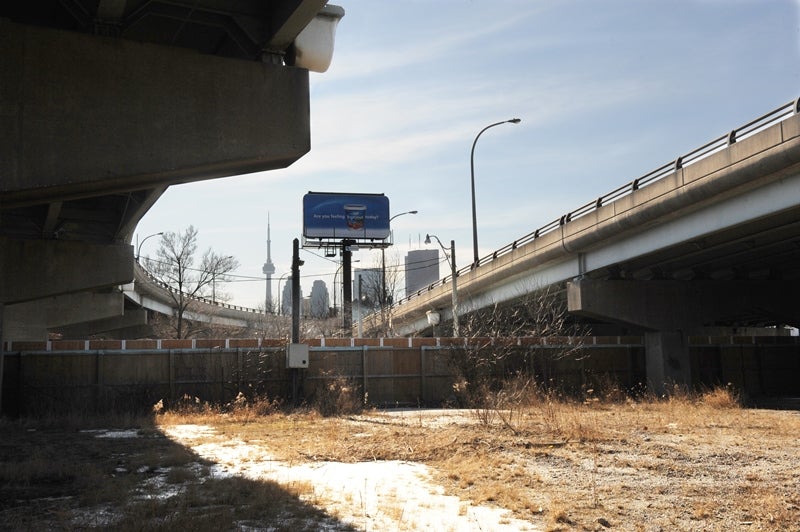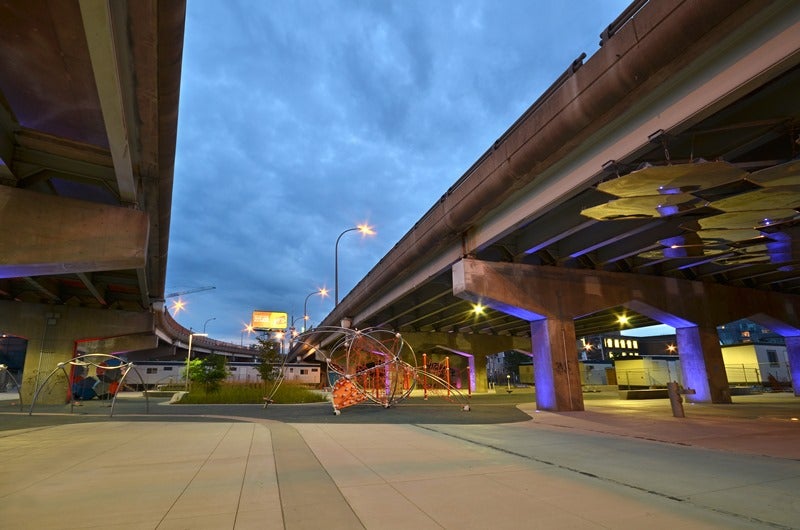 Top photo: Before - A view of the derelict unused area under an overpass. Second photo: After - A view of Underpass Park in 2012, just before its official opening - Phase one. (Photo credit: Waterfront Toronto/Nicola Betts).
Landscape architects Phillips Farevaag Smallenberg with The Planning Partnership took full advantage of the imposing concrete beams and columns of the overpasses integrating them into the park's design to provide weather protection for large parts of the park. Key to the park's design is the extensive use of lighting. With more than 50 overpass columns colourfully lit by LED spotlights the architectural qualities of the overpasses are accentuated and help to ensure the area remains safe and inviting at all times.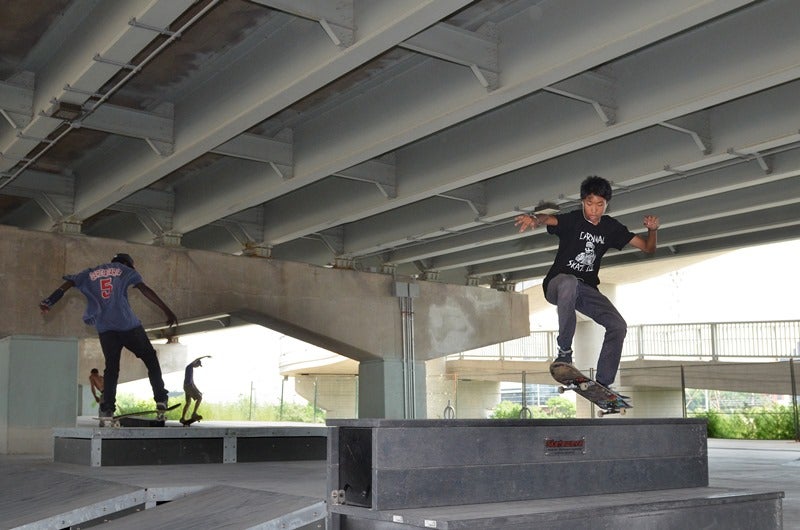 The skatepark and basketball half-courts are incorporated into the eastern-most portion of the park, east of River Street. (Photo credit: Waterfront Toronto/Nicola Betts).
Visitors to the park can enjoy a sizeable playground that includes a teeter-totter, hopscotch, four square, swings and playful climbing structures. Offering something for all ages, the eastern side of the park includes two basketball half-courts and an extensive (and well-used) skatepark. Skateboard enthusiasts have told us that this is one of their favourite skateparks and the only one in the city where they can skate all year-round and in extreme weather conditions.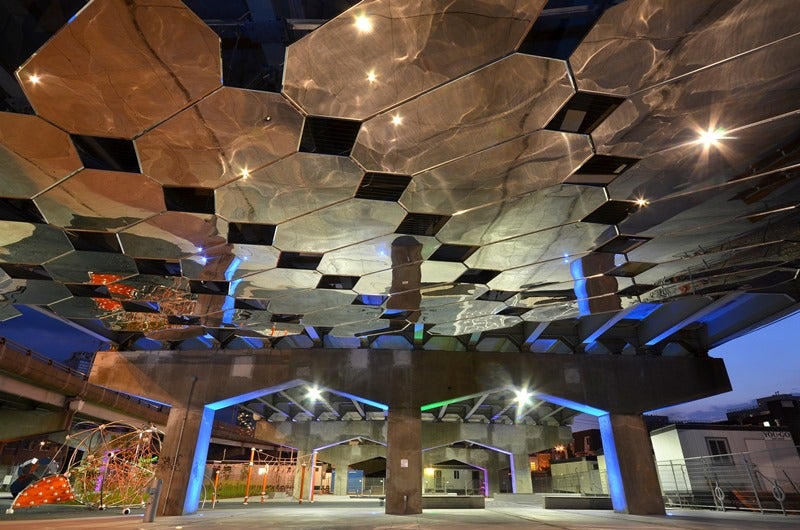 Mirage – the public art commissioned for the space – is made up of mirrored stainless steel panels suspended from the overpass designed to reflect and bounce light within the space. (Photo credit: Waterfront Toronto/Nicola Betts).
More than just a place to play, Underpass Park features a unique public art installation that makes use of the unusual site conditions. Mirage, by Toronto-based artist Paul Raff, is composed of 57 octagonal mirrored stainless steel surfaces. The mirrored surfaces act like an optical illusion that creates a subtle sense of movement.
Underpass Park is a great example of how to reimagine difficult, urban spaces to create something that is beautiful, practical and extremely functional. Since opening in August 2012, the park has received phenomenal feedback including a glowing video recommendation from Christopher Hume, Architecture Critic for the Toronto Star. With few parks in the city that offer this kind of weather protection, this urban gem is a must see even during the winter months.