Underpass Park Redefines the Future of Public Realm
The riotous graffiti artwork at Underpass Park takes full advantage of the imposing concrete beams and columns to create a fun and energetic atmosphere (Photo credit: Nicola Betts).
POSTED: MAY 18, 2016 I PARKS AND PUBLIC SPACES, DESIGN, PUBLIC ART
By: Meghan Hogan
As cities around the world become more densely populated, there is a need to be increasingly creative in finding new public spaces for communities to enjoy. Turning our attention to the overpasses that dissect Toronto allows us to reimage the future of public realm by transforming these neglected spaces into usable community assets. Creating elements of cohesion rather than division.
At the northern edge of the new West Don Lands neighbourhood, beneath the Eastern Avenue, Richmond and Adelaide Street overpasses, sits the most extensive park ever built under an overpass in Canada - Underpass Park.
When planning the West Don Lands the condition created by this series of overpasses was a fact of the neighbourhood; a condition to either be ignored or embraced. We chose to embrace. Underpass Park has repurposed what was once an undesirable (and dare we say ugly!) space by making it an inviting public park that has helped to stitch together a series of neighbourhoods east of the downtown.

Underpass Park's design ingenuity has garnered lots of attention since it's opening in 2012 – and with good reason. It has set a new standard for urban design and sparked the conversation for new public spaces like Project: Under Gardiner.
Most recently, Underpass Park was recognized by the Cooper Hewitt, Smithsonian Design Museum in New York City. Recognized for its activation of left-over space and creating multigenerational community commons, Underpass Park is among 60 exceptional design projects from every region around North American in By the People: Designing a Better America – an exhibition that explores the challenges faced by urban, suburban and rural communities.
Cooper Hewitt's curator of socially responsible design, Cynthia E. Smith, conducted more than two years of field research to refine the list and we're thrilled Underpass Park made the cut!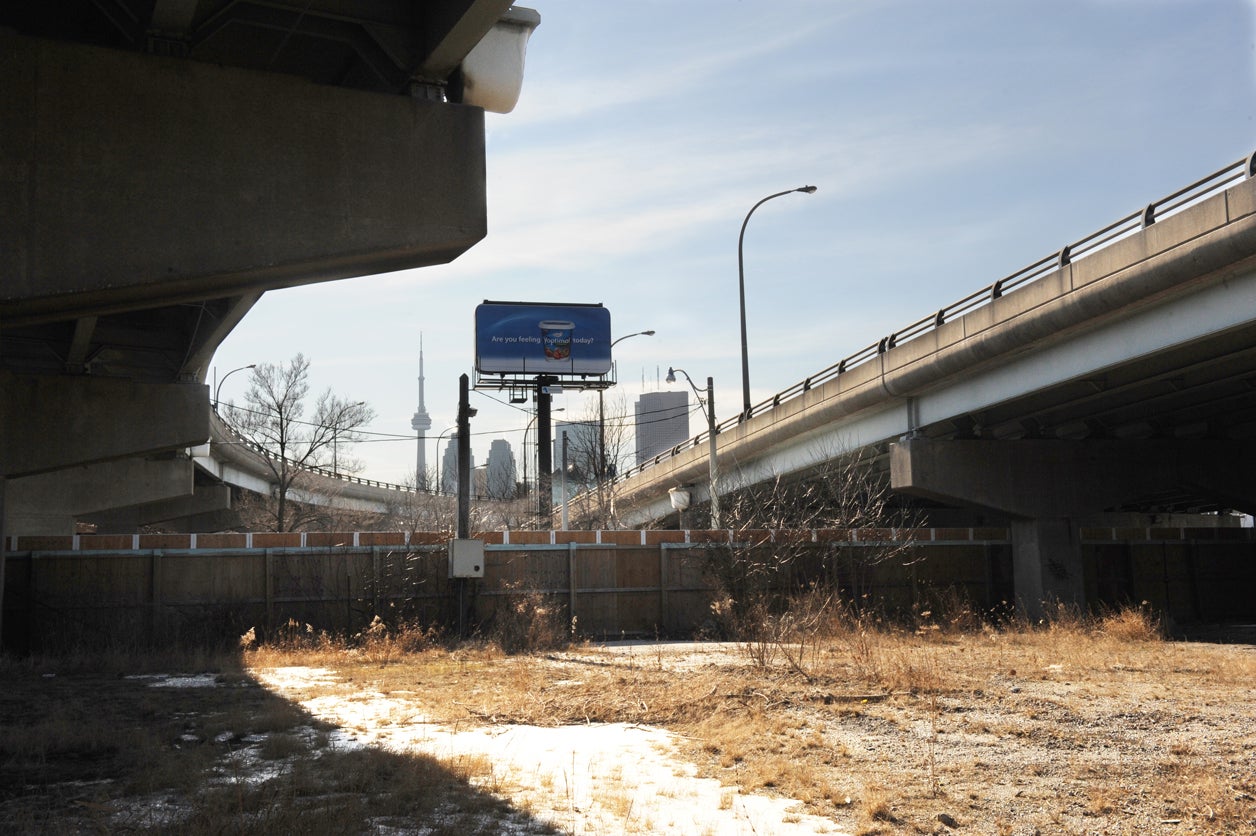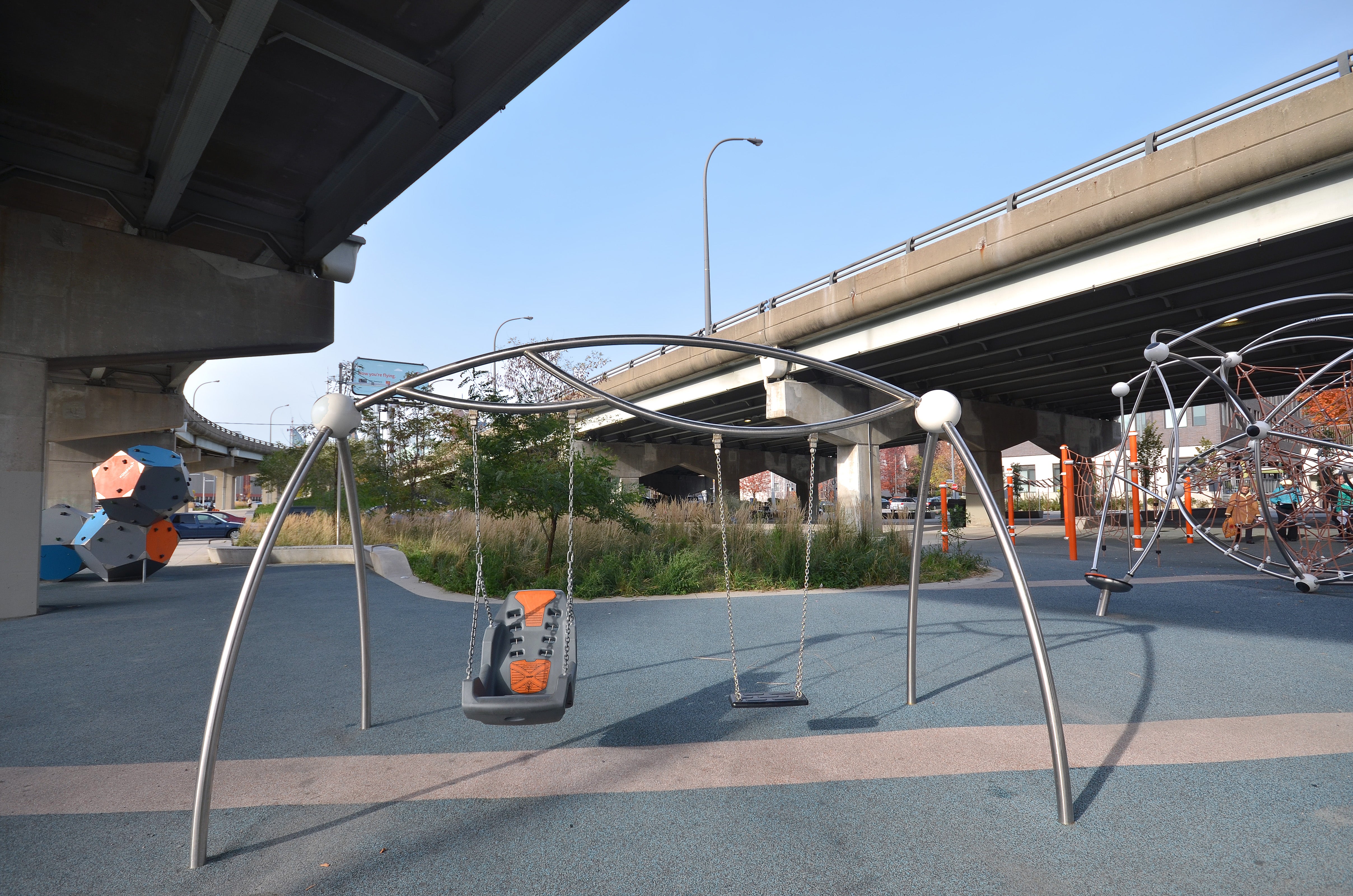 Top image: A before view of the derelict area beneath the Adelaide and Eastern Avenue overpasses. Above image: A view of Underpass Park in 2015.  (Photo credit: Waterfront Toronto/Nicola Betts).
Designed by Vancouver landscape architects PFS Studio, the park's design utilizes the concreate beams and columns of the overpasses to create a unique and inviting community asset that provides year-round protection for visitors. At a sizable 2.5 acres, the park offers community members a place to relax and have fun with basketball courts, a skateboard park, a playground with swings and climbing structures, and a series of park benches and flexible community space that can be used for markets, festivals and seasonal public events.
Public art also plays an important role in the appeal of the park. A striking installation by Paul Raff playfully uses reflection to bounce light around the space and draw people in and through the area.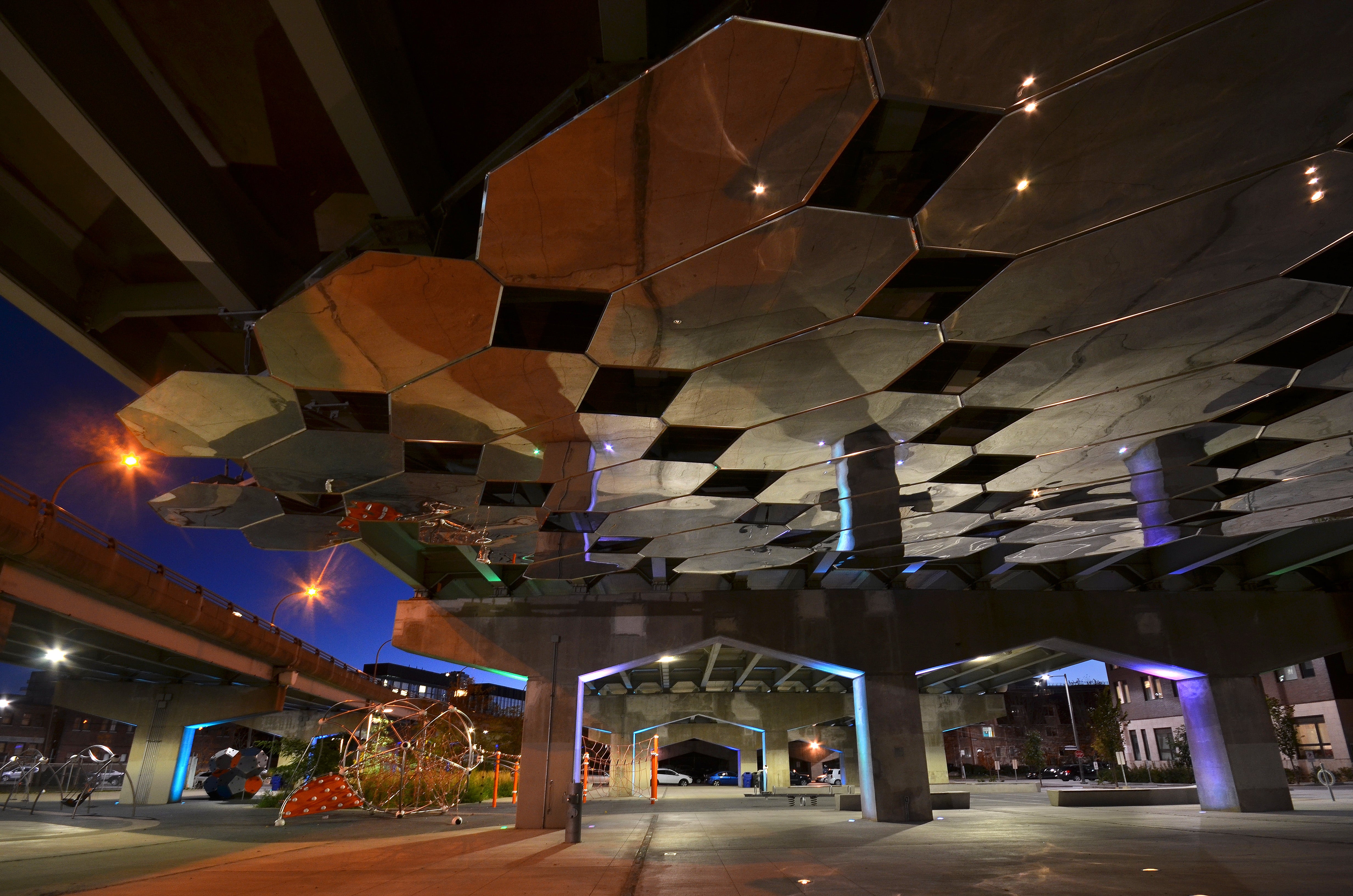 Mirage, a stunning public art installation by Toronto-based artist Paul Raff is composed of 57 octagonal mirrored stainless steel surfaces that act like an optical illusion creating a subtle sense of movement (Photo credit: Nicola Betts).
And, last spring, we worked with StART (Street Art Toronto) to further enhance the space by creating a living and breathing art studio with graffiti throughout the eastern most section of the park. The graffiti on the columns facing River Street was a competitive commission awarded to a team of street artists called Lovegates and Lobrona, who used the columns as an architectural feature but suggest that the art is really about the people who make a community and hold a city together. The columns deeper into the space were each completed by an individual artist as part of a live painting event associated with the Pan Am Path Art Relay overseen by Mural Routes.
The Cooper Hewitt, Smithsonian Design Museum exhibit will run from September 30th, 2016 through February 26th, 2017. But why wait for the exhibit to see what the fuss is all about when you can experience Underpass Park first hand.
We promise – you won't be disappointed.
Follow us on Facebook and Twitter – and join the conversation about waterfront revitalization using the #TOtheWaterfront hashtag.